FIBA Europe U20
European Championship
quarter-final day

The four teams that have qualified for the semi-final of the FIBA Europe 2013 U20 European Championship for Women Division A in Samsun, had a day of joyful tears. 
There was also a lot of happiness for Greece, Poland, Ukraine and the Netherlands after securing their Division A status for next year.

It was the first time in the history of a FIBA Europe event, all the games on quarter-final day had something at stake.
For the four teams in the quarter-finals, a place in the semi-finals was a stake, while for winners of the 9th - 16th Classification Round games retained their Division A status.
Based on the results from the first two rounds, the biggest losers on day 7 in Samsun were France, Germany and Sweden.
If you wish to read more about a certain match, please click one of the following links:

Turkey take hosting seriously
Too easy for Spain
Belarus finish the dream of the class of 1993 from France
Italy are on a mission for a FIBA Europe medal
9th - 16th Classification games

---
Turkey take hosting seriously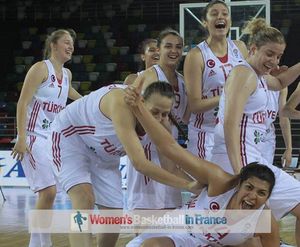 Turkey are hoping to be the first host to win the FIBA Europe U20 European Championship for Women Division A after qualifying for the semi-finals. They beat the Slovak Republic (61-42) in the only quarter-final broadcast live.
After a tight first quarter (14-14), Turkey broke the game open with a 11-0 run in the second quarter (25-16) with six minutes left to play before the break.
They stayed in front the rest of the way with their dominance in rebounding to book a semi-final match against Spain.

Turkey: Olcay Cakir 12 (5 assists), Merve Aydin 3, Büsra Akgün 2, Cansu Köksal 0, Ayse Cora 6, Pelin Bilgic14 (10 rebounds), Didem Nakas 0, Özge Kavurmacioglu 5, Elif Emirtekin 2, Melike Yalcinkaya 0, Tilbe Senyürek 13, Gizem Sezer
Slovak Republic: Nikola Nedoroscikova DNP, Zuzana Ivancáková 0, Dominika Rusináková 0, Angelika Slamová 4, Zofia Hruscáková 4, Patrícia Polcerová 0, Sabína Oroszová 17, Lenka Slezáriková 2, Barbora Bálintová 11, Beáta Janoscíková 4, Eva Filickova 0, Kinga Csóková 0

Too easy for Spain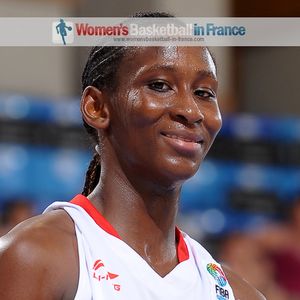 Spain had beaten Russia in the final of the FIBA Europe U20 European Championship final in 2011 and repeated the feat last year (2012) in the U20 final in Debrecen.
This time Spain walloped Russia (78-45) with a final-quarter burst 24-6 to book their place in their semi-final match.
Astou Ndour (in picture) for Spain was unstoppable in her 25 minutes on the court scoring 23 points (11-of-14 shooting). In addition Spain had total control under the basket with 44 of their 78 points.
Spain: Susana Bacete 0, Elena De Alfredo 0, Ana Faussurier 2, Inmaculada Zanoguera 13, Patricia Soler 0, Paula Estebas 10, Yurena Diaz 10, Sara Rodriguez 12, Itziar Llobet 4, Andrea Vilaró 2, Yaiza Lazaro 2, Astou Ndour 23

Russia: Yulia Sorokina DNP, Evgeniya Buykina 4, Olesia Sedletckaia 0, Alina Zamaraeva 8, Marina Riavkina 0, Galina Kiseleva 8, Daria Namok 7, Maria-Margarita Davydova 4, Ksenia Tikhonenko 11, Maria Vorobyeva 0, Alexandra Marchenkova 0, Anastasia Tochilova 3

Belarus finish the dream of the class of 1993 from France

France came into the FIBA Europe 2013 U20 European Championship for Women in Samsun on a losing streak of four games.
However with five victories in a row at this championship it appeared that everything was fine. Then the defeat against Turkey (32-38) in the final game of the second round exposed their weakness.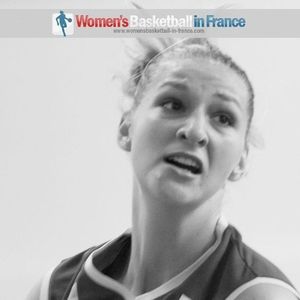 Belarus took full advantages by crashing the boards hard to win the rebounds (51-33). Belarus were aggressive defensively and forced France into turning the ball over 23 times. 
Maryia Papov (in picture) who is no stranger on the youth international basketball scene battled offensively during the first quarter with 10 points as Belarus led (17-11).
Papov then concentrated on her defensive skills for the rest of the match which resulted in 14 rebounds, 3 steals and a couple of blocks. She finished the game with 18 points and 4 assists. Her team-mate Darya Lipinskaya was also active offensively with 17 points.
France had a slow start and trailed (22-32) at half time. But with a 8-0 run to to start the third quarter they were back in the game.
Sabrine Bouzenna's 4-point play (three-pointer and 1 free throw) was the start of the French run that saw them go in front for several minutes during the third quarter.
Belarus managed to get the lead back with a three-pointer at the end of the third quarter by Ksenija Voishal (47-45).
Then Belarus completed their 10-0 run 45 seconds into the fourth quarter (52-45) and stayed in front all the way to the end.

France: Romane Bernies 2, Sabrine Bouzenna 10 (4 assists), Esther Moisan Niamke 7, Viviane Adjutor 6, Claire Stievenard 0, Alice Nayo 0, Sara Chevaugeon 2, Margaux Galliou-Loko 3, Sarah Ousfar 2 (10 rebounds), Justine Barthelemy 4, Christelle Diallo 14, Marie Mbuyamba 2
Belarus: Natallia Pratskaila 0, Alena Holubeva 3, Yuliya Haponava DNP, Viyaleta Kiuliak DNP, Darya Lipinskaya 17, Hanna Kalenta 9, Ksenija Voishal 5, Valiantsina Myshapud DNP, Natallia Baklaha 5, Maryia Papova 18 (14 rebounds, 4 assists), Katsiaryna Urbanovich 2, Katsiaryna Urbanovich 5

Italy are on a mission for a FIBA Europe medal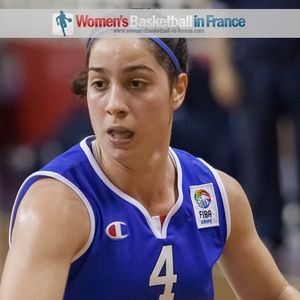 In 2010 Francesca Dotto (picture) experienced the joy of winning a FIBA Europe youth championship with Italy U18 Now she is leading Italy to a place in the top 4 at the U20 European Championship Division A for Women Samsun.
Her hustle was a big factor for Italy in their victory (65-51) against Serbia in the first quarter-final.
Italy went in front for good with three minutes to play in the first quarter (13-10).

Afterwards Caterina Dotto controlled things for Italy during the second quarter. Francesca Dotto took over during the third quarter.
The victory was concluded in the final quarter by Alessandra Formica and Alice Nori.
Natasa Kovacevic had a good game for Serbia and her side's zone defense caused problems but Italy were just too strong.

Serbia: Natasa Kovacevic 14, (10 rebounds), Zorana Marinkovic 0, Aleksandra Stanacev 7, Jelena Stankovic 5, Nevena Markovic 7, Kristina Topuzovic 7, Dijana Stancic 0, Milica Toskovic 0, Marija Mrsic DNP, Tamara Rajic 5, Ivana Brajkovi 6, Jovana Dordevic DNP

Italy: Francesca Dotto 12 (5 assists), Caterina Dotto 13, Ilaria Milazzo 8, Marida Orazzo 2, Erica Reggiani 4, Elena Ramò DNP, Francesca Melchiori 2, Stella Panella 0, Stella Panella 8, Alice Nori 5, Elisa Ercoli DNP, Alessandra Formica  11 (11 rebounds)

9th - 16th Classification games

Greece picked themselves up from missing out on the quarter-finals with a solid but not spectacular victory against Hungary (59-49). While Artemis Spanou continued her double-double festival with 13 points and 10 rebounds, it was Anastasia Slouka (11 points) with her three-point shooting during the first quarter that put Greece on track for victory.
Ukraine went 10-of-32 from behind the arc, enough for them to out-point Germany (63-57). Despite 20 points from Laura Hebecker Germany find themselves in the relegation round of games (13th - 16th classification).
It is not often that a player scores 19 points and pulls down 27 rebounds and ends up on the losing team. That is the case for Alice Nyström from Sweden whose side was beaten by Poland (60-71).
Sweden had the best start, leading (21-9) after nine minutes. Yet by the interval Poland were in front (36-35).
The two teams were locked in a see-saw battle all through the third quarter with Poland holding to the lead (50-51).
Poland scored 14 unanswered points during the final quarter that not only won them the game but saved them from playing in the relegations games.
Magdalena Koperwas finished with 19 points while Dominika Miloszewska compliled a double of 15 points and 11 rebounds. Dominika Owczarzak filled the score sheets with 12 points, 9 assists and 8 rebounds.
The Netherlands can finally smile after seeing off Lithuania (58-56) to keep their place in the elite.

---
Like this page / Aimez cette page