2013 U16 European Championship
Spain again too strong for France


Spain booked their place in the 2013 European Championship semi-finals with a hard fought victory over France (48-43).
The match came to live in the last quarter in which the lead changed hands three times as France attempted to spoil the Spanish party. 
Two bad turnovers in the last 11 seconds for France allowed Evaristo Perez, the Spanish coach, to savour another victory.
Some thoughts in French and Spanish on the results of this game below:
Comme les années précédentes, les Espagnoles parviennent à se qualifier pour les demi-finales du Championnat d'Europe moins de 16 grâce à leur sang-froid pendant le money-time.
Bien que les joueuses françaises avaient une meilleure réussite au lancer-francs, leurs nombreuses balles perdues leur ont couté le match.
Para la novena vez en 10 años, las Españoles consiguieron a cualificarse en la semifinal de los Campeonatos de Europa  U16. Al final del juego, el entrenador Evaristo Perez, sudaba tanto que sus jugadores que daban prueba de mucho sangre frio contra las francesas.
Spain are in 9th Division A European Championship semi-final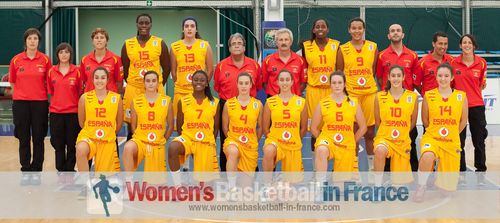 The first 30 minutes of the match were basically a tactical chess match between the two coaches.
Spain were rather untidy with their shot selection while Angela Salvadores (10 points) was well guarded.

On the other hand, France were excellent defensively. They gifted Spain too many turnovers (25) which ended to be their achilles heal as the game went to the wire.
Ornella Bankole was the leading scorer for France with 13 points and 16 rebounds. But like Salvadores from Spain she was made to work very hard for her points.
thanks to a buzzer beater by Iho Lopez Spain led (33-29) going into the final quarter although France had started to play better basketball.
The start of the fourth quarter was fast and furious in a style that suited France. Three minutes into the quarter France went in front for the fist time in the match off a driving lay-up by Bankole.
With just under five minutes to play France were leading (43-41). Yet they did not keep the advantage for long with quick exchanges of baskets. The chance of an upset was on the cards.
However France failed to score again and instead committed 6 turnovers of which 2 were converted into points. Spain were let off the hook and France were beaten.
In order to win this match Spain took 15 more shots and came away with 9 blocks.
The European Championship quarter-final video highlights from this game is supplied by FIBA Europe.
Spain

4 Laia Raventos 1    
5 Maria Cazorla 9     
6  Estefania Ors DNP       
7  Iris Junio 3      
8  Angela Salvadores 10    
9  Cecilia Muhate 4    
10 Maria Conde 6    
11  Iho Lopez 9 (16 rebounds)   
12  Aida Santana 6     
13  Paula Ginzo DNP
14  Ines Mata 0      
15  Umo Diallo 0


Head Coach: Evaristo Perez
Assistant Coaches: Rosaura Sanchez and Andreu Bou


France

4 Camille Lenglet 11    
5 Alexia Chartereau 0    
6 Ludivine Marie 0      
7 Margot Bienvenu 0    
8 Chloé Mantelin 0   
9 Fleur Afonso 0
10 Lisa Berkani 11   
11 Ornella Bankole 13    
12 Ana Tadic 0      
13 Manon Boehrer 0    
14 Alexandrine Obouh Fegue 2
15 Aida Sow 6

Head Coach: Julien Egloff
Assistant Coaches: David Gallois and Xavier Noguera


---
Like this page / Aimez cette page