2013 U16 European Championship
The joys and disappointments of the quarter-finals day


For eight teams the 7th day of action at the 2013 European Championship for Women ended in joy. It was a double celebration for the four nations, the Czech Republic, Hungary, Italy and Spain with their

qualification for the 2014 FIBA U17 World Championship for Women assured in addition to qualifying for the semi-finals of this tournament.
However the podium chase for Croatia, France, Latvia and Russia is over. The disappointment of defeat has to be quickly forgotten because there is still one ticket available for the World Championship.
You may read our articles from any of the quarter-final games by clicking on the following links:
Spain 48-43 France
Hungary 75-50 Croatia
Czech Republic 66-56 Latvia
Russia 55-61 Italy
The semi-final pairings are as follows:
 (1) Spain vs. Hungary (2) Czech Republic vs. Italy
Both games will be streamed live by the Bulgarian Basketball Federation and made available to media partners to broadcast.

9th-16th Classification Round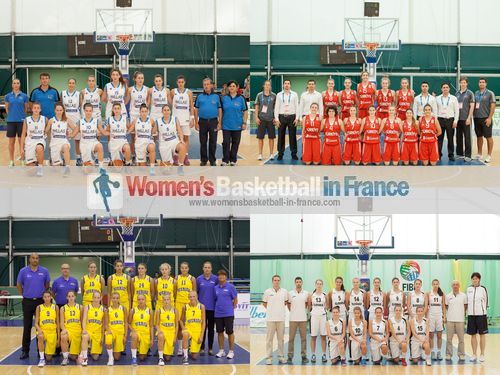 While the quarter-final matches were going on in Albena, the other games were played in Varna.
The prize for the winners on the quarter-final day is the guarantee of playing in Division A in next year's European Championship.
In the first game Bulgaria, the hosts were looking for their first victory of the competition by trying to beat Turkey. 
Bulgaria were all square with their guests (74-74) with three minutes left to play. But the upset did not happen. A three-pointer by Selale Kepenc (24 points, 12 rebounds) put Turkey in front for good as they went on to win (79-76).
The Slovak Republic made up a 8-point half-time deficit (20-28) to beat Belgium (55-46) in the second match of the day. Miroslava Mistinova and Veronika Remenarova (16 rebounds) led the way for the Slovak Republic with 16 and 12 points each.
Sweden are on a three-game winning streak after seeing off the Netherlands (62-46). Fanny Hakansson from Sweden had her best offensive game so far with a game high 21 points.
Greece, led by Maria Fasoula (18 points, 10 rebounds), had enough points in the tank to hold off a late surge by Lithuania (49-43).

---
Like this page / Aimez cette page