EuroBasket Women 2011
FIBA Olympic qualifying tournament
for Croatia
The match for fifth place of EuroBasket Women 2011 is the big match of the day with a place in the 2012 FIBA Olympic qualifying tournament for either Croatia or Montenegro.
In the game match for 7th place Lithuania led from start to finish to beat Latvia (75-56).
Ausra Bimbaite and Egle Sulciute scored 15 points each while Sandra Linkeviciene and Rima Valentiene added 13 and 12 points each.
For Gunta Basko, in what will be her last major tournament for Latvia, she shared the top score honours with Elina Babkina and Kristine Karklina with 10 points each.
Latvian coach George Dikeoulakos has also stepped down as national coach.
Croatia's three-point shooting was enough to win against Montenegro and grab the last European AQT spotfor the 2012 Olympic games as the fifth place winner of this EuroBasket Women campaign.
Jelena Ivezic with 21 points was the top scorer of the match. Three of her team-mates from Croatia were also in double digits with Iva Ciglar, Marta Cakic and Iva Sliskovic with 19, 12 and 11 points respectively. Whereas for Montenegro only Anna de Forge and Jelena Dubljevic had reached double digits.
You can read the stories of interest from the EuroBasket Women games by selecting the link below and watch two interviews by Romain Goudenhooft and Olivier Deruwez on behalf of womensbasketball-in-france.com with Vaida Sipaviciute and Gunta Basko who both played in France during their career.
Croatia 73-59 Montenegro
Lithuania 56-75 Latvia with video interviews

Croatia won with three-point shooting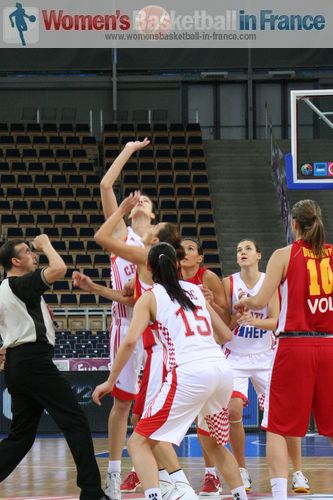 Croatia had a deeper bench than Montenegro and used this to their advantage as they rotated more frequently.
Iva Ciglar was once again the spark with her 19 points and 5 assists. Jelena Ivezic was again the leading scorer with 21 points. For Montenegro nothing really went right forthem and the spark of earlier games was missing.
Unfortunately the injury to Iva Perovanovic spoilt the occasion for both teams. Nonetheless 5th place for Croatia at the EuroBasket Women 2011 campaign sees them qualify for the 2012 Olympic qualifying tournament.
EuroBasket Women game report: Montenegro failed and Croatia won
Jelena Ivezic opened the scoring after 12 seconds into the match for Croatia. Yet Montenegro equalised almost immediately with Anna De Forge completing a fast break.
However after the quick start scoring became difficult with both teams having to work hard.
Jelena Dubljevic once again showed her versatility by setting up Iva Perovanovic with a nice back door move.
An unsportsmanlike foul by Ivezic allowed Montenegro to go ahead with five minutes played (10-8).
Neither side was able to gain the upper hand in a rather defensive first quarter with Montenegro holding on to the lead (16-14).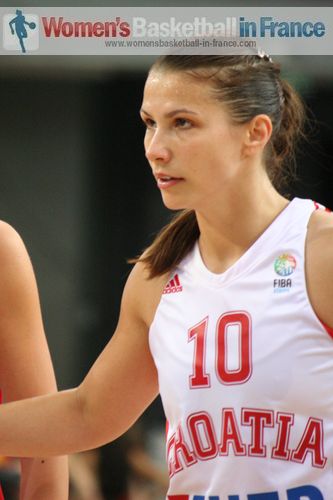 The second quarter continued to be hyper defensive on both sides. But with 6:25 remaining in the first half Iva Ciglar (in picture) connected with the first tree-pointer of the game.
On the very the next attack Iva Sliskovic concluded a fast break with a lay-up for Croatia (23-20) which prompted the Montenegro coaching staff to call a time with 5:55 to play in the quarter.
Croatia were gaining the upper hand and sparked by the energy of Ciglar opened the first significant lead of the game (30-22) after a three-pointer by Ivezic.
Montenegro were forced to change their offensive system and started a come back with a moment of magic from their captain Jelena Skerovic with a three pointer.
Eventually Montenegro were back on level terms (32-32) with Perovanovic once again getting through a host of bodies.
Croatia then switched to their outside system. Lisa Karmic hit a three-pointer which was quickly followed with 2 points by Ivezic.
The Croatian bench had been warned a couple of times from the officials about their behaviour and with 52 seconds left to play in the first half they pushed their luck and were given a technical.
De Forge converted the free throws. However Croatia went into the locker room leading (38-35).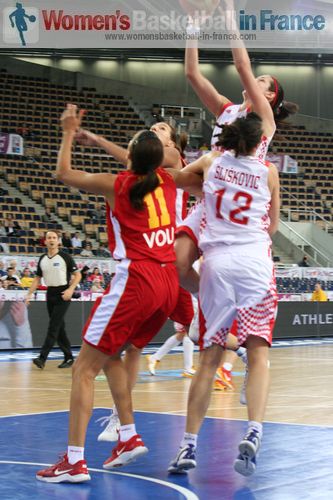 Sandra Mandir got the second half started with her first points of the match.
Yet Montenegro were soon back on level terms with De Forge hitting a long distance two-pointer which was followed by Dubljevic with a top of the arc three-pointer (42-42).
Croatia gave up trying to break the Montenegro force field by going inside and went back to long distance shooting.
They were back in front with a running jump shot by Ivezic. Afterwards they went on a three-point shooting campaign with Marta Cakic and Ivezic scoring (50-42).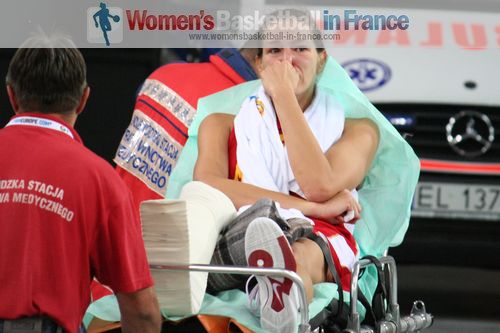 Croatia finished with yet another three-pointer, this time by Ciglar to go into the final quarter leading (55-44).
They continued to play on the fast breaks and with Cakic becoming the go-to person, they extended their lead (59-46) with 6:52 to play.
A time-out by Montenegro was called. Just 20 seconds later the game had to be stopped as Perovanovic (left) went down badly and cried out in pain. She was eventually taken off the court by a couple of her team-mates.
The game as a contest more or less ended with that incident with Croatia winning (73-59).
Croatia will go to the 2012 Olympic qualifying tournament while Montenegro have to settle for sixth place.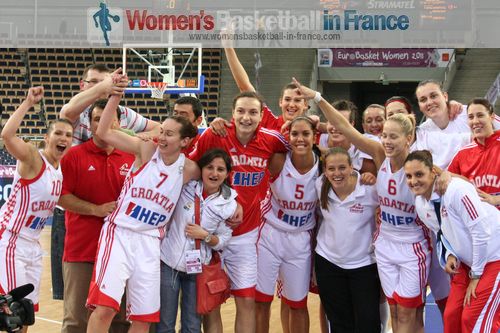 Croatia: Sandra Mandir 5, Lisa Karcic 3, Antonija Misura 2, Marta Cakic 12, Neda Lokas DNP, Mirna Mazic 0, Iva Ciglar 19, Ana Lelas DNP, Iva Sliskovic 11, Sena Pavetic DNP, Luca Ivankovic 0, Jelena Ivezic 21
Head Coach: Stipe Bralic
Assistant Coach: Dejan Koronsovac

Montenegro: Sanja Knezevic DNP, Jelena Skerovic 5, Anna De Forge 18, Ana Beletic DNP, Milica Jovanovic 0, Snezana Aleksic 4, Jelena Dubljevic 13 (10 rebounds), Milka Bjelica 8, Iva Perovanovic 9, Ana Turcinovic 9, Natasa Popovic 0, Maja Milutinovic 2
Head Coach: Miodrag Baletic
Assistant Coach: Rade Petrovic

Return to the top of the EuroBasket Women 2011 news page
Lithuania finished in 7th place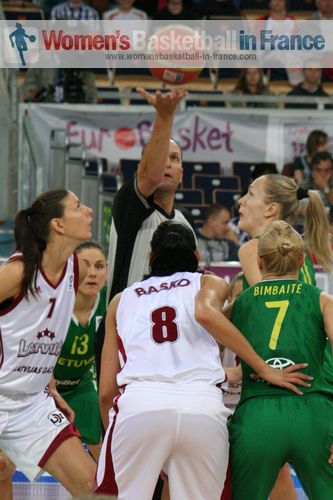 Latvia scored just 18 points in the first 20 minutes. But then they fired in 18 points during the first seven minutes of the third quarter. However they were unable to maintain the momentum and had to settle for 8th place.
Lithuania may have been without Marina Solopova who was hurt in the game against Montenegro but still had more fire power: three three-pointers in the first five minutes set them on their way as they never looked back and ended their EuroBasket Women 2011 competition with a victory.
EuroBasket Women game report: Lithuania's experience opened up the gap
Lithuania started the 7th place EuroBasket Women match scoring from the land of many with Ausra Bimbaite, Sandra Linkeviciene and Rima Valentiene as they rushed out to an (11-4) lead with four minutes played.
Latvia stopped the three-point shooting from Lithuania but then allowed Lithuania free trips to the charity stripes. They conceded the first quarter (12-20).
The second quarter started slowly. The Latvian coach gave some of his bench players an extended run on the court.
The result was that during the first five minute just 6 points were scored with Lithuania maintaining the advantage (24-14).
Lithuania controlled the pace of the game all the way to the interval while increasing their advantage (34-18).
Latvia were more aggressive at the start of the third quarter. Despite conceding a three-ball by Milda Sauliute for Lithuania it was Latvia in charge.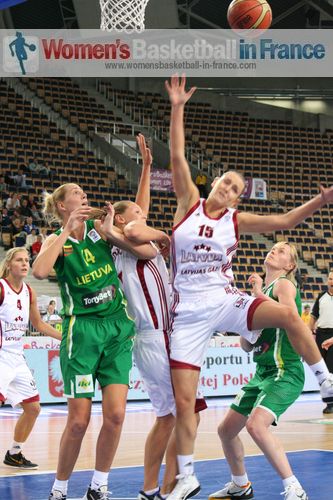 Gunta Basko with back to back scores and Zane Tamane sounded the revolt.
The Lithuania coach decided to call a time-out which more or less stopped Latvia in their tracks as his team regained the upper hand once more. They got their double digit advantage back (44-33).
Latvia used a time-out and once again the pendulum swung in the reverse direction. Liene Jansone fired in a trey from her favourite position at the 45-degree angle from the basket which was quickly followed by back to back scores from Basko.
Lithuania had no option but to bring out the big guns as the game took off. A shot from down-town by Valentiene restored the double-digit advantage and resulted in another Latvia time-out (38-49).
Jansone once again fired in a three-ball, this time from the top of the arc for the last score of the quarter (41-49).
Lithuania had too much experience and did not give Latvia a chance during the final ten minutes and cruised to victory (75-56).
Latvia: Elina Babkina 10, Sabine Niedola 4, Zane Eglite 0, Zane Tamane 6, Gunta Basko 10, Liene Jansone 6, Liene Priede 0, Aija Putnina 2, Karline Nimane 0, Kristine Karklina 10, Ieva Kublina 6, Zane Jakobsone 2
Head Coach: George Dikeoulakos
Assistant Coach: Aigars Nerips, Julian Martinez Alman

Lithuania: Gabriele Gutkauskaite 1, Milda Sauliute 7, Marina Solopova DNP, Ausra Bimbaite 15, Agne Abromaite 6, Rima Valentiene 12, Mante Kvederaviciute DNP, Gintare Petronyte 6, Sandra Linkeviciene 13, Egle Sulciute 15, Vaida Sipaviciute 0
Head Coach: Algirdas Paulauskas
Assistant Coach: Linas Salkus
Return to the top of the EuroBasket Women 2011 news page
---
Return to EuroBasket Women 2011
Return to the top of EuroBasket Women 2011 page
---
EuroBasket Women 2011 basketball picture credits:


womensbasketball-in-france.com

Date created: 2 July 2011
---