EuroBasket Women 2011
Day 3 in Katowice
The elimination of Germany from the EuroBasket Women competition on day 2 meant that their last match against
Montenegro
was nothing more than an exhibition game.
In Group D as none of the teams had qualified everything was up for stakes as one of the losers would be eliminated.
Montenegro defeated Germany (76-64) with 23 points coming from Milka Bjelica.
Latvia once again came back from far, this time by 13 points to win (67-61) against Croatia.
Spain won against Poland (78-63) in an unspectacular match while France had to change tactics to beat Greece (64-55). This defeat meant the elimination of Greece.
You can read the stories from the EuroBasket Women games of interest by selecting the link below.

Germany 64-76 Montenegro
Croatia 61-67 Latvia
Poland 63-78 Spain
Greece 55-64 France

---
Germany had already said bye-bye to their EuroBasket Women continuation but never abdicated against Montenegro
The EuroBasket Women adventure for Germany was over before this game was played. So their coach Bastian Wernthaler allowed his bench players to run the game. In the case of Montenegro all the main players were rested.
Jelena Skerovic only played because Milica Jovanovic and Snezana Aleksic fouled out.
It was an interesting game to watch. Germany had the better start to the match but trailed by 10 points at the end of the first quarter (15-25).
Milka Bjelica who scored 23 points was just too strong for the German youngsters and was winning the match alone.
The German senior players returned with the exception of Romy Bär and made a fight of it. But once Skerovic entered the match Montenegro were home and dry.
Germany: Lea Mersch 4, Anne Breitreiner 16, Dorothea Richter 5, Lisa Koop 0, Sarah Austmann 7, Stephanie Wagner O, Romy Bär DNP, Tina Menz 5, Birte Thimm 0, Svenja Greunke 20, Katharina Kühn 6, Petra Gläser 1
Montenegro: Sanja Knezevic 3, Jelena Skerovic 5, Anna De Forge DNP, Ana Beletic DNP, Milica Jovanovic 14, Snezana Aleksic 8, Jelena Dubljevic DNP, Milka Bjelica 23, Iva Perovanovic DNP, Ana Turcinovic 12, Natasa Popovic 9, Maja Milutinovic 2
Return to the top of the EuroBasket Women 2011 news page
EuroBasket Women veterans stepped up when the going got tough
George Dikeoulakos, the head coach from Greece, said after -10 the day before, and -13 on the day, that all this was just in the players' head. Everybody was a little tired after yesterday's game and it showed in the second quarter. Yet once they got going everything was okay.
Gunta Basko who is the captain led the scoring with 16 points, while Liene Jansone and Zane Tamane added 14 apiece. Elina Babkina added 12 points and 6 assists.
For Croatia, they had no luck from the three-point land with just 2-from-11. Jelena Ivezic led the way with 14 points and was the only player to score from beyond the arc.
EuroBasket Women match report:
Latvia made up a 13-point deficit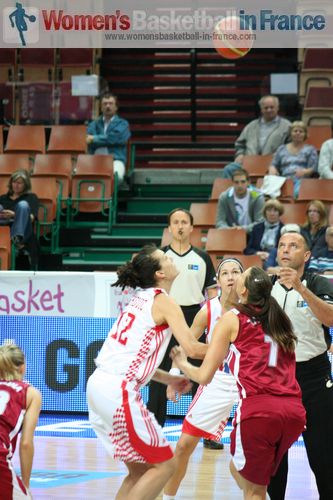 With just four seconds played Basko was already on the score sheet for Latvia. Babkina continued from where she left off against France and was to score soon for Latvia to lead (4-0) after a minute played.
The flood gates opened as both teams exchanged baskets. For Croatia Iva Sliskovic was active offensively with 6 points as her side trailed (10-13) after five minutes.
The game continued to be fast and furious. Tamane gave a demonstration on how to reverse pivot and to score as Latvia maintained their early advantage (17-12).
Croatia scored most of their points on fast breaks and Iva Ciglar did so on the buzzer (16-20).
The two teams continued their yoyo tactics in taking turns to have runs. However Croatia edged in front (27-22) after a 9-0 run.
Latvia recovered with Jansone throwing her weight into the battle.
Lelas bashed her knee into Zane Eglite at the midway point in the second quarter and went down badly. The match was stopped while she received treatment and was eventually helped off the court.
Croatia were leading (27-26) at the time. Then they went into overdrive to move 8 points clear (36-28) with two minutes to play before the break.
With Ivezic finding her touch from beyond the arc Croatia were finally in control and went into the interval leading (41-34).
Latvia looked tired when they returned to the floor and Croatia took full advantage in scoring 6 unanswered points to stretch their lead.
Babkina ended the drought. Yet Latvia were caught out twice by Ivezic (51-38).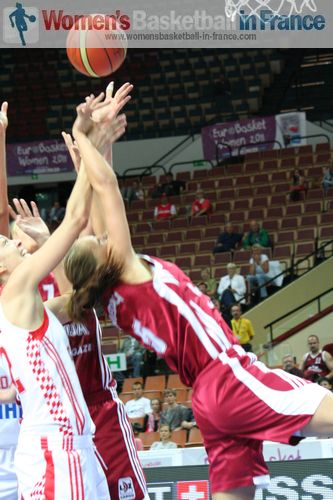 Latvia finally woke up and started to fight back and contest all the lose balls. Once again Sabine Niedola (right) was winning all the crucial rebounds while her team-mates drew fouls that got them to the free-throw line (8-from-8).
Croatia's double digit advantage had gone as they went into the final quarter leading by just 2 points (53-51).
Latvia finally drew level with Niedola's first points of the game (55-55) with seven minutes to play after Babkina somehow got the ball to her under the basket.
However within a wink of an eye Luca Ivankovic was down the other end to score plus draw a foul for a three-point score.
Latvia were playing much better defensively. When their veterans Basko, Jansone and Tane took over with 3:33 left to play they led (62-58).
The three players were at the center of everything and made sure that they controlled the pace till the end (67-61).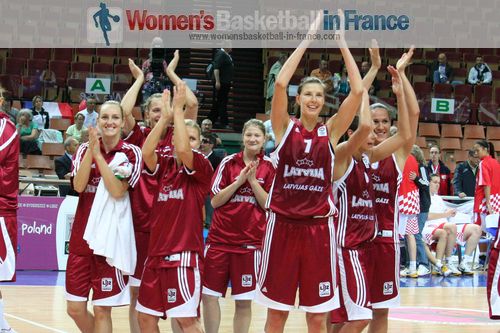 Croatia: Sandra Mandir 5 (4 assists), Lisa Karcic DNP, Antonija Misura 10, Marta Cakic 0, Neda Lokas 0, Mirna Mazic 8, Iva Ciglar 2, Ana Lelas 4, Iva Sliskovic 6, Sena Pavetic DNP, Luca Ivankovic 12, Jelena Ivezic 14
Latvia: Elina Babkina 12 (6 assists), Sabine Niedola 4, Zane Eglite 0, Zane Tamane 14, Gunta Basko 16 (5 assists), Liene Jansone 14, Liene Priede DNP, Aija Putnina 0, Karline Nimane DNP, Kristine Karklina 7, Ieva Kublina 0, Zane Jakobsone DNP
Return to the top of the EuroBasket Women 2011 news page
Spain won again after day 2 defeat
Elisa Aguilar (11 points) who spent most of the last FIBA World Championship for Women on the bench is having a good EuroBasket Women competition. Her three-pointer arrived at the right moment and swung the pendulum finally to the favour of Spain.
Sancho Lyttle's (18 points) battle with Ewelina Kobryn may have been the highlight of the first half but neither player was able to keep it up during the second half of the game.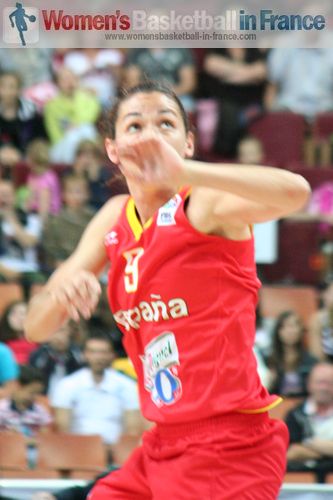 Laia Palau (right) with 12 points and 4 assists, who had had two ordinary games by her standard, decided to give a demonstration of how to hit quarter-ending mid-distance buzzer beaters with 2-from-2.
Alba Torrens was the other player in double digits with 17 points.
EuroBasket Women match report:
Spain made their experience count
After a cautious start to the game, Torrens opened the scoring with a minute played. She was fouled and also converted her free throws. Lyttle's spring had returned and she was not allowing anything past her.
For Poland Kobryn was also marking her territory with 4 early points. However it was the back to back scores by Justyna Zurowska and Elzbieta Mowlik that set the roof on fire as Poland went in front for the fist time (12-9) with just over five minutes played.
The two teams continued to trade baskets with Kobryn and Lyttle doing must of the damage. Yet the quarter came to an explosive end through Malgorzata Babicka who somehow got a shot off as the 24-second buzzer was to sound. She scored and was fouled which did not make the Spanish bench happy.
When she converted her free throw, Spain had 1.7 seconds left to score. The ball was given to Palau who reached the half line and then fired a buzzer beater to tie the game (20-20).
The start of the second quarter resembled a calm after the storm with Spain knocking down the first 5 points: a three-pointer by Aguilar and 2 points by Lucila Pascua.
The noise level started to rise again and Poland started a mini fightback to make it a 3-point game after a basket by Agnieszka Kaczmarczyk (26-29).
Poland's defense was solid and Spain had to work hard to find openings for Torrens to score.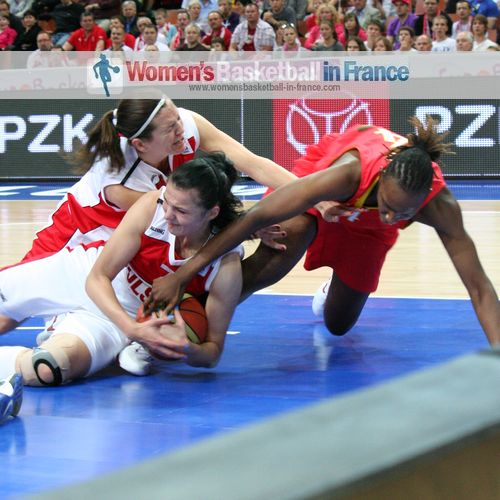 The contest between Lyttle and Kobryn continued with Lyttle having the last word with an And-1 finish as Spain went into the locker room leading (37-31).
Lyttle was leading Kobryn 14-12 at half-time in points while Kobryn the rebound contest 11-4.
Poland were on fire after the break and the long shots started to drop in a three-minute 10-2 blitz to regain the advantage (41-39).
Spain continued to work in the paint and grabbed points from the free-throw line.
Poland were ahead (50-45) with three minutes left to play in the quarter. But their lead disappeared as the Spanish veterans Aguilar with a trey and Palau fired back to tie the game (50-50).
Marta Xargay who had removed the face mask she wore at the start of the game hit a three-pointer with the very first shot of the final quarter to give Spain the lead for good.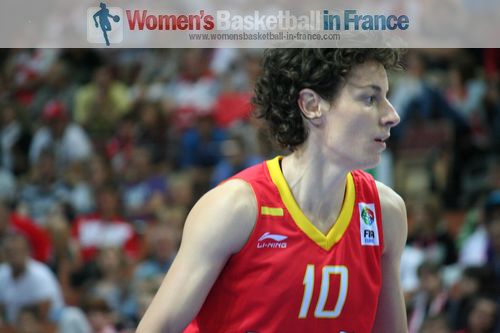 Torrens continued to be a menace for the hosts. However it was a three-pointer by Aguilar (right) with six minutes to play (62-55) which knocked out their opponents.
A quick time-out by Poland resulted in a three-ball for Paulina Pawlak. But that was as close as Poland was to get.
Spain cruised all the way with Palau deciding to hit another half-court quarter-ending buzzer beater for a (78-63) win.
Poland: Katarzyna Dzwigalska 3, Anna Pietrzak 1, Paulina Pawlak 8 (6 assists), Agnieszka Szott 7, Justyna Zurowska 7, Malgorzata Babicka 3, Elzbieta Mowlik 7, Patrycja Gulak, Ewelina Kobryn 20 (13 rebounds), Aleksandra Chomac DNP, Agnieszka Kaczmarczyk 5, Agnieszka Skobel 0
Spain: Laura Nicholls DNP, Cindy Lima DNP, Silvia Dominguez 2, Alba Torrens 17, Lucila Pascua 8, Laia Palau 12 (4 assists), Elisa Aguilar 11, Marta Xargay 5, Anna Montañana 5, Amaya Valdemoro DNP, Sancho Lyttle 18, Anna Cruz 0
Return to the top of the EuroBasket Women 2011 news page
France played fast to gain the upper hand in their third EuroBasket Women preliminary match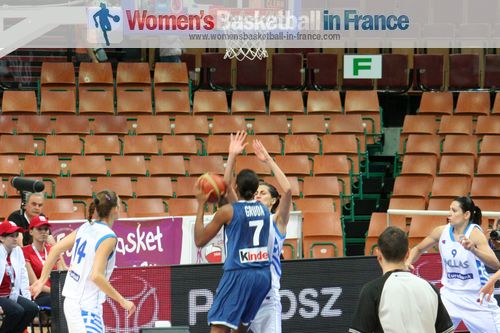 France struggled from the start with the Greek zone and had a couple of 24-second violations.
In the meantime Styliani Kaltsidou opened the scoring with a shot from the land of many.
Céline Dumerc replied almost immediately from the top of the arc for 2 points.
Greece continued their tactics of long shots. With Dimitra Kalentzou and Kaltsidou adding points from beyond the arc Greece led (11-9) after seven minutes of play.
France picked up offensively and Sandrine Gruda started a 7-2 run for France. It ended on the buzzer with Nwal-Endéné Miyem scoring for a (16-13) lead.
Pierre Vincent changed his offensive tactics with the ball doing more of the running than the players. The quicker passes paid off with France opening up a double digit lead going into the locker room (31-19).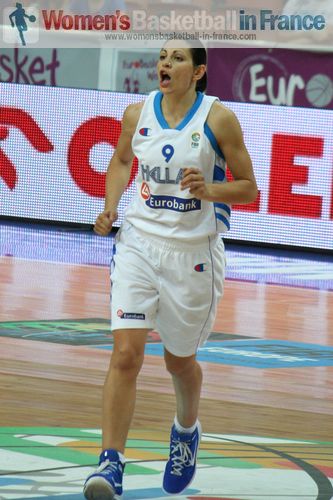 The third quarter was fast and furious with no real pattern. France did most of their scoring from the free-throw line hitting 8-of-9.
Greece continued to be successful with their distance shooting. The only sour note during the quarter was the technical issued to Kaltsidou.
France went into the final quarter ahead (46-35).
Greece tried to impose their game on France with their long-distance shooting but Gomis gave France a little air with her trademark "Miss Go" to the basket. Yet Evanthia Maltsi (left) responded almost immediately.
As Gruda was not content to let Greece back into the game she bashed her way in the paint on several occasions as France held on to the lead (54-43).
France started to have the jitters and continued to miss shots while Greece came closer (52-56) with two minutes to play.
Once again Gruda did the work in the paint after a pass from Clémence Beikes to restore a 6-point lead with just over a minute to play (60-54).
Greece started fouling to stop the clock and Dumerc continued hitting the free throws as France went on to win (64-55).
Greece: Dimitra Kalentzou 14 (3 assists and 3 steals), Evdokia Stamati DNP, Zoi Dimitrakou 0, Olga Chatzinikolaou 0, Styliani Kaltsidou 10, Evanthia Maltsi 16, Pelagia Papamichail 4, Thalia Kasapoglou DNP, Aikaterina Sotiriou 2, Emmanouela Androulaki DNP, Anna Spyridopoulou 7, Artemis Spanou 2
France: Isabelle Yacoubou-Dehoui 0, Nwal-Endéné Miyem 8, Clémence Beikes 6 (3 assists), Sandrine Gruda 19 (9 rebounds), Edwige Lawson-Wade 3, Céline Dumerc 6, Jennifer Digbeu 8, Emilie Gomis 10, Florence Lepron 2, Marion Laborde DNP, Emméline Ndongue 2, Aurélie Bonnan 0
Return to the top of the EuroBasket Women 2011 news page
---
Return to EuroBasket Women 2011
Return to the top of EuroBasket Women 2011 page
---
Eurobasket Women 2011 basketball picture credits:


womensbasketball-in-france.com

Date created: 20 June 2011
---