EuroBasket Women 2011
Day 2 in Katowice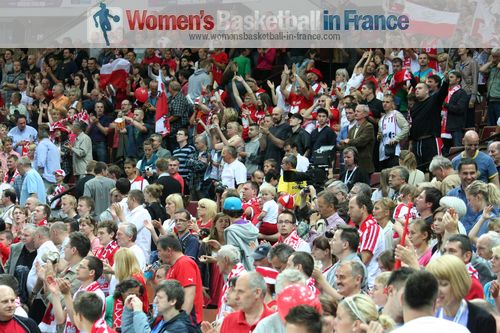 The second day of the EuroBasket Women preliminary round action is also referred to as qualification day because the first teams will book their place into the qualification round.
Montenegro did not worry about Alba Torrens.
They concentrated on winning the battle on the boards as they stunned Spain (66-57) with 18 points coming from Iva Perovanovic and 11 points from a young raising star Ana Turcinovic.
Torrens fired in a game high 25 points for Spain.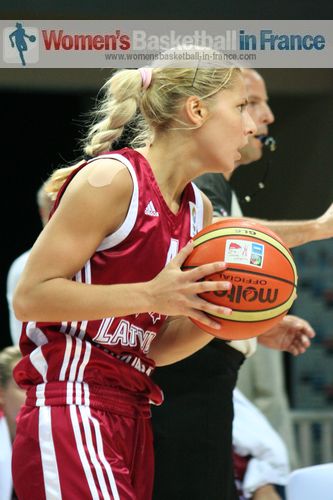 Croatia are keeping their hopes up to qualify for the next round by beating Greece (65-63) with Sandra Mandir top scoring for the winners with 19 points.
Poland's aggressive style of play made them win the match (75-60) after being tied in the first half against a weakening German team during the last quarter.
It is not often that the medallists from the previous EuroBasket Women all lose on day 2 but it has happened with France, Spain and Russia all losing.
France had a bad shooting day and lost out in overtime (56-59) to Latvia that had Elina Babkina's (right) coolness and determination plus Sabine Niedola's eye for the important rebound to take.
You can read the stories from the EuroBasket Women games of interest by selecting the link below.

Montenegro 66-57 Spain
Croatia 65-63 Greece
Germany 60-75 Poland
Latvia 59-56 France
Photo gallery

---
Montenegro are making EuroBasket Women interesting
Miodrag Baletic, the coach from Montenegro, did not seem to worry about Alba Torrens. He told his players to continue fighting in the paint.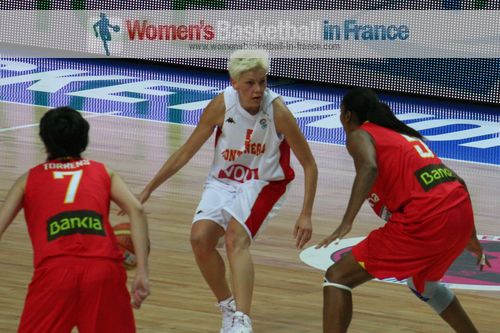 He was right because his team scored 38 points in the paint while Spain managed 30. Montenegro also had four players in double digits: Iva Perovanovic 18, Jelena Skerovic 13 (in picture), Ana Turcinovic 11 and Jelena Dubljevic with 10 points.
Spain did not have Amaya Valdemoro for this game and despite all her encouragement from the bench her team-mates were outfoxed for most of the game.
EuroBasket Women match report:
Montenegro won the battle in the paint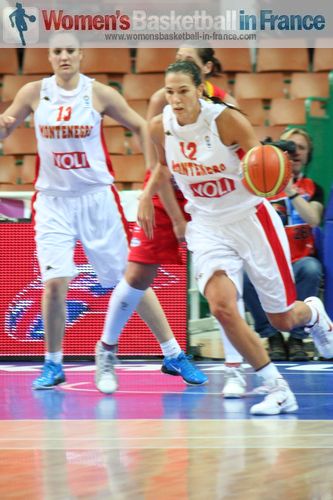 Spain started the game well with the first 5 points coming from Alba Torrens.
Montenegro weathered the two-minute blitz by Torrens and with Perovanovic (left) and Jelena Dubljevic doing most of the scoring they came right back into the match.
Anna De Forge went on a one-lady scoring burst with 7 points as Montengro started to take control of the game (15-11) after seven minutes.
Spain were outmuscled in the paint while Montenegro opened up a 7-point lead (20-13) going into the second quarter.
Montenegro continued to battle in the paint and became more and more physical with elbows flying all over the place.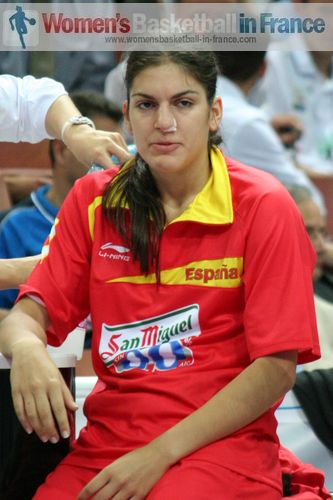 Marta Xargay (right) from Spain took a hard hit to her face and had to leave the game for treatment. She did not return while Sancho Lyttle found herself in early foul trouble with 3 in sixteen minutes.
In the meantime Jelena Skerovic put Montenegro 12 points clear with 90 seconds left to play in the first half (36-24).
Torrens had no choice but to take on Montenegro offensively with some help from Dominguez. She hustled her opponents while scoring 7 points.
Yet it was Montenegro that finished the quarter on a high as they run the clock down and then gave the ball to Skerovic who hit a buzzer-beater three-pointer.
So despite 18 first-half points from Torrens, Montenegro went into the locker room (39-31).
Spain went back to basics at the start of the second half and kept their opponents scoreless during the first four minutes while making up their deficit (39-39).
Perovanovic ended Montenegro's barren spell to get the advantage back. Yet Spain and in particular Torrens kept it close.
Torrens was showing all her offensive skills. She had the best score of the game when she raced into the court at full speed and then somehow controlled her jump to figure-roll the ball into the basket.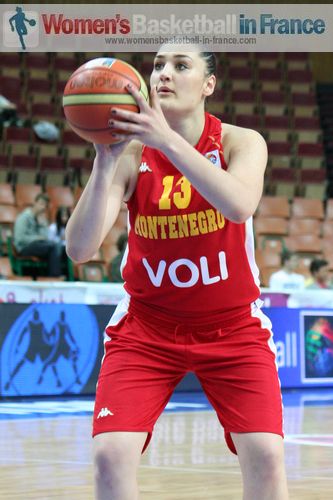 However Montenegro were not bothered by Torrens and with 17-year old Turcinovic (left) and Perovanovic scoring (49-45) they were in the lead for good.
A three-ball by Skerovic gave them some breathing space as they moved 9 points clear. But a fast break by Torrens and a buzzer beater 2-pointer by Elisa Aguilar gave Spain some hope (47-54).
During the final quarter with Perovanovic all over the court Montenegro scored 8 points and took two crucial offensive rebounds.
Torrens was tired and did not score during the last quarter leaving the way open to a historical moment in EuroBasket Women basketball for Montenegro to qualify for the next phase after their second victory in the qualifying round against Spain (66-57).
Montenegro: Sanja Knezevic DNP, Jelena Skerovic 13, Anna De Forge 9, Ana Beletic DNP, Milica Jovanovic 0, Snezana Aleksic 0, Jelena Dubljevic 10 (5 assists), Milka Bjelica 3, Iva Perovanovic 18, Ana Turcinovic 11, Natasa Popovic 0, Maja Milutinovic 0
Spain: Laura Nicholls 0, Cindy Lima 0, Silvia Dominguez 5, Alba Torrens 25, Lucila Pascua DNP, Laia Palau 0, Elisa Aguilar 2, Marta Xargay 0, Anna Montañana 11, Amaya Valdemoro DNP, Sancho Lyttle 8, Anna Cruz 4
Return to the top of the EuroBasket Women 2011 news page
Sandra Mandir's buzzer beater keeps EuroBasket Women dream alive for Croatia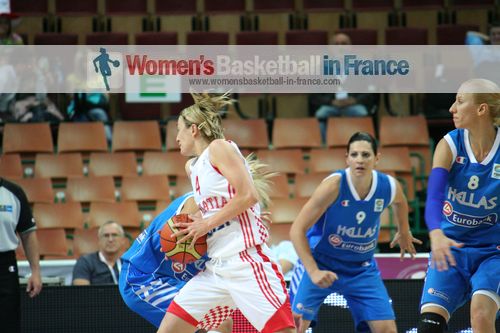 Sandra Mandir (left) hit a buzzer-beater trey at the the end of the second quarter.
But her last shot as the game went down to the wire for her 19th point of the game means that both EuroBasket Women games on Sunday in Group D will be important for teams to avoid elimination.
In the final quarter Greece connected 5 times from beyond the arc. However the game was 12 seconds too long for them to force overtime. Greece had paid the price for allowing Croatia a 12-0 headstart.
Croatia who are known for shooting beyond the arc hit all their three-pointers in the first 20 minutes and surprisingly were 0-from-5 in the second half. Mandir led her team with 19 points and 5 assists while Ana Lelas scored 15 and Jelena Ivezic added 11 points.
For Greece Dimitra Kalentzo and Styliani Kaltsidou scored 14 points each.
EuroBasket Women match report:
Croatia's 12-0 head start helped them to victory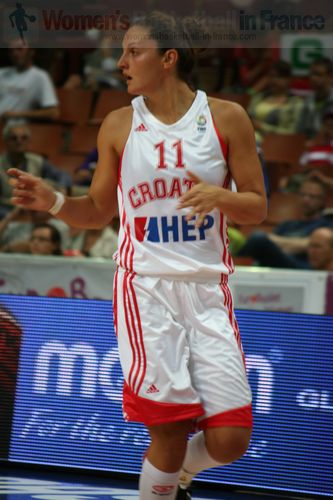 The first quarter turned into a three-point shooting contest. Croatia went 4-of-7 while Greece finished with 2-of-7 attempts.
Croatia got off to the perfect start scoring the first 12 points of the game which was concluded by back to back treys from Lelas (in picture).
Kalentzo scored the first basket for Greece after almost four minutes. Then it was the turn of Evanthia Maltsi to fire in back to back treys as both teams continued their shooting festival.
Yet Croatia maintained the pressure and led (28-16) after the first quarter.
There were less three-pointers during the second quarter as both teams went through several minutes of a bad scoring patch.
Despite Lelas from Croatia picking up her 3rd foul early in the second quarter, her side maintained the lead going into the interval (42-29) thanks to a buzzer beater by Mandir.
A different approach by Greece after the break resulted in their side scoring 8 unanswered points in 90 seconds. This forced a Croatian time-out (44-37) with almost eight minutes remaining in the quarter.
The game went through a scrappy technical phase with both coaches making a number of changes as the players were made to work hard to get on points on the score sheet. Neither side hit a three-pointer during this time.
Croatia managed to gain the upper hand and regained their double digit advantage on a loose ball foul on the quarter ending buzzer. Mirna Mazic split the pair of free throws for Croatia to lead (53-43).
Anna Spyridopoulou started the final quarter with two shots from the land of many and connected a third time as Greece reduced the their deficit to just 3 points (52-55) with over seven minutes remaining to play.
Greece continued their long distance policy with Evanthia Maltsi hitting the shot that put Greece in front for the first time in the match (56-55) with six minutes to play.
Greece lost their momentum with Spyridopoulou fouling out with just under five minutes to play.
The Croatian captain then put her side back in front from the free-throw line.
The game became a little edging with both sides contesting the official calls. With 12 seconds left to play Lelas fouled out giving Kalamazoo a chance to tie the game from the free-throw line, which she did.
Mandir then controlled the ball for Croatia for the next 10 seconds and then lost her marker with an ankle breaker move and somehow managed to score.
Greece had less than 2 seconds to get the ball up the court but only reached the halfway line leaving Kaltsidou no chance of scoring and hence losing this match.
Croatia: Sandra Mandir 19 (5 assists), Lisa Karcic DNP, Antonija Misura 5, Marta Cakic 0, Neda Lokas 0, Mirna Mazic 1, Iva Ciglar 2, Ana Lelas 15, Iva Sliskovic 6, Sena Pavetic 0, Luca Ivankovic 6, Jelena Ivezic 11
Greece: Dimitra Kalentzou 14, Evdokia Stamati DNP, Zoi Dimitrakou 2, Olga Chatzinikolaou 9 (4 assists) Styliani Kaltsidou 14 (12 rebounds and 4 assists), Evanthia Maltsi 8, Pelagia Papamichail 4, Thalia Kasapoglou DNP, Aikaterina Sotiriou 0, Emmanouela Androulaki DNP, Anna Spyridopoulou 9, Artemis Spanou 3
Return to the top of the EuroBasket Women 2011 news page
The hosts come out on top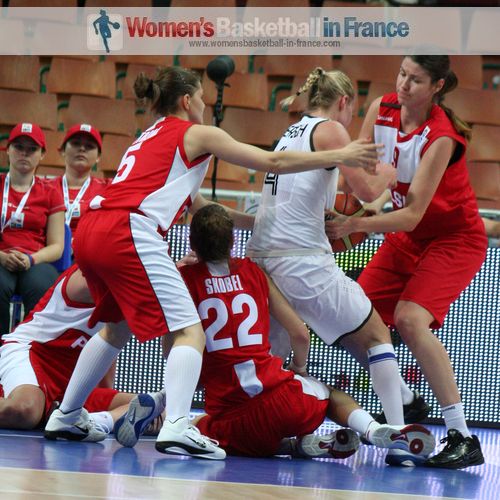 Poland's EuroBasket Womens dreams are back on track after beating Germany (75-60).
Germany matched their hosts for 26 minutes (41-41). But with a limited roster and already 7 games in the AQT behind themthey had nothing in their legs to stop Poland.
Ewelina Kobryn led Poland with 16 points and 9 rebounds while Malgorzata Babicka and Agnieszka Kaczmarczyk both scored 11 points. For Germany Romy Bär did her best with 13 points and 5 assists to lead a balanced attack in which four players finished in double digits.
EuroBasket Women match report:
Poland won the match in the second half
Although the Polish team played much more aggressively from the tip-off, it was Dorothea Richter who put the first points on the scoreboard from the free-throw line after 24 seconds.
However Poland soon scored as Agnieszka Szott acrobatically found her way to the best.
The players from both teams chased themselves up and down the court for the next five minutes with the lead changing practically on every score (14-14).
Germany started to become careless and started to leave gaps. Poland exploited this to score 7 unanswered points.
Sarah Austmann came to the rescue of Germany with 5 points, including a quarter-buzzer beater three-pointer to reduce the deficit to (19-23).
Germany changed defensive systems during the second quarter and kept Poland scoreless for over six minutes while taking the lead (26-23).
However once Babicka scored from the land of many for Poland, Germany dropped their intensive defense and tried to play the Polish sytle of basketball. Once again both teams started to run up and down the court while bashing anybody in their path.
The end result was that both teams cancelled each other out going into the locker room tied (30-30).
The two teams continued their end to end basketball with neither of them gaining the upper hand for long. They were still locked together (41-41) after 26 minutes of play.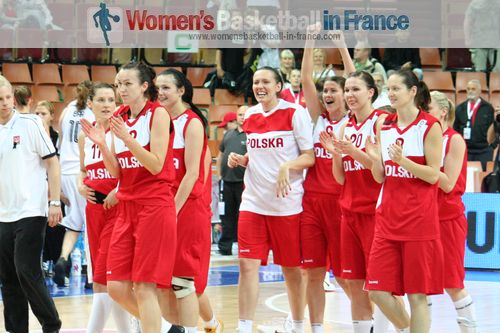 Poland finished the quarter much stronger than Germany and went 8 points clear after a three-ball by Paulina Pawlak. Szott continued to throw her weight around at both ends of the court and was sent to the free-throw line after an off-the-ball foul.
She split the pair and Poland went into the final quarter leading (54-45).
Germany failed to find a way through the Polish defense and found themselves trailing by 14 points (51-56) with four minutes to play. In addition Lisa Koop had fouled out and Anne Breitreiner was playing with 4 fouls.
Germany cracked completely leaving the way for Poland to cruise to victory (75-60).
Germany: Lea Mersch 5, Anne Breitreiner 11, Dorothea Richter 10, Lisa Koop 0, Sarah Austmann 11, Stephanie Wagner 0, Romy Bär 13 (5 assists), Tina Menz 8, Birte Thimm 0, Svenja Greunke 2, Katharina Kühn 0, Petra Gläser 0
Poland: Katarzyna Dzwigalska 0, Anna Pietrzak 0, Paulina Pawlak 10 (5 assists), Agnieszka Szott 9, Justyna Zurowska 4, Malgorzata Babicka 11, Elzbieta Mowlik 7, Patrycja Gulak 0, Ewelina Kobryn, 16 (9 rebounds), Aleksandra Chomac 0, Agnieszka Skobel 7, Agnieszka Kaczmarczyk 11
Return to the top of the EuroBasket Women 2011 news page
Latvia had more luck than France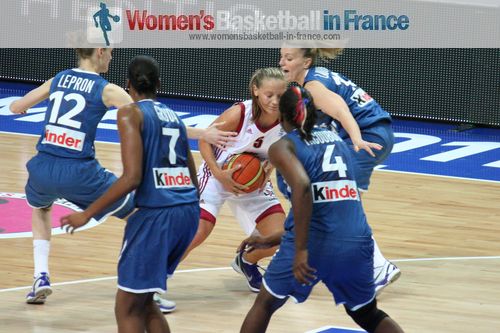 There was no quick start for France this time around as they had to wait 90 seconds to get on the score sheet with a trey by Emilie Gomis. However on the very next attack Sabine Niedola was fouled by Emméline Ndongue while scoring. She converted the free throw (3-3).
The three-point series continued with first Ieva Kublina from Latvia and then Gomis again for France.
Latvia tied their defense and pushed France into two 24-second clock violations. Still France kept the advantage (11-8) after six minutes.
Latvia continued to attack the paint and briefly led after Elina Babkina delivered a nice pass to Gunta Basko who then scored with a reverse lay-up.
France wrestled the lead back and then finished the quarter on a buzzer beater by Edwige Lawson-Wade (16-13).
Pierre Vincert had enough and used a time-out. On the very next play Lawson-Wade hit a three-ball. Unfortunately for them Babkina sneaked in the back door on the next play for Latvia.
Latvia's patient build-up gave them more options to conclude and only tough defending by France stopped them from reducing the deficit.
France managed just 2 more points for the rest of the quarter and went into the locker room leading (28-22).
The pace of the game picked up after the break. But the scoring rate remained low. Both teams struggled to get anything inside. So must of the points came from the perimeter or the free-throw line.
Nwal-Endéné Miyem and Babkina were having their own private competition as they scored 8 points each during the quarter.
France led (36-30) with five minutes to play. They extended their advantage to 10 points before Latvia had their turn in scoring.
The final quarter started with France leading (41-36). That was not to last long because Babkina fired in a trey 90 seconds in the quarter to tie the game (41-41).
France were missing all their shots. But due to the determination of Sandrine Gruda they stayed on equal terms (46-46) as the match entered its last four minutes.
Another patient build-up by Latvia paid off as Liene Jansone was on hand to finish the play. Then on the next play France rushed the shot and missed. Before everybody knew it Babkina was on her way down the court to score (50-46) for a 4-point lead with just under three minutes to play.
Céline Dumerc then came up with a steal and went from mid court all the way to score. Latvia turned the ball over on the next attack and once again Dumerc started the play and got the ball to Gruda.
Gruda fired the ball off. What was supposed to be a shot turned into a pass under the basket for Emméline Ndongue to score. The game was tied once again (50-50) with 90 seconds to play.
What can only be described as a comedy or errors from both sides meant that the game went into overtime.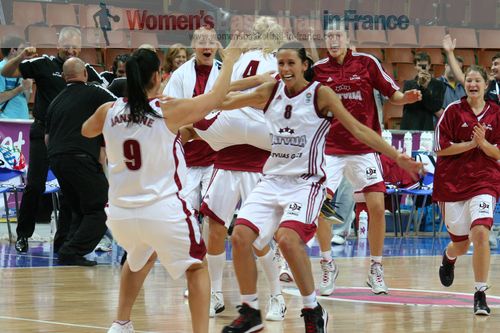 France had the ball in their hands longer than their opponents during overtime, picked up 6 offensive rebounds and yet ended up losing the game (56-59) because Babkina was on a mission and Niedola picked up the biggest defensive rebound with 14 seconds to play.
Latvia: Elina Babkina 26, Sabine Niedola 4, Zane Eglite DNP, Zane Tamane 8 (15 rebounds), Gunta Basko 10, Liene Jansone 4, Liene Priede DNP, Aija Putnina DNP, Karline Nimane DNP, Kristine Karklina 2, Ieva Kublina 3, Zane Jakobsone DNP
France: Isabelle Yacoubou-Dehoui 0, Nwal-Endéné Miyem 12, Clémence Beikes 7, Sandrine Gruda 11, Edwige Lawson-Wade 9, Céline Dumerc 2 (6 assists), Jennifer Digbeu 2, Emilie Gomis 7, Florence Lepron 0, Marion Laborde 0, Emméline Ndongue 6, Aurélie Bonnan 0
Return to the top of the EuroBasket Women 2011 news page
EuroBasket Women picture gallery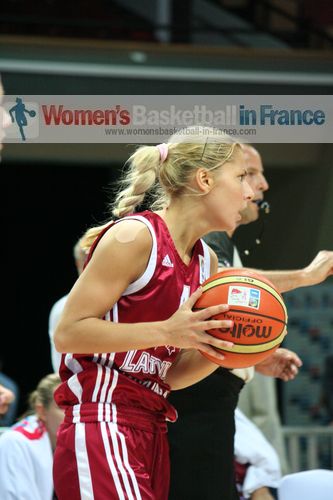 Move your mouse on the small pictures to view
Return to the top of the EuroBasket Women 2011 news page
---
Return to EuroBasket Women 2011
Return to the top of EuroBasket Women 2011 page
---
Eurobasket Women 2011 basketball picture credits:


womensbasketball-in-france.com

Date created: 19 June 2011
---