Belgium basketball
What's next for the 1993 generation

The last chapter for the 1993 born Belgium basketball generation in youth basketball has been written with the 2013 U20 European Championship for Women Division B title.

The journey started in 2009 with a silver medal at the U16 European Championship. In 2010 they finished 4th at the FIBA U17 World Championship for Women.
In 2011 they returned and stunned Spain and France to become the U18 European Champions. Having been in Division B at U20 level since 2009, the Golden Girls of Belgium's youth basketball came back for one last battle.
The impact of their victory may not carry as much weight as that of Spain in the Division A Championship, but the 1993 Belgium generation team was the only European team that matched the fire power of Spain.
wbbif asked Christian Detroz for his thoughts on what this victory meant for Belgium basketball. 
Detroz who runs the French language basketball site, basketfeminin.com, attended every FIBA sanctioned event of this Belgium class of 1993.

Christian Detroz, happy with the 1993 generation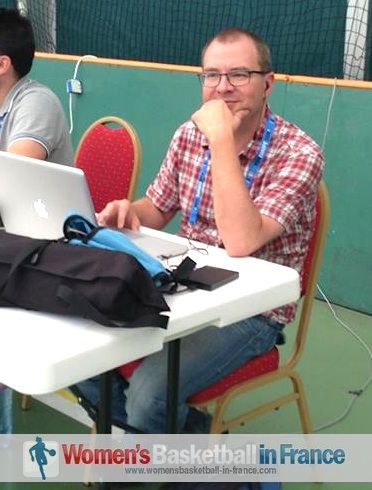 Christian Detroz (in picture) explained to womensbasketball-in-france.com what this promotion meant for the sports in Belgium. He sent us his thoughts in French:
"C'est très important pour le basket féminin belge, et j'espère que les U18 vont aussi revenir en division A. La Belgique a beaucoup de talents chez les jeunes et ils ont besoin de jouer contre les meilleurs nations européennes pour progresser et acquérir de l'expérience pour leur carrière en équipe nationale seniors. 
Il est très important qu'un maximum de joueuses puissent jouer des matches internationaux que ce soit avec les sélections U16, U18, U20 ou en clubs en jouant la coupe d'Europe, c'est la raison des Young Cats. Et pour le futur, c'est très important.
La médaille d'or U18 il y a deux ans à Oradea a peut-être plus de prestige, mais ce que les joueuses ont fait ici à Albena, est plus important pour le basket féminin belge et son futur.
J'ai vu aussi qu'il était très difficile de remonter de division B en division A. Les matches étaient si serrés ici et pour le même prix, la Belgique finit 4e. Mais le groupe est resté solide, team spirit "and I'm going to say promotion with the values of sport". Et ça c'est le plus beau pour cette équipe.
Le plus remarquable aussi est que toutes les joueuses voulaient jouer cette campagne U20. La génération U18 championne d'Europe à Oradea en 2011, mais aussi Hanne Mestdagh, qui revient de 3 opérations ACL au genou et qui en est à sa 2e saison aux Etats-Unis. Antonia Delaere (ACL) et Emma Meesseman (WNBA) voulaient aussi venir avec ce groupe très soudé pour terminer leur carrière chez les jeunes avec les U20."
---
Like this page / Aimez cette page