FIBA Europe 2013 U20
European Championship Division B
Belgium are the champions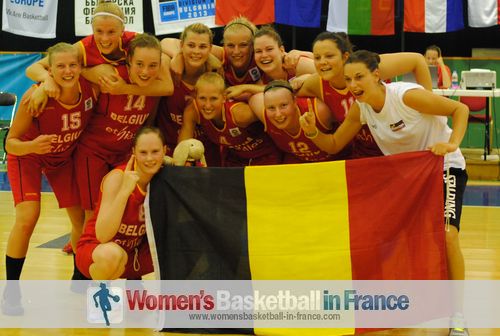 The 1993 generation from Belgium had won the FIBA Europe 2011 U18 European Championship for Women Division A and now they end their international youth basketball career with a gold medal in Albena in U20.

Belgium went into their match with Portugal knowing that a victory would win them the title while a defeat could mean missing out on promotion.
Belgium were quickly into their stride and opened the scoring with a three-pointer by Hanne Mestdagh (21 points, 14 rebounds).
Portugal that needed to win in order to stay in the promotion hunt led for just 10 seconds in the whole game which was at the four-minute mark.
For Belgium the first 49 points were scored by just three players:  Julie Vanloo (19 points, 5 assists), Sien Devliegher (16 points) and Mestdagh.
Leading (51-31) going into the final quarter, Belgium relaxed a little and Portugal were able to make the final scoreline respectable.

Laura Ferreira and Joana Jesus had 13 and 12 points each for Portugal. But this was not enough to stop Belgium from winning the game (64-53).
For Portugal this defeat also ended their bid for promotion.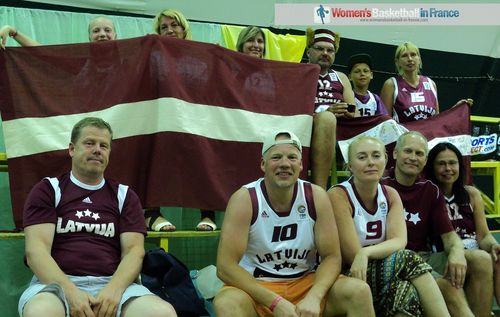 Earlier in the day Latvia beat Macedonia (71-48). Yet they could only celebrate their promotion after Belgium defeated Portugal.

Latvia never trailed against Macedonia and had the game won by the end of the first quarter leading (25-9). Guna Lagzdina who is finishing the tournament strongly had a double-double of 20 points and 12 rebounds.
Latvia have already three FIBA Europe bronze medals at U20 level from Division A. However this is the first in Division B.
The Czech Republic, already assured promotion on day 7, were involved in a ding-dong affair with Bulgaria but still came out on top (69-59).
Two of the star players in this tournament led the scoring for their respective teams. Monika Satoranská from the Czech Republic scored 18 points while Borislava Hristova from Bulagria was the game leading scorer with 19 points.
In the match between the two teams at the bottom, Great Britain snapped a 9-game losing streak in European Championships with a (69-67) victory over Romania.
Shequila Joseph who scored the winning basket was also the match hero for Great Britain with 20 points.
Wbbif present you the current league standings:
| | | | | | | |
| --- | --- | --- | --- | --- | --- | --- |
| | Team | W | L | PF | PA | Pts |
| 1 | Czech Republic | 7 | 1 | 565 | 437 | 15 |
| 2 | Belgium | 7 | 0 | 484 | 386 | 14 |
| 3 | Latvia | 5 | 2 | 484 | 387 | 12 |
| 4 | Portugal | 4 | 3 | 404 | 378 | 11 |
| 5 | Bulgaria | 3 | 4 | 471 | 449 | 10 |
| 6 | Macedonia | 3 | 4 | 394 | 428 | 10 |
| 7 | Israel | 2 | 5 | 335 | 444 | 9 |
| 8 | Great Britain | 1 | 6 | 379 | 504 | 8 |
| 9 | Romania | 0 | 7 | 414 | 517 | 7 |
---
Like this page / Aimez cette page