2014 FIBA U17
World Championship for Women
USA vs. Spain again in final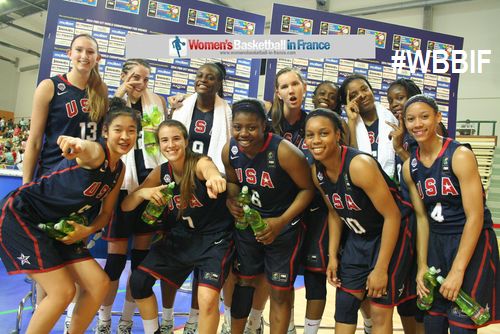 Spain booked their ticket for their second FIBA U17 World Championship for Women final game with a comfortable victory over the hosts, the Czech Republic (73-51). They will meet the defending champions, the USA, in a repeat of the 2012 final. In their semi-final, the USA defeated Hungary.

Veuillez trouvez en bas de page, les informations sur la journée des demi-finales du Championnat du monde de basket U17 féminin en 2014.
The USA have the best record at youth international basketball at all age group levels. They will meet the queens of European youth basketball, Spain in the final of the 2014 FIBA U17 World Championship for Women.
They will be joined on the victory podium by either the hosts, the Czech Republic or Hungary who will play off in the bronze medal game.
Australia and Canada will play off for the unofficial Commonwealth title when they meet each other for the fifth place match.
The other classification games on the final day of the competition are as follows:
7th place – France vs. Japan
9th place – Brazil vs. Korea
11th place – China vs. Mali
13th place – Italy vs. Mexico
15th place – Slovak Republic vs. Egypt
All World Championship games except the bronze medal and final are to be streamed on the youtube channel for FIBA.
---
Another World Championship
final game for Spain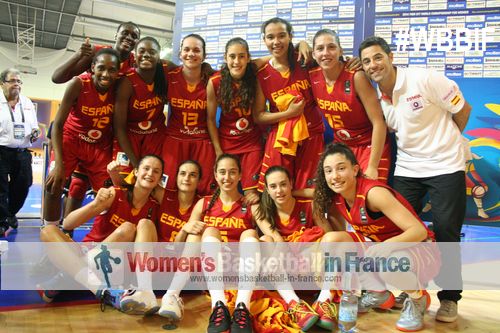 The first 129 seconds were fast and furious with neither Spain nor the Czech Republic able to put the ball in the basket. Then the flood gates open with Spain scoring 8 unanswered points within the next 90 seconds.
Spain were on a run. Despite conceding 4 points, they put the hosts on the back foot for good with 11 straight points on their way to a first-quarter lead (21-6).

Spain continued to dictate the pace all through the second quarter. They pushed their advantage to more than 20 points by the time the teams went into the locker room (40-15).

The Czech Republic were another team after the break. They were more aggressive and finally their shots started to drop. But Spain weathered the storm and held on to a 21-point lead going into the final quarter (55-34).
The hosts were unable to draw closer and let the current U16 European Champions qualify for their second FIBA U17 World Championship final.
Czech Republic: Karolina Malecková 4, Leneka Soukalová 4, Lucie Hosková 0, Maddelena Heroschova 0, Karolina Fadrhonsová 2, Michaela Fadrhonsová 6, Natálie Stoupalová 1, Michaela, Gaislerová 0, Tereza Sípová 10, Petra Holesínská 3, Julie Reisingerová 7, Michaela Krejzová 4

Spain: Laia Revenios 11, Maite Cazoria 13, Ainhoa Lopez 2, Iris Junio 7, Angela Salvadores 11, Cecilla Muhate 4, Maria Conde 8, Marla Martianez 6, Iho Lopez 6, Maria Caceres 0, Umo Diallo 0, Maria Perez 5

USA looking for a repeat at
FIBA U17 World Championship for Women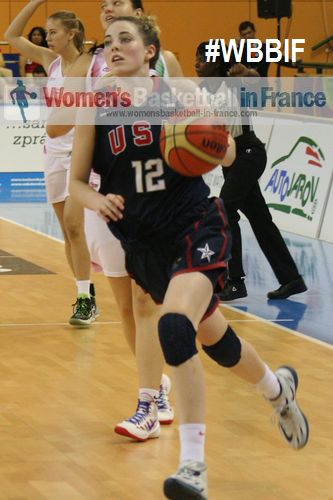 Hungary were not startled when they lost Dorottya Nagy after 90 seconds of play (she later returned) and Agnes Stude due to 2 early fouls. They traded toe to toe with the USA in the opening quarter.
However the USA with 6 three-pointers by Katie Samuelson (in picture) led (32-28) at the end of the first quarter.

Hungary huffed and puffed all through the second quarter. Yet they missed too many simple chances and failed to make a dent in the USA lead going into the locker room (39-46).

The USA have so many players that can score. So even with Samuelson neutralised until the very last shot of the third quarter, the USA were able to stretch their advantage to (69-51) by the end of the third quarter.
With the contest over, the final quarter was played out in good spirit with the USA cruising to victory (91-63).

Hungary: Debora Dubie 16, Virag Weninger 6, Dominika Böröndy3, Virág Kiss 12, Flóra Janko 0, Boróka László 0, Nina Aho 4, Noémi Solymos 2, Kristina Horváth 4, Dorottya Nagy 8, Eniko Kuttor 7, Agnes Studer1
USA: Anna Wilson 0, Natalie Chou 0, Arike Ogunbowale 3, Sabrina Ionescu 2, Kennedy Burke 10, Joyner Holmes 11, Asia Durr 17, Delanae Boykin 9, Katie Samuelson 25, Lauren Cox 3, Nancy Mulkey 6, Kristine Anigwe 14

Round-up for 2014 FIBA U17
World Championship for Women
classification games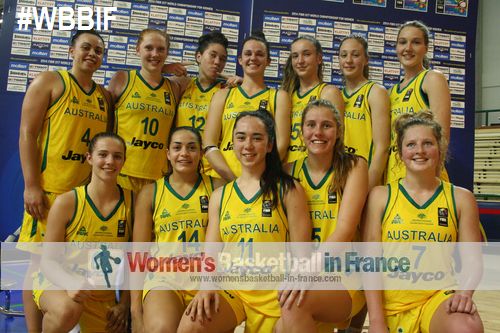 Canada left it to the very last second to beat Japan (46-45) with a three-ball by Mikela Brewer. They will meet Australia in an all Commonwealth game for fifth place. Australia had little trouble in pushing aside France (65-48).
France let themselves down in the rebounding department by picking up just 22 compared to Australia's 42.
France will end their tournament with a match for 7th place against Japan.
In Klatovy where the lower classification games are played, Korea beat Mali (76-67) and will face Brazil who defeated China (48-44) in the match for 9th place.

Italy avoided playing off for 15th place by beating European rivals, the Slovak Republic (57-38) while Egypt remain the only team not to have tasted a victory in this competition after losing to Mexico (70-76) in overtime.
All the lower classification games from day 6 of the FIBA U17 World Championship for Women can be found below:
---
La sixième journée du
Championnat du monde de basket U17 féminin est à déplorer pour la France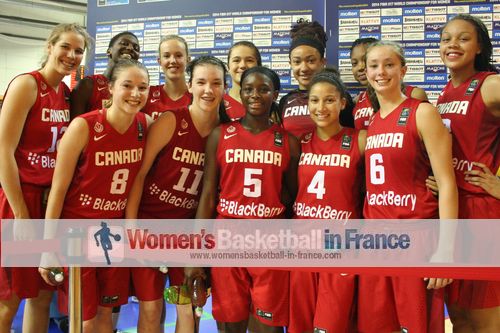 Pendant que l'Espagne et les Etats-Unis vont se rencontrer dans la finale et La République Tchèque se confronte à la Hongrie pour la médaille de bronze, la France doit se contenter d'une possible septième place.

L'Australie et le Canada joueront pour la cinquième place.
Tous les autres matchs de la dernière journée seront:
7e place – France contre Japon
9e place – Brasil contre Corée du Sud
11e place – Chine contre Mali
13e place – Italie contre Mexique
15e place – Slovaquie contre Egypte
L'Espagne prend le dessus après la deuxième minute de jeu contre la République Tchèque pour terminer le premier quart avec un avantage de 15 points (21-6).

La République Tchèque souffre aussi dans le deuxième quart-temps et concède plus de points. A la mi-temps le score est (40-15).

Pourtant quand les Tchèques reviennent sur le terrain avec plus d'aggressivité et une meilleure adresse au shoot, l'Espagne garde son avantage de 21 points (55-34) pour entamer le dernier quart avec sérénité pour remporter cette rencontre (73-41).

La Hongrie ne se laisse pas écarter de son adversaire. Les deux équipes se contre-attaquent sans cesse avec les Etats-Unis prenant le dessus à la fin du premier quart (32-28). Pendant le deuxième quart, les Américaines réussissent à écarter la Hongrie (46-39) grace à la maladresse de l'adversaire.
Dans la deuxième mi-temps, les Etats-Unis augmentent leur avantage après dix minutes de jeu (69-51) pour finalement s'imposer (91-63).
Le Canada arrache une victoire au Japon à la dernière seconde (46-45) grace à un tir à trois point de Mikela Brewer pendant que l'Australie bat facilement la France (65-48). Manque d'inspiration et de prise de rebonds, la France doit à nouveau se mettre en question pour mieux entamer le dernier match de ce championnat.

Dans le bas du classement, la Corée du Sud s'impose contre le Mali (76-67) pendant que le Brésil bat la China (48-44). L'Italie gagne contre la Slovaquie (57-38) pendant que l'Égypte perd pour la sixième fois, en prolongation contre la Mexique (70-76).
Les matchs du bas de classement peuvent à nouveau être visualisés (voir en-dessus de cet article) pendant que si vous souhaitez regarder les autres matchs, vous devriez vous souscrire auprès de FIBA TV, LiveBasketball.
---
Like this page / Aimez cette page