2014 FIBA U17
World Championship for Women quarter-finalists

The first day of elimination from the FIBA U17 World Championship for Women in Klatovy and Pilsen saw plenty of tears from players on the eight losing teams.
Veuillez trouvez en bas de page, les informations sur la première journée d'élimination du Championnat du monde de basket U17 féminin en 2014.
The hosts, the Czech Republic, and France required last-quarter heroics to book their tickets for a place in the quarter-final. Yet Australia, Hungary, Spain and the USA all won with margins of over 30 points.
Japan avenged their defeat from the 2013 U16 Asian Championship final in edging out China while Canada was the only lower seed to gain a ticket for the World Championship quarter-final.
The quarter-final pairings are as follows:
Hungary vs. Japan
Canada vs. USA
Czech Republic vs. Australia
Spain vs. France
Time to step up or to be eliminated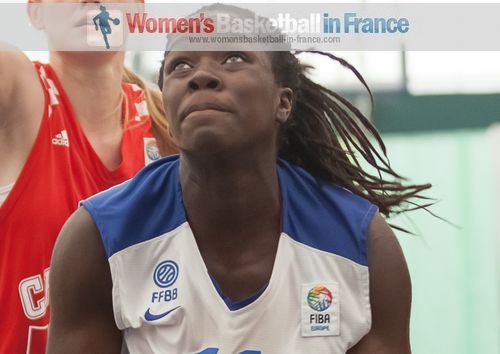 France made hard work of claiming their ticket for the FIBA U17 World Championship for Women eight final. France went on a 15-0 last-quarter run to edge past the Slovak Republic (45-42). Ornella Bankole (in picture above) scored 8 of her 22 points during the last quarter run to steer France to victory.
The Czech Republic also put down their feet in the final quarter with a 16-4 run o defeat Italy (61-57).
The other game that provided some suspense saw Canada overturn Brazil (52-40) with a late flourish in the closing minutes. Once again Bridget Carleton led the scoring with 19 points.
With the exception of the match between Japan and China, all the remaining games were complete blow-outs.
On a day when big teams have to win, their star players also step up a gear. So did Angela Salvadores from Spain who knocked down 22 points and pulled down 11 rebounds while Arike Ogunbowale from the USA helped herself to 19 points. Tamami Nakada led Japan with 18 points and 8 rebounds.
All the games from day 4 of the FIBA U17 World Championship for Women can be found below:

---
La quatrième journée du
Championnat du monde de basket U17 féminin est éliminatoire

La France tremble mais se ressaisit pour accéder dans le quart de finale avec une victoire contre la Slovaquie. Les pays restant invaincus sont l'Australie, l'Espagne, les États-Unis et la Hongrie qui se qualifient avec le Canada, le Japon et la République Tchèque.

Ornella Bankole (22 points dont 8 dans le quatrième quart-temps), épaulée par Chartereau et Duchet, arrache une victoire pour la France (45-42) contre la Slovaquie. Les 17 points, 11 rebonds, 2 passes décisives et 2 interceptions de Veronika Remenarova de la Slovaquie sont en vain.

La République Tchèque s'impose à justesse contre l'Italie (61-57) dans le dernier quart-temps avec un 16-4 avec une bonne performance de Reisingerova (15 points) et Lenka Soukalova (12 points, 8 rebonds, 5 passes décisives, 2 interceptions, 2 contres).
Grace à Bridget Carleton (19 points), Yearwood et Kirkpatrick, Canada gagne contre le Brésil (52-40) dans les dernières minutes.
Le Japon, emmené par Tamami Nakada (18 points, 8 rebonds), prend sa vengence après une défaite contre la Chine dans la finale en 2013 du championnat d'Asie des U16 pour la battre (69-44) pendant que l'Espagne avec une Angela Salvadores en grande forme (22 points, 11 rebonds) s'impose facilement contre la Corée du Sud (80-51).
La Mexique succombe aux co-équipières de Arike Ogunbowale (19 points) des Etats-Unis pendant que la Hongrie et l'Australie gagnent avec un grand avantage contre l'Egypte et le Mali.
Dans la prochaine phase se confronteront :
Hongrie contre Japon
Canada contre USA
République Tchèque contre Australie
Espagne contre France
Trouvez tous les résultats sur le côté droit. Vous pouvez aussi regarder les matchs de la quatrième journée dont les vidéos se trouvent en-dessus de l'article en français.
---
Like this page / Aimez cette page