2014 FIBA U17
World Championship for Women
Gold again for the USA

The third FIBA U17 World Championship for Women ended in Pilsen with the USA defending their title against Spain. Whereas Hungary picked up the bronze medal after a hard fought victory against championship hosts, the Czech Republic. On the other hand, France ended the competition with a defeat against Japan and finished in 8th place.

Veuillez trouvez en bas de page, les informations sur la journée de la finale du Championnat du monde de basket U17 féminin en 2014.
The players selected for for the all-tournament team came from a list of players drawn up by FIBA after the Round of 16.
Angela Salvadores from Spain who knocked down 40 points in the final was voted as the MVP of the 2014 FIBA U17 World Championship for Women.

She was joined in the all tournament team by Debora Dubei and Virág Kiss from Hungary and by the United States players, Kate Samuelson and Joyner Holmes.
France finished in 8th place with three wins and four defeats in their second appearance in this U17 World Championship competition.
Just click on the link below to move to the part of the page that interests you most:
Hungary take the U17 bronze medal home
Recap of lower classification games

---
USA three-peat their success in winning
the U17 World Championship title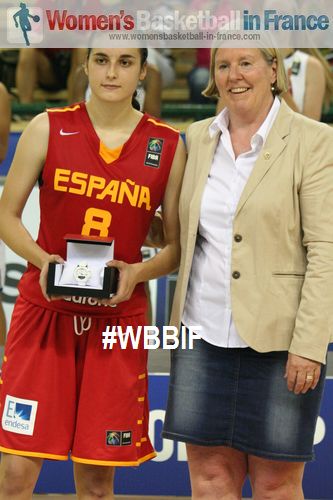 Angela Salvadores (in picture) from Spain more or less took on the USA single-handedly offensive wise with 13 of her team's 16 points. She also dished out an assist. However the USA were a little better on the rebounds and edged the first quarter (17-16).
The USA slowed the pace of the game down during the second quarter, while using their superior rebounding skills to keep Spain (36-31) trailing at the break. Lauren Cox and Arike Ogunbowale led the USA in scoring with 10 and 9 points each while Salvadores and Iris Junio had 17 and 10 points for Spain.

The cat and mouse game continued between the two teams all through the third quarter. Both teams gave a master class in the art of blocking. The USA went into the final quarter leading (58-56) while Salvadores led all scoring with 27 points. Meanwhile Katie Samuelson from the USA had to sit out most of the quarter for 4 fouls.
Maita Cazorla and Salvadores hit shots from beyond the arc at the start of the final quarter to give Spain the advantage. But the USA  bounced back with Cox at both ends of the court.
The World Championship final was nicely poised with the USA leading by 4 points with around 38 seconds to play. Cazorla from Spain hit a big three from down-town which the officials disallowed for an offensive foul.
This shot would have made it a 1-point game. The USA stayed cool headed in the final seconds and held on to a 2-point victory in the third edition of the U17 World Championship.

USA: Anna Wilson 0, Natalie Chou 0, Arike Ogunbowale 15, Sabrina Ionescu 5, Kennedy Burke 0, Joyner Holmes 4, Asia Durr 17, Delanae Boykin, 8 Katie Samuelson 7, Lauren Cox 20, Nancy Mulkey 0, Kristine Anigwe 4
Spain: Laia Revenios 0, Maite Cazoria 14, Ainhoa Lopez DNP, Iris Junio 13, Angela Salvadores 40, Cecilla Muhate 2, Maria Conde 2, Marla Martianez DNP, Iho Lopez 4, Maria Caceres DNP, Umo Diallo 0, Maria Perez 0

---
Hungary take the U17 World Championship
bronze medal home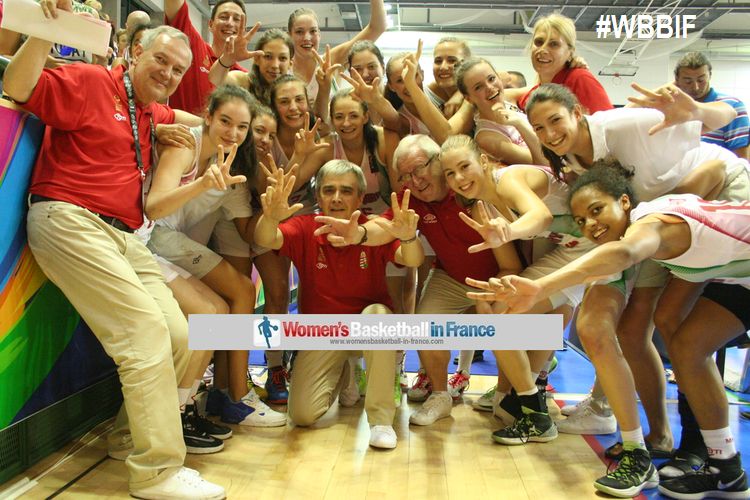 The first attack by the Czech Republic ended in a three-pointer by Tereza Sípová. On the very next attack Petra Holesínská also hit a shot from the land of man. With a minute played, the hosts were running away with a 6-0 lead.
The Czech Republic went 5-of-7 from behind the three-point line during the first quarter to build a double-digit lead (25-13).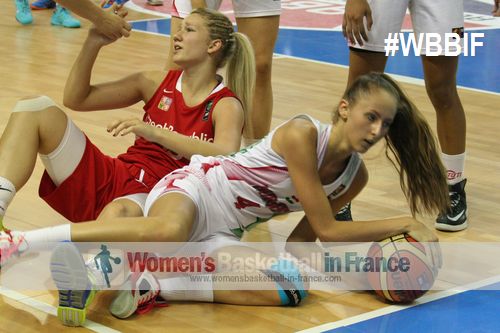 The second quarter was an interesting battle. Hungary were able to stop the Czech Republic shooting from outside with some aggressive defending. They also started to drive more to the basket provoking fouls and getting some points from the free-throw line.

However the hosts were able to hang on to the lead (37-36) going into the locker room thanks to a big three-pointer by Natálie Stoupalová.
The third quarter was international youth basketball at its best, fast,  youthful exuberance, good plays and bad plays. Both nations matched themselves basket for basket. Hungary's ability to get to the free-throw line allowed them to edge in front (51-48).
The two teams continued to battle all through the final quarter with the pendulum finally swinging in favour of Hungary with a shot from nowhere by Agnes Studer. Hungary hung on to take the nation's first bronze medal at a FIBA U17 World Championship.


Czech Republic: Karolina Malecková 2, Leneka Soukalová 6, Lucie Hosková 2, Maddelena Heroschova 0, Karolina Fadrhonsová 2, Michaela Fadrhonsová 7, Natálie Stoupalová 0, Michaela, Gaislerová 0, Tereza Sípová 13, Petra Holesínská 16, Julia Reisingerová 7, Michaela Krejzová 6

Hungary: Debora Dubie 2, Virag Weninger 6, Dominika Böröndy 2, Virág Kiss 21, Flóra Janko DNP, Boróka László  DNP, Nina Aho 1, Noémi Solymos 0, Kristina Horváth 6, Dorottya Nagy 18, Eniko Kuttor 3, Agnes Studer 4

---
Round-up for 2014 FIBA U17
World Championship for Women
classification games

Australia won the unofficial Commonwealth title in a one-sided game against Canada (69-39) to claim fifth place. All 12 players from Australia scored. The most impressive player was Madeline Dennis who scored 8 points in eight minutes, just missing one shot. Only Haley Brown from Canada did not play due to a concussion picked up while playing the USA .
Japan held their nerves in the closing seconds to keep France at bay and claim 7th place (65-60) with 18 points coming from their captain Yuki Katu. Johanna Muzet (in picture) scored the most points for France with 16 points but her World Championship ended in tears with seven seconds to play. She may have rolled her ankle as she had to be taken off the court by the French medical staff.
Brazil finished in 9th place after beating Korea (68-63) while China crushed Mali (61-27) to take 11th place.

The nightmare is over for Italy with a hard fought victory against Mexico (64-52) to claim 13th place.

A depleted Slovak Republic avoided the wooden spoon by beating Egypt (63-55) in the 15th place classification game. Veronika Remenarova compiled 14 points and 14 rebounds. Egypt leave the FIBA U17 World Championship without a single victory.

---
La médaille d'or du championnat du
monde de basket U17 féminin
aux États-Unis

La France termine 8e dans ce championnat pendant que les Etats-Unis reçoivent pour la troisième fois la médaille d'or. L'Espagne est en argent pendant que la Hongrie est en bronze.
MVP de ce tournoi est Angela Salvadores et Debora Dubei, Virág Kiss de la Hongrie et Kate Samuelson et sa co-équipières Joyner Holmes la joignent dans le groupe des meilleures joueuses du Mondial.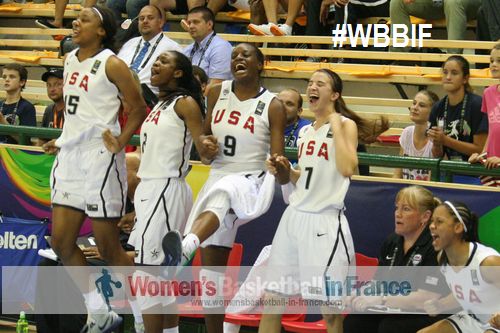 Au début de la rencontre, c'est Angela Salvadores de l'Espagne qui prend les choses en main en marquant 13 des 18 points de son équipe, en ajoutant une passe décisive. Mais les Etats-Unis sont plus efficaces au rebond pour prendre l'avantage (17-16) à la fin du premier quart-temps.
Pendant le deuxième quart, ce sont les Américaines qui ralentissent le jeu en prenant surtout soin de prendre les rebonds pour mener (36-31). Les Etats-Unis sont emmenés par Lauren Cox et Arike Ogunbowale avec 10 et 9 points chacune pendant que Salvadores et Iris Junio sont les meilleures marqueuses de l'Espagne avec 17 et 10 points respectivement.
Les deux équipes continuent à se confronter et prouvent leur savoir faire avec les contres. Quoique les Etats-Unis mènent (58-56), cest Salvadores qui est la meilleure joueuse avec 27 points pendant que Katie Samuelson est condamnée à suivre le match sur le banc avec 4 fautes à son compte.
Ils pleut des tirs primes par Maita Cazorla et Salvadores pour que l'Espagne prend l'avantage. Mais les Etats-Unis reviennent au score avec Cox présente en offense et en défense.
Avec 38 points à jouer dans dernier quart, les Etats-Unis ont un avantage de 4 points. L'Espagne répond avec un tir à trois-points de Cazorla qui est refusé.
Ainsi les Etats-Unis s'accrochent et gagnent par deux petits points (77-75).
---
La bronze à la Hongrie et la médaille au chocolat pour la République Tchèque

La République Tchèque entame la rencontre avec un tir à trois points de Tereza Sípová. Puis suit Petra Holesínská qui met un deuxième tir prime en faveur des Tchèques. Il est (6-0) après une minute de jeu. La Hongrie n'arrive pas à empêcher son adversaire de mettre des tirs à trois points dont 5 de 7 tentatives sont réussies. Jusqu'à la fin du premier quart, la République Tchèque agrandit son avantage (25-13).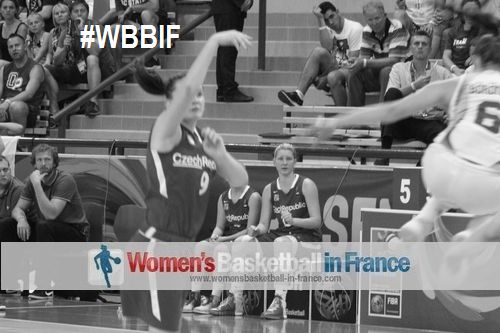 Finalement, la défense aggressive de la Hongrie empêche les tirs à distance de son adversaire. En même temps, la Hongrie attaque plus fructueusement le basket en provoquant des fautes et arrivent à les transformer en points à la ligne de lancer franc.

Quand même, les hôtes restent devant (37-36) à la mi-temps grace à un tir prime de Natálie Stoupalová (en image).
Pendant le troisième quart, les deux équipes donnent tout avec des jeux, bons et mauvais. En revanche la Hongrie passe devant (51-48) avec ses lancers francs.
Grace au tir de Agnes Studer, la Hongrie prend le dessus à la fin de la rencontre pour gagner sa première médaille de bronze au Mondial U17 avec la République Tchèque s'inclinant (61-67).
Que se passe-t-il
en bas de classement ?

L'Australie s'impose contre le Canada avec un important avantage (63-39) pour s'établir en tant que cinquième dans le classement mondial des moins 17. Toutes les Australiennes marquent avec Madeline Dennis impressionnante avec 8 points dans huit minutes de jeu. Pour les Canadiennes, seule Haley Brown ne joue pas à cause d'une commotion cérébrale contractée pendant le match contre les États-Unis.
Le Japon reste concentré pendant le money-time contre la France et gagne (65-60) (et une septième place) dont la performance du capitaine Yuki Katu est excellente avec 18 points. Pour Johanna Muzet (16 points) la défaite est d'autant plus dure car elle ne peut même pas terminer la rencontre car elle se blesse à la cheville.
Le Brazil bat la Corée du Sud (68-63) terminant 9ième.

La Chine facilement vainct le Mali (61-27) et devient 11ième dans le classement.
Le cauchemare des Italiennes au Mondial se terminent avec une victoire dûrement gagnée contre le Mexique (64-52) pour acquérir la 13ième place.
Une équipe de Slovaquie, très épuisée, évite la dernière place en battant l'Egypte (63-55) dans le match pour la 15ème place. Du côté slovaque, Veronika Remenarova enregistre un double-double avec 14 points et 14 rebonds. L'Egypte rentre au pays sans aucune victoire au Championnat du monde de basket U17 féminin.
---
Like this page / Aimez cette page