Group phase ends and brackets set in 2014 FIBA U17
World Championship for Women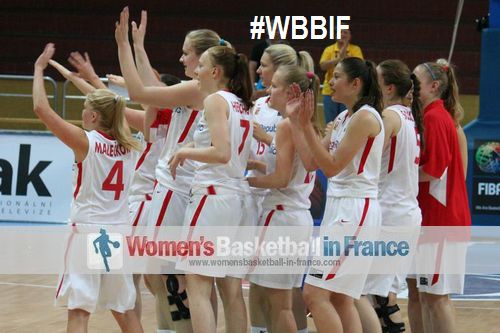 The group phase of the third FIBA U17 World Championship for Women in Klatovy and Pilsen ended without any major surprises with all the top teams closing with victories.

Veuillez trouvez en bas de page, les informations sur la troisième journée du Championnat du monde de basket U17 féminin en 2014.
From the next round (the round of 16) onwards the losers of any game are eliminated from the title race and relegated into classification games.
For the first time in the history of the FIBA U17 World Championship for Women, all the participating teams will play the same amount of games.
FIBA will continue to broadcast all games until the semi-final on their Youtube channel for free without any colour commentary. For the semi-finals, third-place match and final the broadcast will be provided by FIBA TV.
For all stats to the games go over to the right margin and then click on the link.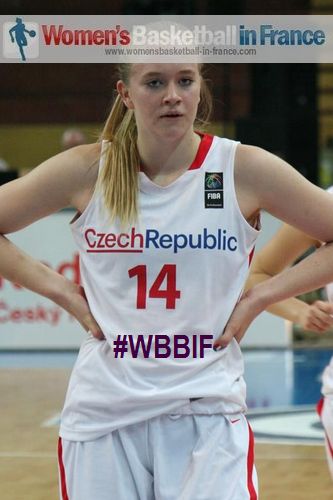 The hosts, the Czech Republic, recorded their second victory of the tournament on the back of a double-double performance from one of the rising stars of youth basketball, Julia Reisingerova (in picture) who scored 27 points and pulled down 15 rebounds.
Her team-mate Tereza Sipova chipped in 15 points and had 7 steals. Bridget Carleston helped herself to 21 points in defeat for Canada.
In the other game from Group A, Hungary did not require overtime as they just piped Korea (73-68).

In the two other games in Klatovy, Spain, with 18 points coming from Angela Salvadores, completed a Group B sweep by easing past Brazil (73-52) while Italy ended their run of defeats with a victory against Egypt (65-48) whereby Italy were led by Mariella Santucci.

In Pilsen the USA, the defending champions of the FIBA U17 World Championship for Women, walked over Mali (78-22) to secure first place in Group D.  France beat China (75-42) with 19 points coming from Lisa Berkani to claim second place.
In Group C, Australia once again waited for the second half to step up with all players getting on the score sheet. Their victims this time were Mexico who were beaten (64-42) while Japan sneaked past the Slovak Republic (49-47).
With the first phase completed and all the teams qualifying, the draw (brackets) is as follows:

Hungary vs. Egypt
Japan vs. China

Canada vs. Brazil
Mexico vs. USA

——————————

Czech Republic vs. Italy
Australia vs. Mali

Korea vs. Spain
Slovak Republic vs. France

All the games from day 3 of the FIBA U17 World Championship for Women can be found below:

---
La troisième journée du
Championnat du monde de basket U17 féminin détermine le classement

La France renoue avec la victoire et jouera la Slovaquie dans la deuxième phase de ce mondial pendant que les équipes de l'Australie, l'Espagne, les États-Unis et la Hongrie restent invaincues.

Poule A:

La République Tchèque, emmenée par Julia Reisingerova (27 points, 15 rebonds) et Tereza Sipova (15 points, 7 steals), bat Canada (71-62) dont les 21 points de Bridget Carleston ne suffissent pas pour inverser la défaite.
La Hongrie s'impose contre la Corée du Sud (73-68) pour gagner la poule.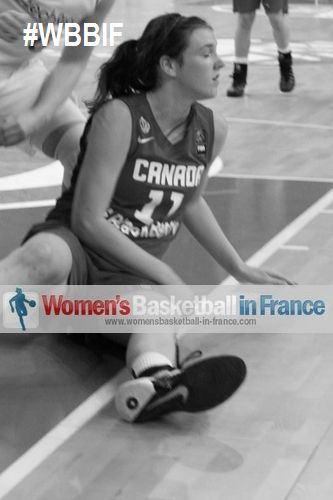 Poule B:
Menée par Angela Salvadores (18 points), l'Espagne vainc le Brésil (73-52) pendant que l'Italie - sous l'impulsion de Mariella Santucci - bat l'Égypte (65-48).
Poule C:
L'Australie se met au travail dans la deuxième mi-temps pour finalement battre le Mexique facilement (64-42). Le Japon, par contre, fait l'exploit en arrachant une victoire contre la Slovaquie (49-47).
Poule D:
Les États-Unis n'ont pas de problème à battre le Mali (78-22) pendant que la France se remet de sa défaite contre les Etats-Unis en s'imposant contre la Chine (75-42). C'est Lisa Berkani qui est la meilleure marqueuse de ce match pour la France avec 19 points.
Pour la deuxième phase - qui sera éliminatoire - les équipes suivantes se rencontreront:

Hongrie (1e du poule A) contre Egypte (4e du poule B)
(2e du poule C) Japon contre Chine (3e du poule D)

Brésil (2e du poule A) contre Canada (3e du poule B)
(4e du poule C) Mexique contre USA (1e du poule D)

——————————

(2e du poule A) République Tchèque contre Italie (3e du poule B)
(1e du poule C) Australie contre Malidu (4e du poule D)

(4e du poule A) Corée contre Espagne (1e du poule B)
(3e du poule C) Slovaquie contre France (2e du poule D)

En-dessus de l'article, vous trouvez également les liens pour les vidéos de tous les matchs de la troisième journée de ce championnat et du côté droit en cliquant sur les résultats d'un match, vous accédez aux statistiques des joueuses de chaque équipe.

---
Like this page / Aimez cette page