Ekatarina Dimitrova's
passion for basketball

Ekatarina Dimitrova's passion for basketball has won her many accolades while playing for Bulgaria. She has just turned 25 and yet she has been representing Bulgaria for 12 years.
She had played basketball professionally in Italy and Israel before coming to France in 2008.

She is also credited with the first triple double in a U20 FIBA Europe U20 European Championship. She scored 16 points, pulled down 10 rebounds and dished out 10 assists on 7 July 2006 as Bulgaria beat the Czech Republic (74-60).
In France she has her own special line of history as a foreigner to have played for two newly promoted teams to the LFB, Basket Landes (2008-2009) and Charleville-Mézières (2010-2011).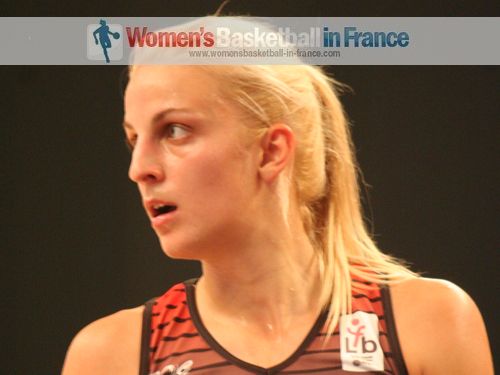 In the video Dimitrova discusses her observations about the challenges of the LFB which have become more physical and competitive in her five years playing basketball in France.
She reflects on the support of the local community in Charleville-Mézières where she has been playing since 2010. She likes the way the people behave towards the players and makes them feel special.
She also has fond memories of her two years at Basket Landes, her first club in France (2008-2010).
She speaks proudly about her national team and gives reasons for their recent failures in not qualifying for EuroBasket Women. Although Bulgaria have not qualified for a major tournament since 1991 Dimitrova is hopeful that this will change in the near future.

She also shares her thoughts on the domestic league in her country. Dimitrova would love to experience the admiration the French national team players get when they play in their respective clubs in France.

Her passion for basketball made her leave Bulgaria when she was 17. Yet she stresses that it was also important to her to prepare for her life after basketball. So she studied and has now a university degree.
Although she speaks French, we decided to conduct this interview in English and womensbasketball-in-france thanks her for her openness.
"Много благодаря"
---
Visit our 2012-2013 Ligue Féminine de Basketball section

Visit our home page
Visit our "What's New" page
Picture credits:
womensbasketball-in-france.com

Date created: 28 January 2013
Like this page / Aimez cette page