LFB team roster announcements with the season about to start
---
---
LFB team roster addition at Villeneuve d'Ascq
Jolene Anderson
(right) has already made her debut for Villeneuve d'Ascq in a friendly match against Mondeville. Anderson led all scoring with 23 points despite her team's loss (76-58).
Anderson is the most prolific scorer in the history of the University of Wisconsin. She was drafted in 23rd position for 2008 WNBA. She has been playing in the WNBA this season with the Connecticut Sun alongside Sandrine Gruda.
She will be the last signing for Villeneuve d'Ascq and will join Florence Lepron, Laurie Datchy, Martina Rejchova and Milijana Evtoukhovitch as newcomers to the club.
What is happening at COB Calais
COB remain in the LFB and have managed to keep hold of many of the players from last season: Brazdeikyte, Cibert, Dia and Neaves.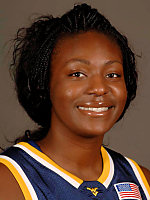 Furthermore they have added Christelle Morel (Rennes NF1), Sara Leemans (Belguim), Anne-Sophie Pagnier (SJS Reims) and Joyce Cousseins-Smith (Aix-en- Provence).
Furthermore they have also signed WNBA rookie, centre Sanni Olayinka (left) from the Detroit Shock. She played college basketball at West Virgina University and was a member of the Nigerian national team that played in the 2007 world championships.

Elsewhere in the LFB:
Basket Landes have signed Naignouma Coulibaly from Pleyber-Christ (NF1) and Ekaterina Dimitrova, a Bulgarian who played in Italy last season as well as Serbian international Ana Perovic.
Linda Bousbaa, who is turning 17 in December, left Nice COB (NF1) to join Lattes Montpellier (LFB).
Arras recently signed 23-year old Lithuanian Vaida Sipaviciute, 1m93, who played in the NCAA at the University Syracuse .
---
Return to women playing basketball blog page
Return from LFB team roster news announcements to LFB news
Previous roster change news from around the clubs
Picture credits:
AJ Maclean Badger Nation - Jolene Anderson
West Virgina University - Sanni Olayinka

Date created: 11 September 2008

---