The LFB winners and losers as January comes to an end

With life returning to normal after the event in Paris at the beginning of January, nothing much changed in the league during rounds 15 and 16.
Six teams came away victorious in the two games played, while the hopes of the bottom two clubs to remain in the elite look bleak after they failed in gaining any victories. After round 15, the coach of Hainaut Basket, Jimmy Ploegarts, lost his job and was replaced by the assistant coach.

Veuillez trouver des informations en français sur la 15ème et la 16ème journée de la LFB en bas de la page.
Bourges Basket's struggles in the EuroLeague have no bearing domestically. Despite losing Danielle Adams for the rest of the season, the return of Nwal-Endéné Miyem from injury has softened the blow.
Bourges overcame high flying Tarbes (87-59) and destroyed COB Calais (90-53). Miyem helped herself to 12 points in each game while Jo Leedham led the team over the two games with a total of 34 points.
Bourges remain in first place and are just six wins away from a LFB championship play-off spot.

Villeneuve d'Ascq have finally found their groove. They were forced to work hard against US Mondeville (76-69) but had no problems in firing past Hainaut Basket (83-51).
Géraldine Robert went a perfect 7-of-7 from the floor with 17 points while Virginie Bremont filled the stat sheet with 18 points, 5 steals, 8 rebounds and a couple of steals in their derby victory.
Lattes Montpellier also won their last two games but had to work very hard. They only beat Arras (77-60) after their opponent fell apart in the third quarter. Against Basket Landes, Montpellier required overtime to push past them (94-84).
LFB smiles for Lizanne Murphy and Angers
Angers ended their negative series with back to back victories against Calais (94-81) and Tarbes (75-71) to move up to 6th place.
Charleville-Mézières also ended their own losing series with a pair of victories. They huffed and puffed against Lyon BF (68-61) and then triumphed against Mondeville (71-65).

Toulouse also lifted themselves well clear off the LFB relegation battle with a crucial victory against Nantes-Rezé (69-61) in round 16. The previous weekend they crushed Hainaut Basket (72-44).
Olivia Epoupa continues her quest for the player-of-the-year award with back to back double-doubles. Over the two weekends she scored 24 points, picked up 21 rebounds and dished out 17 assists.
Nantes-Rezé managed to win a game at the expense of Basket Landes (70-62) while Arras ended their two-game slide by edging out Lyon (78-72).
---
Les rondes 15 et 16 en LFB:
Angers, déjà en sixième position
dans le tableau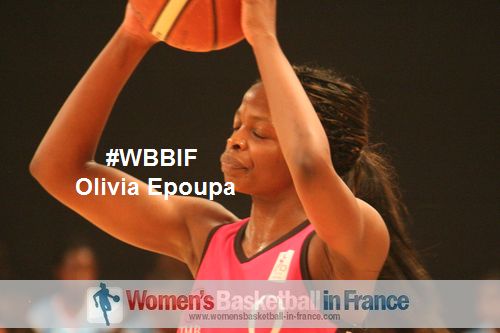 Pendant que six formations ont gagné pendant la 15e et 16e journée, Hainaut Basket et COB Calais échouent à nouveau et Hainaut fait ses adieux à Jimmy Ploegarts qui n'entraîne plus l'équipe après la 15e journée.

Avec deux victoires consécutives, Angers monte dans le tableau sur la sixième position pendant que Basket Landes subit encore des défaites.
---
Mi-janvier Bourges emporte une victoire contre Tarbes Gesperre (87-59). Les Tangos ont pu compter sur Endéné Miyem (revenue après une blessure) et de la tenacité de Jo Leedham et de Héléna Ciak (17 points, 8 rebonds). Pour Tarbes Valerija Berezhynska (19 points) pouvait que constater la défaite.
Dans la ronde 16, le COB Calais subit logiquement contre le leader (90-53), emmené par Jo Leedham (21 points). Les 19 points de Viktoria Mircheva étaient en vain.
Malgré les efforts de Sandra Dijon et Courtney Hurt avec 19 points chacune, USO Mondeville s'incline dans les dix dernières minutes contre Villeneuve d'Ascq (69-76) avec une Géraldine Robert en bonne forme (16 points, 12 rebonds).
Pour sa 16e journée, c'est Hainaut Basket qui succombe à Villeneuve d'Ascq (51-83). Le duo Virginie Bremont (18 points, 8 rebonds) et Géraldine Robert avec une sans faute pour ses 17 points font le bonheur à leurs fans.
Lattes Montpellier bat Arras (77-60) avec de bonnes performances par Valériane Ayayi (21 points, 9 rebonds) et Gaëlle Skrela (15 points, 5 passes décisives, 5 interceptions). Pour Arras, la meilleure joueuse est Djéné Diawara (18 points, 11 rebonds).
Puis les gazelles échappent à une défaite en prolongation contre Basket Landes (94-84). La contribution de Gunta Basko-Melnbarde (18 points) n'a pas suffit pour les Landaises pendant que Jenna O'Hea (30 points) mène Montpellier à une victoire.
---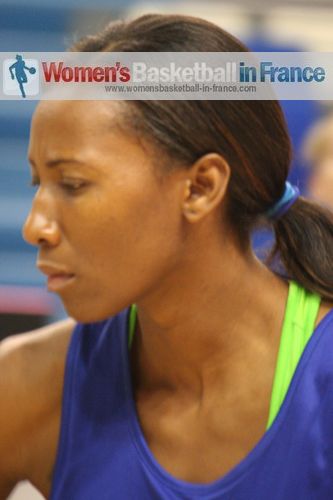 Géraldine Robert, concentrée
Quoique le COB Calais fait peur aux Angevines au début du match, Angers laisse parler Amélie Pochet (15 points) et Lizanne Murphy (21 points, 17 rebonds) pour contrôler son adversaire, emmené de Jasmine Hassell et Jenny Fouasseau (21 points chacune). Angers gagne cette rencontre (94-81).
La semaine d'après Angers arrache une victoire à l'extérieur contre Tarbes Gesperre (75-71). C'est encore une fois Murphy (25 points, 9 rebonds) qui s'illustre, épaulée par Rebecca Tobin (16 points, 8 rebonds). Valeriya Berezhynska a fait son mieux (22 points, 14 rebonds), mais le manque d'adresse aux lancers (12/20) a coûté cher à son équipe.
Porté par Olivia Epoupa (14 points, 8 rebonds, 11 passes décisives), Toulouse écrase Hainaut Basket (72-44) et puis vainc Nantes-Rezé (69-61) avec une Epoupa (10 points, 13 rebonds, 6 passes décisives) époustouflante. Les Nantaises souffrent. Pourtant Sarah Michel (23 points) essaie le tout.

Charleville-Mézières gagne grace à Amel Bouderra (18 points) et Olayinka Sanni (15 points) contre Lyon (68-61). La rencontre contre USO Mondeville est aussi en leur faveur avec Ana Cata-Chitiga et Ambrosia Anderson avec 18 et 20 points respectives. Les efforts de Courtney Hurt (19 points, 13 rebonds) ont été affaiblis par de nombreuses balles perdues (25 en total).
Nantes Rezé est emmené par Sarah Michel (21 points) et Emilija Podrug (17 points, 11 rebonds) pour s'imposer contre Basket Landes (70-62). La meilleure joueuse landaise est Danielle Page avec un double de 17 points et 11 rebonds. 
Avec une juste victoire (78-72) pour Arras contre Lyon BF, Arras monte sur la quatrième place. Les Arrageoises sont emmenées par Djéné Diawara (19 points, 12 rebonds) et Lidija Turcinovic (16 points). Pour les Lyonnaises, ce sont Milica Dabovic (19 points) et Margaux Galliou-Loko (13 points, 7 rebonds) qui font le show.
---
Like this page / Aimez cette page