COB Calais' first LFB victory
in almost four years

The last LFB victory for Calais had been in January 2011, with a victory against Villeneuve d'Ascq. The four-year wait and a 23-game losing streak is over with a road victory against Hainaut Basket (58-50). 
Elsewhere there were no surprises with the higher placed teams all winning.

Veuillez trouver des informations en français sur la 13ème journée de la LFB en bas de la page.
With 13 games played of the regular season, Tango Bourges Basket are two games clear of the four teams sharing second place. Lattes Montpellier, Basket Landes, Arras and Villeneuve d'Ascq have finished the first half of the season with 10 wins apiece after a successful start to 2015.
Tarbes made it a perfect round for the top 6 with a road victory against USO Mondeville for their 8th win of the season.
With all the teams below Tarbes losing - with the exception of Calais - there was no change from the regular season standing from week 12.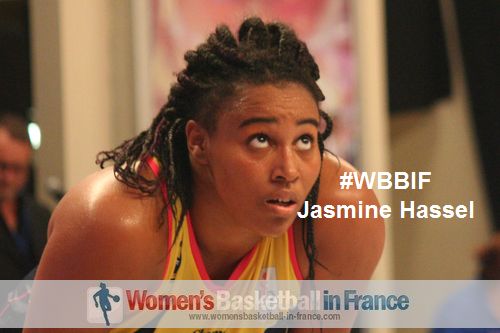 Jasmine Hassel
Jasmine Hassel returned from her holiday with an extra spring in her step. She hit 7-of-9 shots for a total of 16 points off the bench to lead Calais to victory over Hainaut Basket (58-50), in a match that neither team shot well.
Alexandria Bentley from Tarbes (28 points) won the American shoot-out against Courtney Hurst from USO Mondeville (23 points). Yet it was Valeriya Berezhynska from the Ukraine who paced Tarbes to victory (80-71) with efficient 20 points (8-of-11).
Arras, playing at home, trailed for most of the game. However they ended up sneaking past Nantes-Rezé (60-56) with a dominating final quarter 21-12.
Charleville-Mézières domestical struggle this season is a mystery. They were never far away from Basket Landes. Leading by a single point with 90 seconds to play, they failed to score again, while Basket Landes held their nerve with Gunta Basko-Melnbarde, Kamila Stepanova and Danielle Page all scoring for a (59-55) victory.

Lyon were on equal terms against Montpellier for the first 30 minutes. They led (52-51) going into the final quarter. Yet when Jenna O'Hea (24 points) and Mistie Bass (22 points) finally caught fire during the last ten minutes, they saved the blushes of the defending LFB champions (79-67).
In the remaining two games Tango Bourges Basket pushed aside Angers (94-62) while Villeneuve d'Ascq walloped Toulouse (81-41).
---
La 13e ronde :
Première victoire pour le COB Calais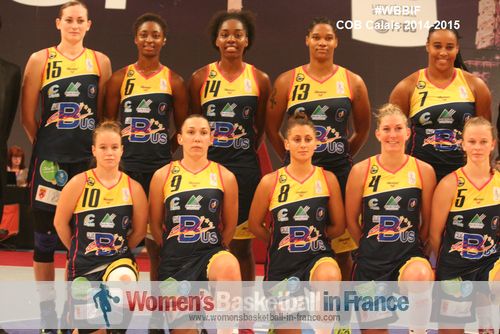 COB Calais
Rien a changé dans le tableau. Le leader, Tango Bourges Basket est suivi de quatre formations en deuxième position, à voir Arras, Basket Landes, Lattes Montpellier et Villeneuve d'Ascq, dont toutes ont à nouveau enregistré une nouvelle victoire.
Tarbes Gesperre suit en sixième position après une victoire contre  Mondeville pendant que la lanterne rouge remporte sa première victoire cette saison contre le Hainaut Basket, aussi confrontée à une éventuelle relégation.
Nantes-Rezé et Toulouse perdent contre deux équipes en deuxième place du tableau pendant que Charleville-Mézières perd à domicile et de justesse contre Basket Landes.

---
Like this page / Aimez cette page