LFB break for Christmas with
Tango Bourges Basket on top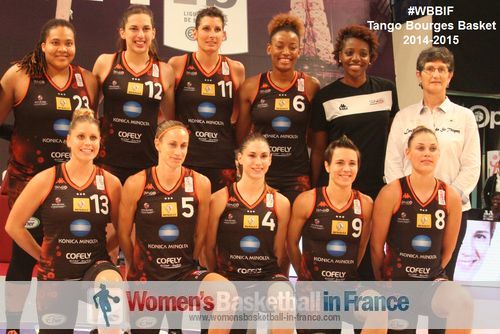 LFB regular season leaders: Tango Bourges Basket
Tango Bourges Basket finished 2014 on a high in their domestic play by beating Lattes Montpellier (73-48) in the rescheduled game from the opening day day of the current season. With this victory Bourges Basket find themselves alone at the top at Christmas with just one defeat and a two-game advantage over the chasing pack.

Veuillez trouver des informations en français sur la 12ème journée de la LFB en bas de la page.
Diandra Tchatchouang (17 points) and Héléna Ciak (10 points and 9 rebounds), two former Montpellier players, were the best players in the match. Elodie Godin, a former Bourges player, led her team with 11 points and 9 rebounds.
Despite the defeat, Montpellier are in a four-way tie with Arras, Basket Landes and Villeneuve d'Ascq for second position.

Three days earlier during the 12th round of games, Bourges Basket - without the injured Danielle Adams - crushed Nantes-Rezé on the road (72-46). Bourges connected wit 53% of their shots compared to just 27% from their hosts.
No surprises in the last round of
LFB games in 2014

Gunta Basko-Melnbarde spoiled the return of Olivia Epoupa (15 points) to Basket Landes with a 8-of-10 shooting day and 24 points to lead Basket Landes to victory over Toulouse (79-64). Carman Guzman also found her scoring touch and hit 20 points for the victors in the derby of the South.
Arras also ended the year on a high with a big win over local rivals Hainaut Basket (84-68). Michelle Plouffe helped herself to 24 points and 13 rebounds for the ladies in pink.
Lyon pushed and shoved but still fell short at home to Villeneuve d'Ascq (74-83). Jo Gomis Halilovic was on fire, scoring 27 points for the winners while Megan Mahoney also had a good offensive day with 18 points.
Lattes Montpellier completed the whitewash for the teams on top with a comfortable victory against Angers (71-53).

Tarbes' yo-yo season continues as they did just enough at home to keep out Charleville-Mézières (63-56). Valeriya Berezhynska was again the pick of players for Tarbes with 16 points but Joyce Cousseins-Smith provided the fireworks off the bench with 12 points and 4 assists.
COB Calais finished the first half of the 2014-2015 season with another defeat although they started well against Mondeville scoring their first three shots. This loss leaves them deep in trouble at the bottom end of the table.
On the other hand, Mondeville had to wait until the third quarter to pull away with a 17-2 run to put the match out of their hosts' hands (60-41) with 15 minutes to play. K. B. Sharp (28 points) and Pauline Krawczyk combined for (8-of-17) shots from beyond the arc in the (83-69) victory.

---
La 12e ronde :
Les derniers matchs en LFB avant Noël

Les Tangos creusent l'écart avec deux nouvelles victoires, pendant que Basket Landes et Arras confirment leurs ambitions dans le haut du tableau après avair battu leurs adversaires dans deux matchs de derby. Egalement à la deuxième position sont Lattes Montpellier et Villeneuve d'Ascq. Toutes les quatre formations ont trois défaites à leur compte.

En troisième position se trouve Tarbes. L'équipe sans aucune victoire est COB Calais. Aussi dans le bas du tableau se trouvent Hainaut Basket, Lyon BF et Nantes-Rezé.

---
Bourges Basket gagne donc facilement contre Nantes-Rezé (72-46) et quelques jours plus tard contre Lattes Montpellier (73-48) dans le match en retard (journée 1).
Dans le derby du sud, Basket Landes remporte la rencontre contre Toulouse (79-64) pendant que dans le derby de nord, c'est Arras qui s'impose contre Hainaut Basket (84-68).
Lyon BF entâme bien le début du match mais finalement échoue contre Villeneuve d'Ascq (74-83). Lattes Montpellier a jeu facile contre Angers (71-53).
Tarbes Gesperre enregistre sa septième victoire de cette saison contre Charleville-Mézières (63-56).
USO Mondeville sort gagnant dans le match contre la lanterne rouge, le COB Calais (83-69).
---
Like this page / Aimez cette page