When the assists are high, you win
most of the time in the LFB!
Ask Kathy Wambe...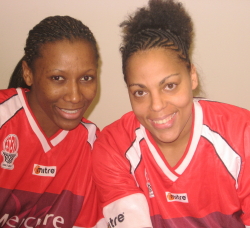 Géraldine Robert and Kathy Wambe
Kathy Wambe was an LFB assist queen during her time playing for Villeneuve d'Ascq. Unfortunately her 2014-2015 season ended before the first game of the Belgium season with an Achilles tear.
However the former Villeneuve d' Ascq point guard who had dished out 16 assists in a LFB game of 2007 will be happy to see that French club teams still like to pass the ball around.
Wbbif wish Kathy Wambe a speedy recovery and hope to see her soon. In the meantime, Géraldine Robert, her former team-mate is back in Villeneuve d'Ascq after four years away.

Veuillez trouver des informations en français sur la 6ème journée de la LFB en bas de la page.
COB Calais were the only team to dish out more assists than their opponents this week to yet still end up losing (67-73) while playing at home. They out-assisted Basket Landes 16-15. But a poor first quarter and bad luck from behind the arc (1-of-10) stopped Calais from winning their first game of the LFB season.
For the hosts Onayssa Sbahi helped herself to 6 points and 4 assists while Jenny Fouasseau and Marie-Berundette Mbuyamba-Tshimango fired in 15 and 16 points for COB Calais.
For Basket Landes the victory was built on kncoking down 8 three-pointers from 22 attempts. Carmen Guzman knocked dished out 5 teams assists while knocking down 8 points while the bench players Alexia Plagnard and Julie Barennes led the scoring with 12 points each.
---
The LFB assists for round 6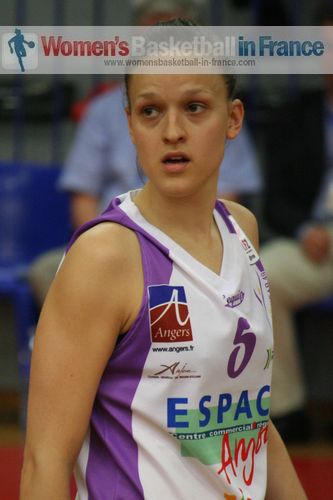 LFB News: 10 points and 8 assists for Camille Aubert
Angers had 27 assists and scored only 29 baskets from open play in their victory against Lyon  (93-79). Lizanne Murphy had 29 points and 6 assists. Her team-mate Romana Hejdova chipped in 17 points and had 4 assists. Former French youth international Camille Aubert (in picture) contributed 10 points and 8 assists. For Lyon Bintou Marizy Dieme knocked down 20 points and dished out 5 dimes.
The LFB defending champions Lattes Montpellier were stunned at home (62-83) by Villeneuve d'Ascq and two of its former players: Géraldine Robert led the scoring with 16 points while Virginie Bremont scored 8 points, handed out 7 assists and had 2 steals. Villeneuve recorded 24 assists in total with Johanne Gomis-Halilovic (10 points) and Megan Mahoney (4 points) dishing out 4 assists each.
For the hosts, who managed 18 assists, Mistie Bass had 18 points and 3 assists.

It was one-way traffic for Tango Bourges Basket in their win against  Toulouse Métropole (80-49). Bourges dominated the assist match 23-8 with Diandra Tchatchouang, Romane Bernies and Paoline Salagnac all contributing 5. Danielle Adams and Jo Ledham did most of the socring with 19 and 18 points each.
For Toulouse Olivia Epoupa filled the stats sheet with 7 points, 5 assists and 2 steals while Miranda Ayim scored 16 points.
Arras beat Tarbes by 14 assists to 3 and won the match (64-59). Michelle Plouffe's 17 points, 10 rebounds and 4 assists gave her the player of the match award. Kalis Loyd was all over the floor in defeat with 16 points and 7 steals.
Hainaut Basket for the first time this season shared the scoring across the team with four players in double digits and a team total of 24 assists. They outscored USO Mondeville (76-66) to win the match with 10 assists coming from Shona Thorburn. K. B. Sharp had 7 dimes for the losers.

Nantes-Rezé lost their point guard within the first minutes of the game and ended up losing the match (50-67) to Charleville-Mézières. Yacine Sene who will retire at the end of the season beat her team-mate Amel Bouderra by 6 assists to 5.
---
Les passes décisives sont significatives
pour la victoire

COB Calais est la seule formation qui perd quoiqu'elle a plus de passes décisives que son adversaire.
Lattes Montpellier tombe encore une fois pendant que Tango Bourges Basket danse à nouveau et a - comme Basket Landes - qu'une défaite à son nom.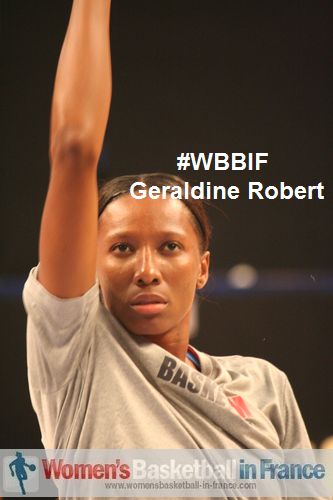 Géraldine Robert
Une saison et six journées en LFB et Angers se trouve au milieu du tableau après avoir enregistré un grand succès contre Lyon BF (93-79). Pareil pour les passes décisives, les Angevines sont gagnantes avec 27 contre 15.
Lizanne Murphy contribue à la victoire 29 points et 6 passes, épaulée par Camille Aubert (10 points, 8 passes) et Romana Hejdova (17 points, 4 passes). Pour Bintou Marizy Dieme qui a tout essayé (20 points, 5 passes), cette défaite est amère.

Les co-équipières de Géraldine Robert (16 points, en image) de Villeneuve d'Ascq avec Virginie Bremont (8 points, 7 passes, 2 interceptions), Johanne Gomis (10 points, 4 passes) et Megan Mahoney (4 points, 4 passes) s'imposent contre Lattes Montpellier (83-62). Elles ont aussi 6 passes décisives de plus, 24 contre 18. Mistie Bass n'a rien à se reprocher avec 18 points, 3 passes et 1 interception.

Elles ont cru, les joueuses de COB Calais, mais dans les dernières minutes et dû à une maladresse au tir prime, elles succombent (67-73) contre Basket Landes. Les perdantes sont les co-équipières de Onayssa Sbahi (6 points, 4 passes), Jennie Fouasseau (15 points, 1 passe), Marie-Berundette Mbuyamba-Tshimango (6 points, 1 passe) et doivent maintenant se remobiliser pour leur prochaine journée.
Les Landaises, emmenées par Carmen Guzman (8 points, 5 passes), Alexia Plagnard et Julie Barennes avec 10 points chacune, se sont donc sauvées avec une cinquième victoire.

Elles waltzent à nouveau. Tango Bourges Basket s'imposent facilement (80-49) contre Métropole Toulouse avec aussi 23 passes décisives contre 8 des Toulousaines. Les meilleures marqueses de Bourges sont Danielle Adams (19 points, 2 passes) et Johannah Leedham (18 points, 3 passes), épaulées par Diandra Tchatchouang, Romane Bernies et Paoline Salagnac avec 5 passes décisives chacune.
Miranda Ayim (16 points, 1 passes) et Olivia Epoupa (7 points, 5 passes, 5 interceptions) n'ont pas pu stopper leur adversaire.
Saint-Amand Hainaut Basket gagne à domicile (76-66) contre US Mondeville et également avec 23 passes contre 12.

Shona Louise Thorburn (6 points, 10 passes) et ses co-équipières Astou Traore (17 points, 2 passes) et Paulina Akonga-Nsimbo (18 points, 1 passe) savourent la victoire. En vain sont les efforts de K. B. Sharp (7 points, 7 passes) et Courtney Hurt (26 points, 15 rebonds, 1 passe, 1 interception).

14 passes décisives pour Arras et une victoire (64-59) contre Tarbes Gesperre (3 passes décisives en total) laissent jubiler Michelle Plouffe (17 points, 10 rebonds, 4 passes). Kalis Loyd (16 points, 3 rebonds, 1 passe, 7 interceptions) échoue avec son équipe sans inspiration.

Nantes-Rezé perd Isis Arrondo après juste une minute de jeu et aussi sa rencontre contre Charleville-Mézières (50-67). Yacine Sene et Amel Bouderra contribuent 6 et 5 passes décisives pour l'équipe gagnante qui totalise 21 passes contre 14 des Déferlantes.
---
Like this page / Aimez cette page