EuroBasket Women 2009 qualifiers defeat for France
---
---
EuroBasket Women 2009 qualifiers disappointment for Céline Dumerc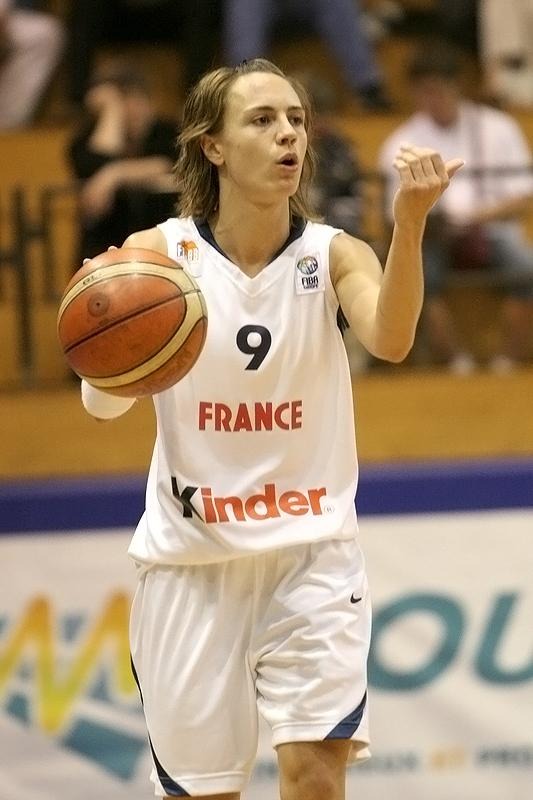 Céline Dumerc
The Slovak Republic, playing at home, had an incredible first period in which they hit 6-of-6 from within the arc and 4-of-7 from beyond the arc to lead (26-14).
Although France dominated the battles of the boards (8-3), they were unable to stop Bronislava Borovickova and Gabriela Kubatova for the homeside to go on a 12-0 run. Hence the Slovakian team opened the first significant lead (17-5) with just over 5 1/2 minutes played.
They then continued from where they left it off in the firstperiod with a trey from Borovickova to open the second period. Afterwards scoring became rather difficult as France changed their defensive system.

However Kubatova eventually extended her side's advantage by completing a fast break movement that she started as she hussled Céline Dumerc into turning the ball over (31-14).
In order to stop the opponents from scoring at will Pierre Vincent put a defensive system in place to reduce the French team's deficit slowly. As a result the hosts only scored 2-of-10 from inside the arc and 1-of-5 from beyond the arc during the second period. But they still went into the interval leading (37-27).
After the break the two teams played cat and mouse for almost two minutes with neither side scoring. Eventually Dumerc broke the deadlock, which sparked a French 8-0 run. This was concluded by Dumerc shooting from the land of many.
France eventually came to within a single point of their hosts (38-39) after Emmanuelle Hermouet hit a shot from down town. This was as close as France was to get as Zuzana Zirková and Anna Jurcenkova came to the rescue of their side as they combined for 14 points to take their team into the final period with an 11-point advantage (53-42).
Despite the efforts of Dumerc France were unable to reduce the deficit fast enough. When Kubatova hit a second trey of the match with money-time approaching, the homeside still had an 11-point lead (61-50).
France were to score 5 more points. Yet they were not able to close the gap during the last minute and allowed Lucia Kupcikova from the Slovak Republic to finish the scoring for the homeside.
The Slovak Republic won the game (63-55) and are now 3-3 while France drop their first game and drop to 5-1 but have qualified for EuroBasket 2009 because they won the first match between the two nations by 19 points.
Dumerc led the scoring with 18 points, 8 rebounds and 5 assists. On the other hand Emméline Ndongue scored 10 points and collected 7 rebounds.
For the hosts Kubatova finished on 14 points. She was joined in double digits by Borovickova, Zirkova and Kupcikova with 12, 11 and 10 points respectively.
---
Previous EuroBasket Women 2009 qualifiers news
Summary from all groups as France remain on course
France make it four out of four
News from Group C as France have a break
France made a perfect start to the EuroBasket Women 2009 qualifiers
France win against Turkey twice
France 2008 Roster information
Return from EuroBasket women 2009 qualifiers preparation to "What's New" page
Picture credit: Ann-Dee Lemour - Basquetebol.org


Date: 03 September 2008
---