Eurobasket Women 2009 qualifiers preparation going well
---
---
Pierre Vincent
's (right) second test in his EuroBasket Women 2009 qualification preparation was a three-game series against Germany.
France and Germany have been playing against each other for several years in the U16 categories for boys and girls as part of a joint youth programme. For the first time in the last few years they extended this to the senior team.
Both teams had their training camps in France. During the evening they played some friendly matches against each other. As neither side is in the same qualifying group it was an opportunity for Imre Szittya from Germany to try things out without his WNBA players.
In the first match which France won (69-45), Emilie Gomis and Emmanuelle Hermouet were the only French players in double digits with 11 and 10 points respectively.
Hermouet was the only player from France to play more than 20 minutes in the match.Anne Breitreiner from Germany top scored with 19 points and was the only German player in double digits.
Céline Dumerc made her return to competitive action during the second period of the game.
The second match was also won by France (70-51). Germany played much better than in the first game. If not for a poor second quarter that gave France the advantage, Germany matched France in most sectors of the game. Breitreiner once again led the German scoring with 15 points.
For France Isabelle Yacoubou-Dehoui and Clémence Beikes led the scoring with 11 and 10 points each.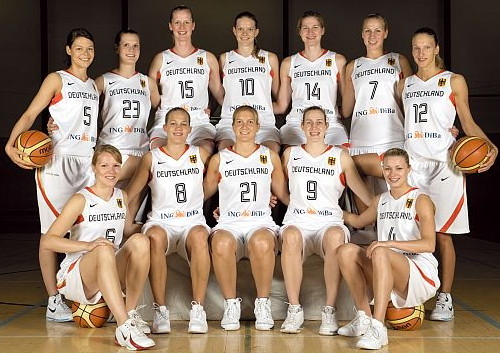 In the final match of the series, Germany got off to a flying start as Dorothea Richter took over the offensive duties from Breitreiner and scored 7 of her team's first 8 points to Germany to lead (8-4).
This action by Germany resulted in France getting Emméline Ndongue and Sandra Dijon-Gérardin involved offensively. France scored 6 quick points to go in front and led (15-10) at the interval.
They increased their advantage by 6 points early in the second quarter but were pegged back by Breitreiner who hit a trey followed by a pair of free-thows by Lisa Koop (26-18).France managed to hold off the German attack to go into the interval leading (33-26).
Yacoubou-Dehoui came out strong in the third period and battered the German defence with her physical strength as she scored 6 points (41-31).
Germany then ran out of energy and ideas allowing France to increase their advantage to 15 points by the end of the third period (50-35).Both teams appeared to be tired during the final period and missed a lot of shots. All the same France increased their margin to win (63-44).
Gomis led the French scoring with 15 points and Yacoubou-Dehoui was the only other player in double digits with 13 points. For German Richter had 10 points.
The French roster has been reduced to sixteen as Paoline Salagnac has been released.
France will host a four-nation tournament starting on Friday 25 July 2008. Canada, Poland and Belarus will be participating.
---
France win against Turkey twice
France 2008 Roster information
Return from EuroBasket women 2009 qualifiers preparation to "What's New" page
Return from EuroBasket women 2009 qualifiers preparation to National teams news
pictures credit for EuroBasket women 2009 qualifiers preparation:
Pierre Vincent - FFBB Press office
Germany 2008 Team Picture - Deutschen Basketball Bundes (DBB)
Date: 23 July 2008
---