Eurobasket women 2009 preparation starts without Caroline Aubert
---
---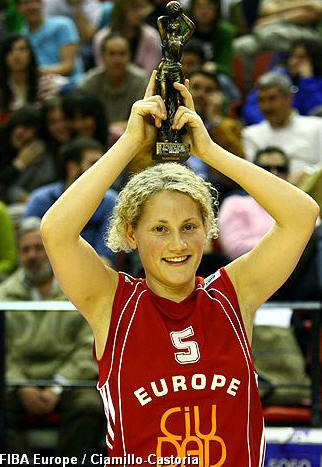 There will be no
Caroline Aubert
(left) in the EuroBasket Women 2009 qualifiers as she takes a break from basketball.In an official communiqué she has confirmed that in her wish to become a mother she will be away from the basketball court for the next season. But Aubert hopes to be back for the 2009-2010 season.
She explained that it was difficult to demand the withdrawal of her name from the list of players called up to prepare for the qualification games. She also added that despite her disappointments in the past when called up to play for France, she still would like to play for France in the future as it has been still one of her objectives as a professional basketball player.
Since the preliminary roster, published 20th May, Pierre Vincent have had to name other players into the squad and the French Women 2008 Eurobasket qualifier roster is now:

1. Clémence Beikes
2. Elodie Bertal
3. Aurélie Bonnan
4. Clarisse Costaz
5. Émilie Duvivier
6. Jennifer Digbeu
7. Céline Dumerc
8. Elodie Godin
9. Emilie Gomis
10. Pauline Jannault
11. Emmanuelle Hermouet
12. Pauline Krawczyk
13. Anaël Lardy
14. Florence Lepron
15. Endene Miyem
16. Emméline Ndongue
17. Fatimatou Sacko
18. Paoline Salagnac
19. Yacine Sene
20. Gaëlle Skrela
21. Isabelle Yacoubou-Dehoui

With the announcement that Dumerc is hurt, Gomis in rehabilitation and the withdrawal of Aubert, Pierre Vincent decided to call up three additional players: Duvivier, Salagnac and Skrela.
Return from EuroBasket women 2009 qualifiers preparation to "What's New" page
Return from EuroBasket women 2009 qualifiers preparation to National teams news
pictures credit: FIBA Europe
Date: 25 June 2008
---