Pierre Vincent announced his EuroBasket Women 2009 qualifiers preliminary roster
---
---
Pierre Vincent's 20 EuroBasket Women 2009 qualifiers preliminary roster contain only six members from the EuroBasket Women 2007 squad.
Sandra Le Dréan and Audrey Sauret-Gillespie have retired from international basketball. Edwige Lawson-Wade and Sandrine Gruda are playing in the WNBA this summer while Krissy Bade and Sabrina Reghaïssia have not been included in the list.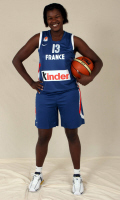 Sandra Dijon (right) is the only member of the EuroBasket 2001 winning squad still in the team and at 32 is the oldest player in Vincent's list. She is joined in the squad with five other players from EuroBasket Women 2007: Clémence Beikes, Céline Dumerc, Emilie Gomis, Emméline Ndongue and Isabelle Yacoubou- Dehoui
The following players make their return to les Bleues: Caroline Aubert, Elodie Bertal, Aurélie Bonnan, Elodie Godin, Pauline Krawczyk ,Florence Lepron, Fatimatou Sacko, Yacine Sene. Emmanuelle Hermouet who was injured seriously at the end of last season( 2006-2007) has also been included in the squad.
Vincent's desire for the continuation of the French youth international system sees the call up for the first time for "les bleues" into the senior squad 2008 summer roster: Clarisse Costaz, Jennifer Digbeu, Pauline Jannault, , Anaël Lardy and and Nwal-Endènè Miyem.
EuroBasket qualifier preparation programme
The programme is as follows:
26 June - 11 July: training camp at Alpe d'Huez
10 July France – Turkey
11 July France – Turkey
16 July – 24 July: second training camp in France
Three-match series against Germany on the 19/20/21 July
25 July – 27 July: Four Nation Tournament in Geispolsheim, France
Belarus, Canada and Poland
1 August – 6 August: training camp in Adana,Turkey
2 August Turkey – France
4 August – 6 August: Four Nation Tournament in Turkey
The French senior "équipe de France" will begin their qualifying campaign on 13 August against Croatia.
France is in group C with Romania, Slovakia, Croatia and Hungary.
Return Eurobasket Women 2009 Preparation to "What's New" page
Return from EuroBasket Women to Basketball Events
Eurobasket Women 2009 qualifier groups
Pictures are courtesy FFBB

Date: 20 May 2008
---