Eurobasket Women 2009 qualifier groups - Youth championships groups for France
---
---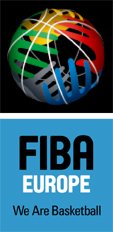 The draw for the FIBA Europe EuroBasket Women 2009 qualifiers for the European national teams was conducted today in Venice, Italy.
France's failure to qualify for the Olympic Qualifying Tournament at EuroBasket 2007 Women in Italy means that France must pass through the qualifiers.
At the same time the draw for these summer's European youth championships was also conducted today. France will take part in the three age groups U16, U18 and U20.
France are a division A nation in all age groups and will be out to defend their U16 crown and also hope to continue their tradition in U20 by picking up a medal.
EuroBasket Women 2009 division A qualification draw
France's 8th place finish at the last edition of EuroBasket put them in the first seed box which allowed them to avoid Lithuania, Belgium and Italy:
Group A: Lithuania, Germany, Israel, Ukraine, Great Britain
Group B: Italy, Turkey, Poland, Finland, Bosnia & Herzegovina
Group C: France, Romania, Croatia, Slovakia, Hungary
Group D: Belgium, Serbia, Greece, Bulgaria

European championship draw for French youth teams
U16 group:
France were in the first seed pot for the draw and will start the defence of their title in group A. They will meet Latvia who are in their second season in this division. They are also drawn against traditional division A nations, Turkey and Lithunania.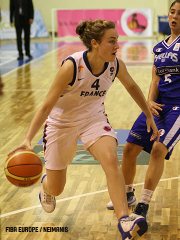 Héléna Akmouche (left) was one of three members of the French team that won the championship last season and is still eligible for this age group. She is now considered to be one of the most experienced players in this age group of France and is already in her second season at the CFBB.

U18 group: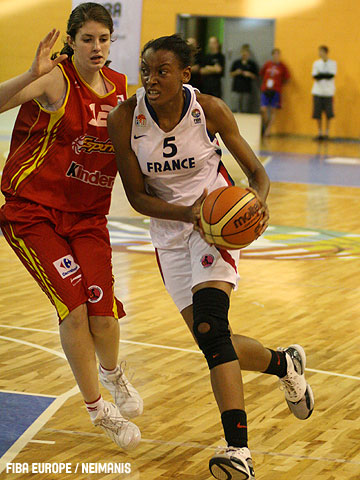 France finished sixth last year and were in the second seed pot and start the championship in group D. France are in the same group with the defending champions Serbia, and also Croatia and 2007 Nordic champions Sweden.
Diandra Tchatchouang (left) has already played in three U16 European championships and was MVP last year. She also played at the U18 championship last season and with Allison Vernerey will likely to be the leading figures of this squad.

France will also have a new coach in this age group, Grégory Halin, who was the coach of the U16 team last season. He replaces François Gomez who is now the head coach at Tarbes.
U20 group: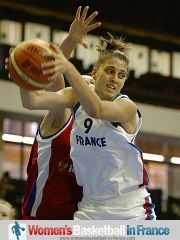 France have not failed to win a medal in this category since its creation but found themselves in the second seed pot for the draw. They are in group A and will face Serbia, the 2007 runners-up, Germany and Italy.
Sonja Petrovic from Serbia who plays in France for Bourges Basket is likely to face three of her club colleagues: Ana Cata-Chitiga (left), Endene Miyem and Carine Paul who may be part of the French squad.
A number of players in this age group may also play with their national teams during the EuroBasket Women 2009 qualifiers.
Return Eurobasket Women 2009 draw to "What's New" page
Return from EuroBasket Women to Basketball Events
Pictures are courtesy FIBA Europe

Date: 16 February 2008
---