Eurobasket Women 2009 qualifiers preparation: grand slam for France
---
---
Pierre Vincent's EuroBasket Women 2009 preparation is going well after beating Canada, Poland and Belarus during the international four-nation tournament in Geipolsheim.
In their first match against Canada, France were never in difficulty. Emmanuelle Hermouete took command early on for the French side to lead (17-12) at the end of the first period and (13-19) by the break.
France lost their way during the third quarter allowing their opponent to stay in the game. Yet France eventually recovered and went into the final period leading (54-41) and went on to win (69-49).
Emmanuelle Hermouet and Isabelle Yacoubou-Dehoui scored 13 points each, while Fatimatou Sacko hit 10 points.
Teresa Gabriele also had 13 points for Canada.
In the other game on day 1, Poland beat Belarus (87-71). The top scorers in this match were for Poland Ewelina Kobryn with 16 points, followed by Daria Mieloszynska with 14 and Agnieszka Bibrzycka with 11 points.
For Belarus Katsiaryna Snytsina and Nataliya Trafimava both scored 12 points apiece.
On the second day of action France were given a tougher match against Poland. Poland had the advantage at the end of the first period (24-16) as nothing was going right for France. Yacine Sene for example had picked up three personal fouls in less than seven minutes play.
France improved in the second quarter and led by the interval (42-38).
The game remained close during the third period with Agnieszka Bibrzycka from Poland causing havoc for France. So Poland went briefly in front. France recovered the advantage and went into the final period (57-54) leading.
France dominated the last quarter and went on to win (77-61) with Endeme Miyem leading the scoring with 14 points. However Bibrzycka from Poland finished with 21 points.
Belarus got back to winning ways as they beat Canada (82-49).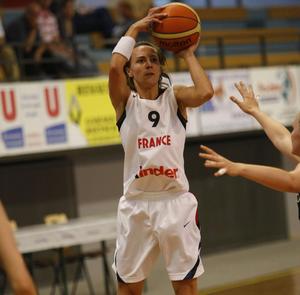 On the final day France overcame Belarus (63-61) in a match that went to the wire. The teams were level (18-18) after the first period and Belarus went into the locker room ahead (36-32).
France were soon back on level terms during the third period and led briefly (38-36) thanks to Miyem. Yet Belarus did get back the lead. But France went into the final period in front (49-48).
Both sides continued their exchange of baskets with Belarus holding the advantage (61-57).
Pierre Vincent required a time-out to rally his troops. Pauline Krawczyk scored what turned out to be the winning shot as the game approached money-time.
Poland had no problems in beating Canada (61-40).
At the end of the tournament Pierre Vincent announced that Clarisse Costaz, Emilie Gomis and Fatimatou Sacko have been released.
---
France win against Turkey twice
France 2008 Roster information
Return from EuroBasket women 2009 qualifiers preparation to "What's New" page
Return from EuroBasket women 2009 qualifiers preparation to National teams news
pictures credit for EuroBasket women 2009 qualifiers preparation:
FFBB Press office

Date: 27 July 2008
---