Another EuroBasket Women 2009 qualifiers victory for France
---
---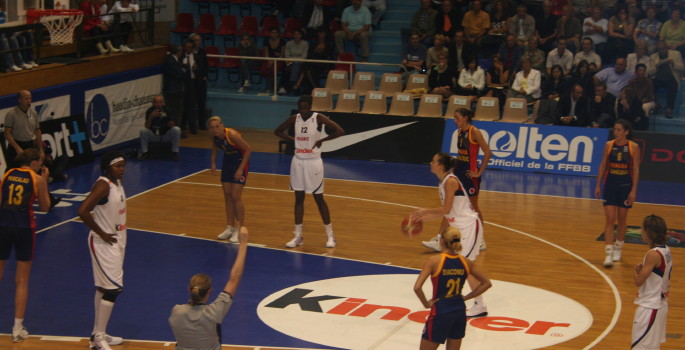 France maintain a 100% record in EuroBasket Women 2009 qualifiers after cruising to victory against Romania.
You will find two audio-after-match comments in French after the match report from Ndongue and Yacoubou. Furthermore there are comments from Vincent and Sene and add the bottom some photos taken by Ann-Dee Lamour in the photo gallery.
France made it look easy
Isabelle Yacoubou-Dehoui quickly got into her stride. She not only scored the first 4 points of the match but also dominated the defensive boards. France' early domination allowed them to open a significant lead after only four minutes (12-4).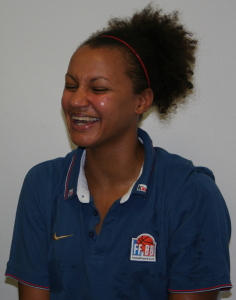 Emméline Ndongue came on for Yacoubou-Dehoui and continued the French bombardment. She scored 7 of the last 10 points as her side ended the first quarter with a 13-point advantage (24-11).
Anne Marie Parau went on one of her deep runs that was seen in the LFB when she played at Reims last season to score the first points of the second period.
However Florence Lepron responded with a trey to get things going offensively for France. Romania made an attempt in attacking France but were soon stopped as first Sandra Dijon-Gerardin drove to the basket with force to score. Afterwards Yacine Sene (right) ran along the baseline to lay up and score (31-15).
Iidiko Vass from Romania was allowed to go coast to coast. Then the game became rather stale. Pierre Vincent, the French head coach, continued to turn his bench as his side maintained control with all twelve players entering the game to lead (48-32) at the break.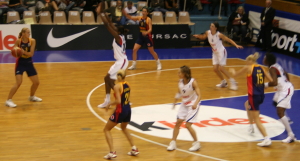 Florentina Ardenanu opened the scoring in the third period for Romania. This was quickly followed by Florine Pascalau who hit a couple of free throws. Yet the Romanian joy was short lived as Yacoubou-Dehoui hit back to back baskets, quickly follewed by a shot from down town by Céline Dumerc as France regained control (55-38).
Next up was Ndongue as France stepped on the accelerator. Dumerc was fouled as she went on a coast to coast run which resulted in Dan Moraru, the Romanian head coach, calling for a time-out. Dumerc split the pair and Ndongue was fouled contesting the rebound. She hit her free throws.
Nothing went right for Romania and France continued to score. First it was Dumerc off a steal and then Yacoubou in the paint. Pauline Krawczyk completed the 18-0 run from the charity stripes (66-38).
Eventually Andreea Orosz ended the French onslaught with four minutes left to play in the third period. Pierre Vincent appeared to have everything under control and once again turned his bench as France extended their lead (71-47) going into the final quarter.
The introduction of Florina Diacona for Romania at the start of the last period initially disturbed the French defense they conceded two quick baskets. However France weathered the storm and then scored 9 quick points to put an end to the contest (80-53) with six minutes still to play.
Emmanuelle Hermouet, Dijon, Endeme Miyem and Sene continued to pile on the pressure as France stretched their advanatage (91-59).
France went on win and record their fourth win of the EuroBasket Women 2009 qualifiers (93-61).
---
EuroBasket Women 2009 qualiers after match comments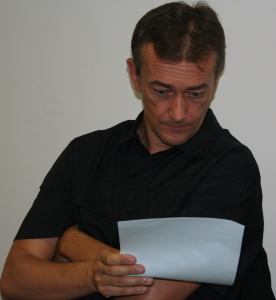 During the press conference Pierre Vincent, the French head coach, confirmed that this match was not a match of reference and will not be remembered for long. However all twelve players contributed to the victory and most importantly to the 93 points scored. The team is still in building phase but the players are eager to go on and win.

Yacine Sene
explained why the French performance was not as fluid as expected. The team had a two-day break and hence it took time to get into the game. All the same she was happy with the final outcome.
Emméline Ndongue
said that it was a difficult match because they could not impose their own style throughout. She continued to explain that they had to remain focused and not take the match too easily. They played well offensively despite a few errors in defense. First and foremost they were happy with a win by 30 points.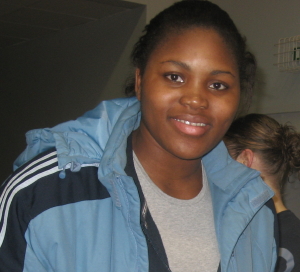 Isabelle Yacoubou-Dehoui agreed that they should not get astray in this sort of match as the next matches would be harder. The next opponents, Croatia would be tougher opposition and therefore they have to stay focused.
(Note: If you are using Internet Explorer click twice on the triangle)


Picture gallery for womensbasketball-in-france.com by Ann-Dee Lamour from basquetebol.org
Ann-Dee Lamour is a professional photographer and is known in Europe for her pictures for women's basketball. She has kindly agreed to provide us with some of her pictures during the coming season, starting with the EuroBasket Women 2009 qualifier between France and Romania.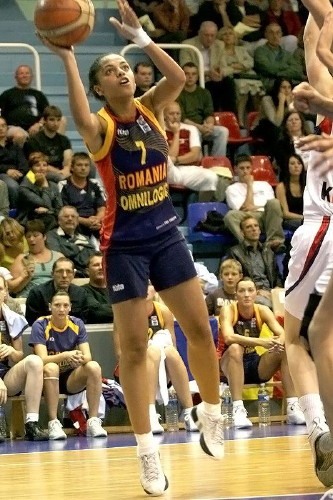 Anne-Marie Parau from Romania back in France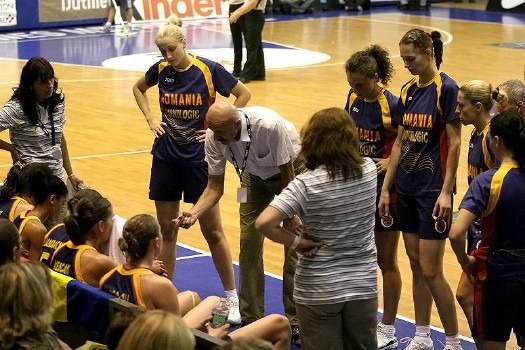 Dan Morarut, Romanian head coach, explaining the next play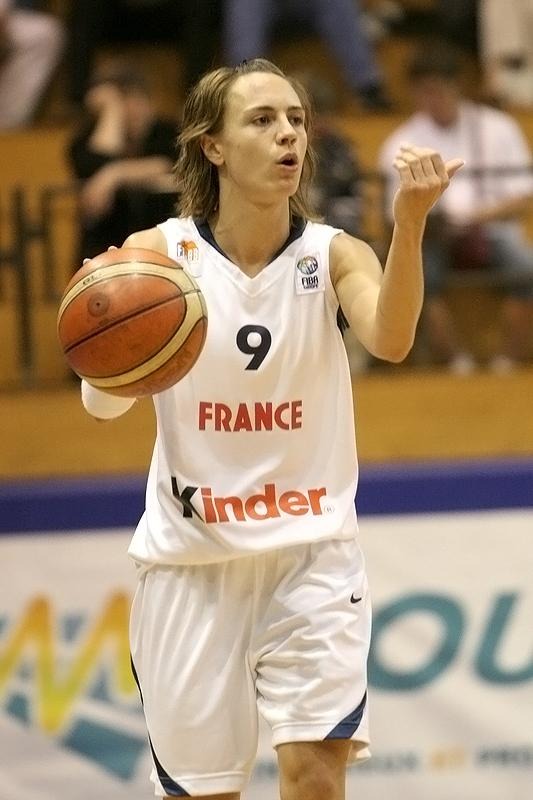 Caps Dumerc leading the way for France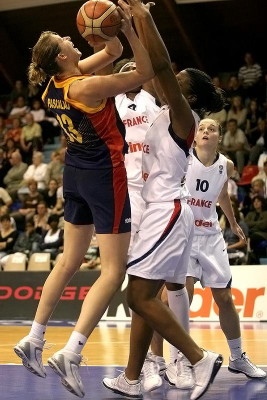 I want the ball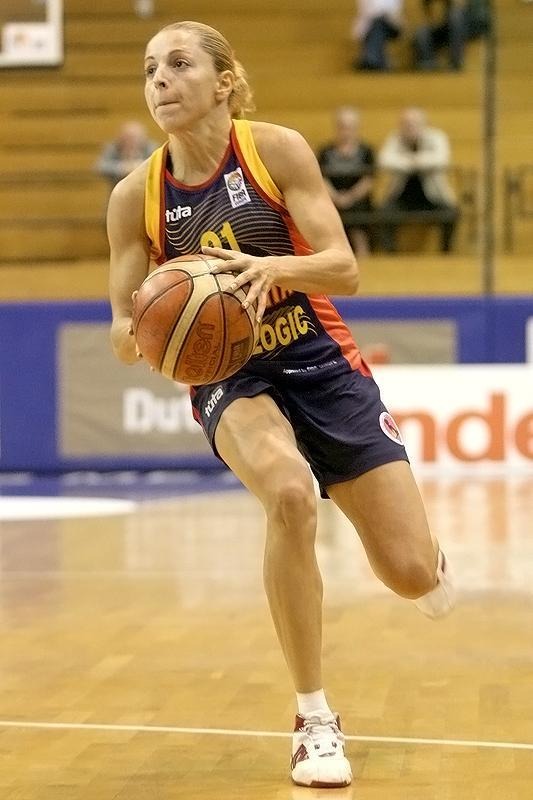 Florina Diaconu (Romania)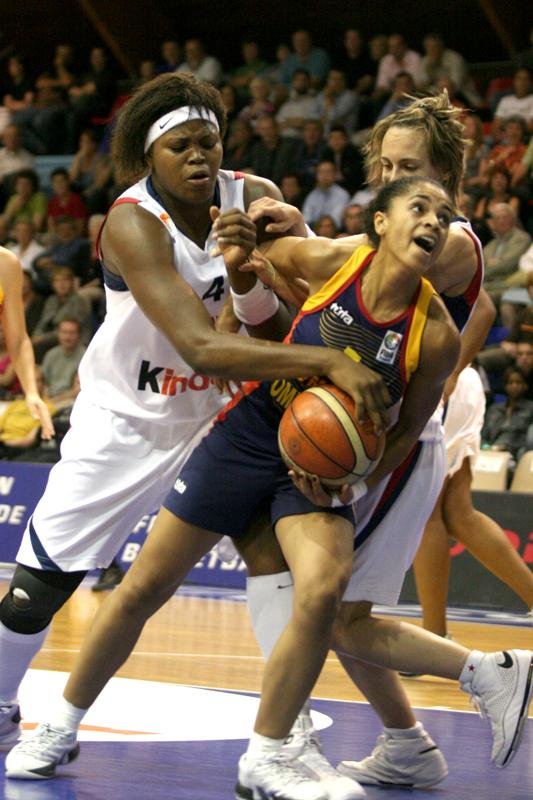 Yacoubou-Dehoui holds of Parua
France after the match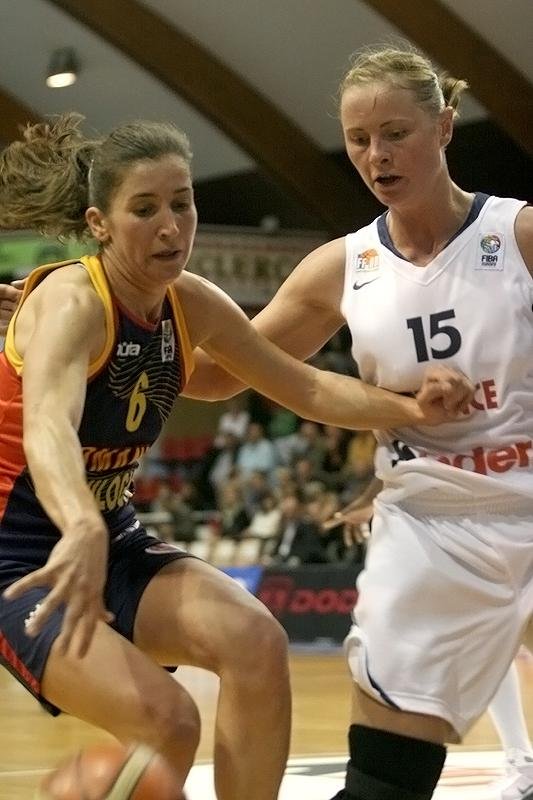 Idinko Vass and Pauline Krawczyk
---
Previous EuroBasket Women 2009 qualifiers news
News from Group C as France have a break
France made a perfect start to the EuroBasket Women 2009 qualifiers
France win against Turkey twice
France 2008 Roster information
Return from EuroBasket women 2009 qualifiers preparation to "What's New" page
Date: 27 August 2008
---