Eurobasket Women 2009 weekend without France
---
---
With France not playing in the EuroBasket Women 2009 qualifiers this weekend, we are reporting from the remaining matches from their Group C.
At the same time we have been using the opportunity to watch Germany play Great Britain. Germany had a three-match series with France during their EuroBasket Women 2009 qualifiers preparation.

Romania lost at home to Hungary (46-59)
Hungary bounced back from their defeat against France in style with an important victory away in Romania.
Hungary quickly got into their stride and led (11-2) after five minutes. A 12-2 run, spread over the first and second period, put them in control (25-9) to lead by half time (36-17).
Romania recovered during the second half of the match and profited by poor free-throw shooting of their guests as they started the third period with a 9-2 run. However Hungary went into the final period ahead (50-35).
Romania reduced their deficit to 11 points as Simina Mandache fired off another shot (40-51) with under eight minutes to play. Yet this was as close as they got as Romania conceded the next 8 points allowing Hungary to take the victory.
Anna Vajda led Hungary with 18 points and 13 rebounds, while Petra Ujhelyi had 13 points.
Mandache scored 17 points for Romania, whose side dropped to 1-2 and are at the moment level with Hungary.
---
Croatia win first EuroBasket Women 2009 qualifiers match
Croatia beat the Slovak Republic (61-55) and have recorded their first victory in the EuroBasket Women 2009 qualifiers:
Croatia dominated the first half of the match and led (30-17) at the interval. They appeared to have the game won by the end of the third period as they stretched their advantage (46-29).
However in the final quarter the Slovak Republic came storming back. With less than three minutes to go they trailed by 1 point (53-54).
Yelena Izevic from Croatia settled her side's nerves as she finished off a fast break. Andja Gelavic then went on to make the game safe as she scored her team's last 5 points.
For Croatia Marta Cakic had 18 points while Gelavic contributed 14 points.
For the Slovac Republic Lucia Kupcikova had 13 points and Romana Vynuchalovia scored 11 points.
---
EuroBasket Women 2009 qualifiers: Group C standing
France are the only undefeated team in Group C and top the table with maximum points after three games. The Slovac Republic are currently second but have played one more game than any other team in their group.
Croatia, Hungary and Romania have all won one game. However on point average Croatia is in third, followed by Hungary and Romania.
The next round of EuroBasket Women 2009 qualifiers games are on 27 August 2008.
---
Olympics 2012 hosts meeting Germany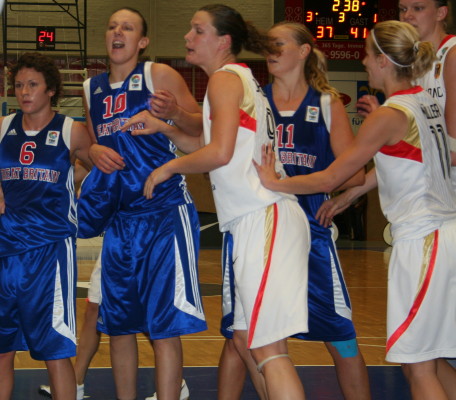 Great Britain beating the hosts
First attack by Germany and Anne Breitreiner hit a three-pointer. Thereafter neither side was able to get into their stride. Germany's Breitreiner picked up two early fouls.

Germany went further ahead as Alexandra Muller, (right) who was celebrating her 25th birthday this day, hit a second three-pointer for Germany. Then Great Britain finally got on the score sheet after their first seven attempts went astray with Megan Moody concluding a fast break. Thereafter Johannah Leedham won the ball at mid-court and went all the way to score (4-6).
Imare Szittay, Germany's head coach, called for a time-out. But nothing changed as Great Britain completed an (11-0) run . However Lea Mersch ended the German barren spell but not Great Britain's dominance (11-8).
Georgia Jones managed a reverse lay-up to extend the visitor's lead (15-10). Meanwhile both coaches started to contest the official calls as the game became more physical. A battle that Great Britain were also winning as they led (18-12) after the first quarter.
There was a change in tactics at the start of the second quarter as Great Britain switched to zone while Sabine Loewe was given the task of guarding Sarah McKay from Great Britain. The switch did not help Germany's cause as they left Jones open who hit a trey.
Rosalee Mason stretched the lead of the visitors as she hit a difficult baseline jumper (25-12). Leedham and Breitreiner traded three-pointers as the pace slowed down briefly. .
In the meantime Germany had changed their defensive system to a classic zone. It was Katha Bavendam's turn to guard McKay.
Mark Clark , the Great Britain head coach, was not happy with the progress of his side (31-17) and decided to call a time-out with 2:40 to play in the second period.
Germany were to finish stronger keeping their guests scoreless for the rest of the quarter while Sarah Austmann from the charity stripes and Margret Skuballa were to score for Germany.
Great Britain went to the locker room ahead (31-21) and with Leedham on 10 points.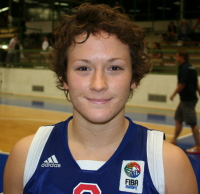 Breitreiner came out on fire at the start of the third period and hit Great Britan 7-0. A Mark Clark time-out changed nothings as Austmann was left open to fire in a three to level the game (31-31).
Jones ended the onslaught with a trey for Great Britain. By the time McKay fed Stefanie Collins (right)who hit a baseline jumper three-point shot Great Britain were back in charge (39-31).
Things got hot afterwards and very physical as the sides started to trade baskets. Chantelle Handy was called for an unsportsmanlike foul. Germany profited as they first fit the free-throws before their birthday girl hit a mid-distance jumper (44-45).
Great Britain held on to take the lead (47-44) into the final quarter.
The final period was a struggle offensively for both sides as defence was the order of the game. However Great Britain gained the advantage. Mason found Collins free in the corner who hit her third trey of the evening (54-47).
With five minutes left to play Great Britain led (54-49). Turnovers can be costly: When Moody decided to try and pass across the zone, her pass was intercepted. So Breitreiner was away down the other end to finish from down-down (52-54).
Mason scored in the paint for the visitors. But the hosts were on a run as Dorothea Richter hit a trey. Then Lisa Koop was left free in the paint to put Germany in front (57-56) with 2:04 to play.
Both sides had chances but the ball refused to drop. Eventually Great Britain scored after Leedham's unsuccessful attempt with an impossible shot. The ball was recycled for Jones to feed it to Moody who buried the trey (59-57) with 27 seconds to play.
The last six seconds were dramatic as Koop tied the game. Yet off the pass by Jones, Leedham fired the winning shot straight into the basket (61-59).
For Great Britain Leedham top scored with 16 points, followed by Collins with 11 and Jones 10 points.
Meanwile Germany's Breitreiner scored 24 points and Müller 11 points.
EuroBasket Women 2009 qualifiers after-match comments:
Mark Clark praised the German team for the way they played, especially after their heavy loss against the Ukraine. This victory might be the one that will keep them in Division A for next season.
Stefanie Collins spoke about the physical nature of the game and the history between the new nations. She was happy that her side came out with a win.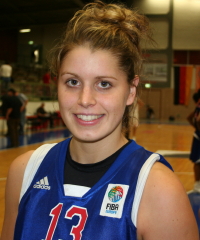 Johannah Leedham, (left) known as Jo, spoke about the game-winning shot. She was not sure if the point guard was going to give her the ball. Once she received it, she shot and was hoping that the referee was not going to call a foul as she did not fancy going to the free-throw line. Jo was relieved when the score was given.
The Germain captain, Alexandra Müller, was disappointed in her side's second loss at home by a small margin. She is hoping that Germany will have better luck for the remaining matches.

---
Previous EuroBasket Women 2009 qualifiers news
France made a perfect start to the EuroBasket Women 2009 qualifiers
France win against Turkey twice
France 2008 Roster information
Return from EuroBasket women 2009 qualifiers preparation to "What's New" page
Date: 23 August 2008
---