EuroBasket Women 2009 qualifiers to start
---
---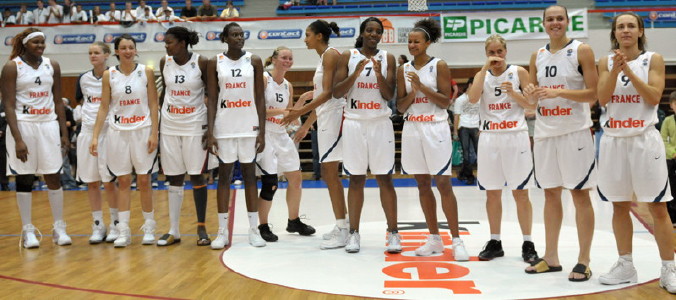 France 2008 - Photo courtesy of basquetebol.org
France completed their EuroBasket Women 2009 qualification preparation with a 4-nation tournament in Adana, Turkey.
France had victories against Belgium (65-35) and Serbia (65-56) and a defeat against the hosts (58-60).
This defeat was the first one for Pierre Vincent as head coach. France had beaten Turkey in a friendly match just before the tournament (57-55).
Pierre Vincent explained that there were lessons to take from the defeat. He also had the task to release one more player from his roster and the unfortunate one was Elodie Bertal.
The France 2008 official roster for the EuroBasket 2009 qualifier is:
Clémence Beikes
Jennifer Digbeu
Sandra Dijon
Céline Dumerc
Emilie Duvivier
Emmanuelle Hermouet
Pauline Krawczyk
Florence Lepron
Endene Miyem
Emméline Ndongue
Yacine Sene
Isabelle Yacoubou-Dehoui

The qualification programme for France is as follows:
13 August 2008: Croatia
16 August 2008: Slovakia Republic - Saint Quetin
20 August 2008: Hungary
27 August 2008 Romania - Valenciennes
30 August 2008: Croatia - Villeneuve d'Ascq
03 September 2008: Slovakia Republic – Bourges
13 September 2008: Romania

---
France win against Turkey twice
France 2008 Roster information
Return from EuroBasket women 2009 qualifiers preparation to "What's New" page
pictures credit :
Romain@Basquetebol.org

Date: 12 August 2008
---