Youth international basketball
media duty for Romane Bernies

Romane Bernies was probably surprised that her youth international basketball assignment with France U20 in Noia would include an interview in English with sports website "PlanetaDeporte.net - Medio deportivo de BALONCESTO y FÚTBOL".
However after a season with Bourges Basket's first team, shining during the EuroLeague Women Final 8, she should not be surprised by the media interest in her as being a team-mate of Céline Dumerc.
Veuillez trouver en bas de page, des informations sur l'interview avec Romane Bernies en français.

Bernies conducted herself professionally while reflecting on last season's achievements. She also spoke with enthusiasm about the 2013 U20 European Championship for Women Division A being her last youth international basketball event.
She explained during the interview that playing at Bourges and, as such, being able to compete in the Europleague Women competition had been a great opportunity for her as she had got the chance to play with and against some of the top women's players.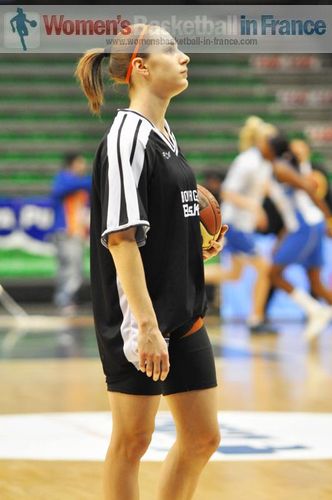 Although the competition in the game and in practice had been fierce and challenging, with the support of her team-mates she had pushed herself to improve fast so as to contribute to the team's success.
She had felt especially honoured when Céline Dumerc had complimented her on her potential and her hard work during an interview given to FIBA Europe during the Final 8 - a trait that she affirmed to keep.

In regard to this summer's European Championship, she would do her best to lead her team by bringing in the experience gained over the past season and reach the ultimate goal: the gold medal.
But she also reminded us all that she just wanted to "enjoy this moment, because it's going to be the last one, and give my best."
Romane Bernies, décidée de faire compter son expérience
pour gagner l'Or dans son dernier championnat jeune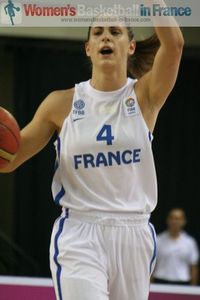 Après une saison à Bourges, s'entrainant au côté de Céline Dumerc – reconnue comme la meilleure joueuse de l'année (par Fiba Europe) - et faisant aussi bonne impression en EuroLigue, Romane n'a pas le temps de souffler car elle est déjà en préparation avec l'équipe de France U20.

Interviewée par le site "PlanetaDeporte.net - Medio deportivo de BALONCESTO y FÚTBOL" en Espagne, elle reflète sur la saison passée :
Pour elle, son année avec Bourges Basket a été une expérience enrichissante puisqu'elle avait l'opportunité de jouer avec et contre l'élite du basket féminin. La compétition à l'entrainement et en situation de matchs lui ont permis à évoluer.
Elle était très touchée par les compliments de Céline Dumerc et affirme de continuer à travailler davantage pour devenir une meilleure joueuse.

Pour cet été, elle n'a qu'un but : tout donner et mener les braqueuses de moins 20 au podium grâce à son expérience acquise à Bourges.

---
Like this page / Aimez cette page