Laure Ecard's
U16 youth basketball tournament

The U16 international youth basketball players from Croatia, France, Netherlands and Russia are in Nice, France for the 4th edition of the Laure Ecard memorial tournament.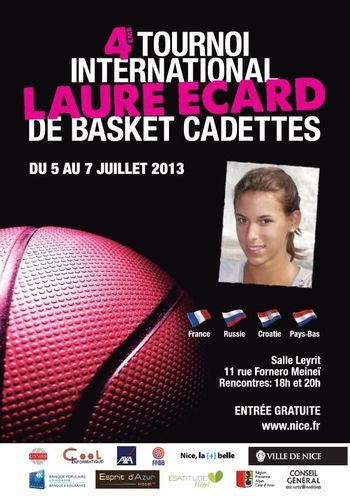 Laure Ecard was a promising youth player who was killed in a tragic accident on her way home from a basketball match with her team in 2008. The French Basketball Federation organised a minute silence during the weekend after the accident in all national games in France.
The Laure Ecard memorial tournament was born in 2010 and is reserved for U16 national teams. This year it takes place between the 5-7 July 2013 at the Salle Leyrit, 11 rue Fornero Meneï, 06300 Nice.
The matches are played at 18:00 and 20:15 each day:
5 July: Russia vs. Croatia; France vs. Netherlands
6 July: Netherlands vs. Russia; France vs. Croatia
7 July: Croatia vs. Netherlands, France vs. Russia
You can read below the official communique in French by the French Basketball Federation:

Les U16 Filles au tournoi Laure Ecard de Nice
L'Equipe de France cadettes (U16) Féminins dispute ce week-end à Nice, du 5 au 7 juillet, le 4ème tournoi international Laure Ecard, en présence de la Russie, la Croatie et les Pays-Bas
Le basket niçois a vécu, il y a plus cinq ans, lors d'un accident de circulation, au retour d'un déplacement de l'équipe cadette France du Nice Cavigal Olympic, un drame horrible où la jeune Laure Ecard, joueuse du NCO, a laissé sa vie sur le bord d'une autoroute ainsi qu'un automobiliste portant secours.
D'autres joueuses ont été gravement blessées. Le basket niçois ainsi que la jeunesse niçoise ont été tres affectés à la suite de ce drame humain.
La ville de Nice au travers de son Député-Maire, Monsieur Christian Estrosi, a demandé, l'année dernière, à l'USNBB et à son président Philippe Manassero d'organiser un tournoi à la mémoire de Laure. 50 bénévoles des clubs niçois et du département sont présents sur l'évènement.

Avec l'appui de la Fédération Française de BasketBall, et sous l'égide de la Ligue Côte d'Azur de Basket et du Comité Départemental de Basket 06, et des collectivités territoriales, l'Union des Sociétés Niçoises de Basket Ball organise le 4ème tournoi international Laure Ecard.
---
Like this page / Aimez cette page