The young braqueses follow in the steps of the senior team at youth basketball tournament in Mersch
The first ever U16 international youth basketball four-nation tournament hosted by Mersch, Luxembourg was won by France. The U16 team of Luxembourg finished second in a three-way tie with the Slovak Republic and Belgium.
The organisers of the U16 Women Dussman Trophy gave womensbasketball-in-france full access during our visit on the first day of the tournament.
The coaches of Belgium and France are well known to us at wbbif and agreed to speak with us on camera after their opening day game. We also met with the coach of Luxembourg, Thierry Kremer, who spoke about his team's history.
The Slovak Republic have a new coach this year, Milan Spiner. He also allowed us to film him. He was one of the assistant coaches during the 2012 U16 European championship.
Find a picture gallery of the first day event at the bottom of the page.
For more information in English please click on this link.

Veuillez trouver des informations en français sur la France U16 après la photo suivante et plus d'images du premier jour du tournoi en bas de la page et regardez la vidéo avec des commentaires du coach et des joueuses de France U16.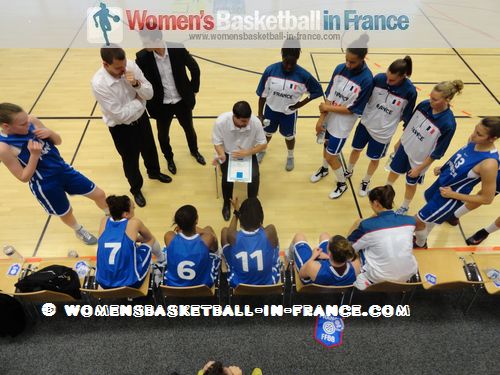 L'équipe féminine de France U16 gagne leur
première trophée Dussmann
Avec 32 filles à évaluer, le coach Julien Egloff, a été content d'être invité à cette compétition à Luxembourg avant le tournoi à Poinçonnet pour réduire le nombre de joueuses afin de mieux se préparer pour le championnat européen.
Après le premier jour, Egloff accorde à wbbif - pour une vidéo interview - quelques minutes pour expliquer son projet pour cette équipe.
En plus, vous pouvez regarder Alix Duchet (MVP) et Omella Bankole qui nous analysent le match contre la Belgique.
Duchet et Bankole ont démonstré pendant ce premier match leur expérience qu'elles ont pu gagner pendant le championnat U16 en 2012 en marquant un total de 34 points.
France gagne leur premier match contre la Belgique (63-43), le deuxième match contre la Slovaquie (67-59) and le dernier match dans ce tournoi contre Luxembourg (66-49).
---
France win another international youth basketball tournament

Julien Egloff explained that his selection for this youth basketball competition was his last chance to evaluate some players before making his final choice for the U16 European championship training roster.
This year with 32 players to look at, the opportunity to have an additional tournament to Poinçonnet was much appreciated.
In the match that we watched against Belgium, the experience of Omella Bankole and Alix Duchet (both in video) who had both played for France in 2012 was demonstrated by scoring 34 points between them.
France went on win the match (63-43). The second day they beat the Slovak Republic (67-59) and in their last match also the hosts Luxembourg (66-49).

---
Pierre Cornia on rebuilding mission with Belgium

Pierre Cornia told us that apart from one training camp the match against France was the first for this group. Cornia used the game against France as a real training session and rotated players in and out all the time without keeping to any five for any period of time.

His team were close to France for 30 minutes but then faded in the last quarter.
Belgium were beaten by Luxembourg on day 2 but ended the tournament with a victory against the Slovak Republic.
You may also listen to Fauve Bastiaenssens and Serena-Lynn Geldof in this video report.

---
Watch out Luxembourg are coming

Thierry Kremer, the coach of Luxembourg is very excited about the challenges of taking his team to the U16 European Championship Division B later this year (2013). He is aiming for a top 8 finish.

Youth basketball is popular in Luxembourg: many girls on the U16 national team attend the national basketball academy (CFBB) during the week and then return to their clubs for the weekend games.
Despite a close defeat on day 1 against the Slovak Republic (50-54) the players picked themselves up to beat Belgium (49-41) before falling to France on the final day.

To learn more about Luxembourg, watch the video.

---
Youth basketball picture gallery

---
picture credits:
womensbasketball-in-france.com

Date created: 22 May 2013
Like this page / Aimez cette page