FIBA U19 World Championship
Australia and USA advance

In the last two FIBA U19 World Championship quarter-final games, the representatives from FIBA Asia - China and Japan - were eliminated by teams with a higher competition ranking.

Australia defeated China (74-65) in the third quarter-final match and as a result ended a 12-year wait for a semi-final bid. Their opponents will be the USA who had no problems defeating Japan (108-67).
Earlier in the day France and Spain secured their places in the semi-final by eliminating Brazil and Canada.
In the two games played in the 9th -12th place classification round, the Netherlands edged out Serbia (66-65) and Russia beat the hosts Lithuania (82-68).
All the semi-final games are to be streamed live and broadcast by various media partners. In France Sport+ will pick up the stream and transmit in French, while in Spain feb.es plan to cover the match in Spanish.
With Australia and the USA being English speaking countries they will likely leave the broadcast to the FIBA TV platform.
(Broadcast update: ESPN3 has taken up the offer to cover the game in North America)

The World Championship video clips included  in the right menu are provided by FIBA.

Australia and USA: ready for showdown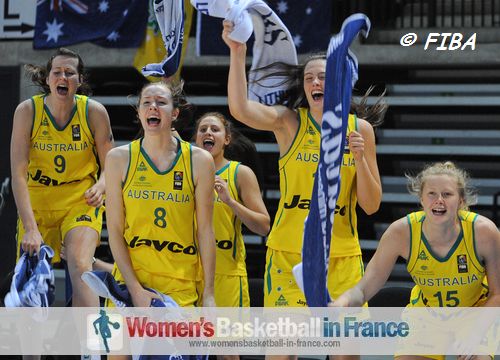 Stephanie Talbot was in action for Australia during their European tour earlier in the summer. So her offensive and defensive qualities are not new to wbbif. 
She was the match winner for Australia at both ends of the court. Talbot finished with 22 points, 10 rebounds, 6 assists, 4 steals and 3 blocks to help her team beat China (74-65).
However her game winning actions came during a 60-second burst from the 37-minute mark where she scored 5 points and picked up 2 crucial steals that turned a 5-point lead into 10 (67-57).
The Gems also had useful contributions from Carley Mijovic  (13 points), Casey Samuels (13 points) and Alex Wilson (12 points, 12 rebounds). For China Meng Li poured in 28 points.
The USA allowed Japan just five minutes of fun in this game (12-9) before turning on the turbo. They had an 11-2 burst ending the match as a contest.

It was one-way traffic for the rest of the game, leading (51-32) at the interval. The USA paced themselves at the same rate during the second half to comfortably win (108-67).
A'Ja Wilson was the leading scorer with 19 and 11 rebounds for the USA.

---
Like this page / Aimez cette page