An offensive weekend of LFB
basketball with different outcomes

Kevin Brohan was not smiling after his team, COB Calais, came out second best against his former boss Cyril Sicsic and Tarbes (57-89).
Calais were the only team in round 7 not to score at least 62 points.
The LFB week statistics were as follows: All 14 teams scored a total of 1023 points which averaged out at 146.14 points per match. On Saturday, the winning teams either had one player with 20 points or more or at least four players in double digits.
In the two games played on Sunday, the hosts won. Yet the leading scorers with 20+ points were on the losing side.

Veuillez trouver des informations en français sur la 7ème journée de la LFB en bas de la page.
Arras pulled off another impressive win by edging out Villeneuve d'Ascq (69-66). In a typical north derby match between these teams in which the lead changed hands no less than 19 teams, the victory was earned in the last seconds.
Géraldine Robert (16 points) scored 10 last-quarter points for Villeneuve d"Ascq while Maggie Lucas from Arras scored 11 of her 21 points to seal the victory for the visitors (69-66).
For the the rest of Saturday actions only Tarbes made home court advantage count with a comfortable victory against COB Calais (89-57).
Former COB Calais player Joyce Cousseins-Smith helped herself to 17 points in 18 minutes of playtime. Her team-mate Alexandria Bentley fired in 20 points and dished out 4 assists for the player-of-the-match award.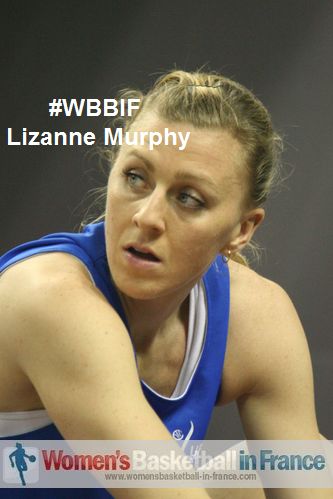 Lizanne Murphy enjoying playing basketball in the French LFB
Lizanne Murphy fired in 22 points, which included a perfect 8-of-8 from the free throw line to help Angers edge out their hosts Charleville-Mézières (66-62). It was a tough loss for the hosts who were eliminated also from the French Cup by LF2 side Reims (61-62) in midweek.
For Charleville-Mézières Amel Bouderra (19 points and 6 assists) and Ambrosia Anderson (15 points) continue to fill the LFB stat sheet while Olayinka Sanni fouled out yet again.

Montpellier had four players in double digits and shared 23 assists in crushing Toulouse (89-62). Gaëlle Skrella led the scoring with 19 points while Elodie Godin and Jenna O'Hea scored 18 points each. Mistie Bass completed the quartet with 13 points.

Bourges Basket waited until the second half of their match to pull away from Lyon and win with their highest score of the season (90-68). Danielle Adams who scored 10 points and dished out 3 assists in the final quarter finished the game as the leading scorer with 18 points.
Marianna Tolo, Paoline Salagnac and Héléna Ciak also helped themselves to double-digit scores with 17, 13 and 11 points respectively.
In the two games on Sunday the hosts came out on top: Basket Landes beat Hainaut Basket (80-65) with a balanced offensive effort. Five players reached double digits with Marion Laborde leading the way with 17 points.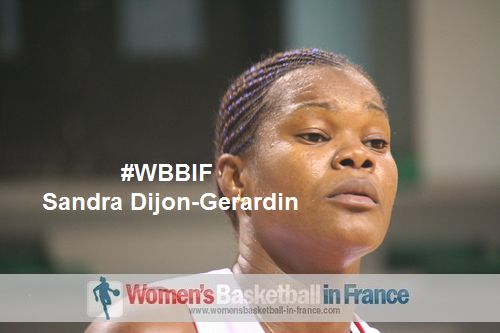 LFB veteran: Sandra Dijon-Gérardin
For Hainaut Basket Pauline Akonga-N'Simba finished with 21 points while Shona Thorburn dished out 9 assists.

K. B. Sharp hit a three-ball on the buzzer to snatch victory for USO Mondevelle against Nantes-Rezé (81-79).
Aurélie Bonnan picked up 11 assists while Margret Skuballa led the scoring with 22 points for the losers. Sarah Michel and Emilja Podrug were also in good form with 18 and 17 points respectively.
However with LFB veteran Sandra Dijon-Gérardin (18 points) rolling back the years and Courtney Hurst (19 points) picking up 9 rebounds each, the hosts were able to stay in the game. Pauline Krawczyk recovered her scoring touch with 15 points.
K. B. Sharp (13 points) once again showed why she is one of most exciting players in the French league. Mondeville had just two seconds to execute the game winning play. You may watch the clip below about Sharp's buzzer beater winning points:

---
Le ballon rouge de la 7e ronde en LFB
Pendant que la lanterne rouge, le COB Calais encaisse une nouvelle défaite, Basket Landes reste en haut du tableau.
Ce weekend, les 14 équipes marquent en total 1023 points, c'est à dire 146.14 points dans chaque rencontre. Sandra Dijon-Gérardin ne rate pas ses lancers francs et a accumulé jusqu'à maintenant 18 sur 18 pendant que Courtney Hurt est la rebondeuse pour les sept journées déroulées avec 11,7 rebonds en moyenne.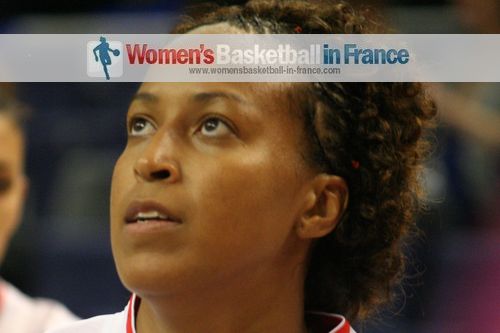 K. B. Sharp
Malgré les efforts de Antonija Misura (17 points) et Olivia Epoupa (14 points, 11 rebonds, 7 passes décisives), les Toulousaines tombent à domicile contre Lattes Montpellier (62-89). Le BLMA est emmené par Elodie Godin (18 points, 7 rebonds) et Gaëlle Skrela (19 points).
La victoire du derby du nord est remporté par Arras (69-66) contre Villeneuve d'Ascq. Maggie Lucas (21 points) est non seulement la meilleure marqueuse pour Arras mais elle met aussi le plus de paniers en moyenne avec 21,7 points/rencontre. Dans ce succès, elle a été épaulée par Djéné Diawara (15 points, 9 rebonds). Les 19 points de Johanne Gomis et les 16 points de Géraldine Robert n'ont donc pas suffit pour défier l'ESBVA.
Après une défaite en mi-semaine en EuroCoupe, Charleville-Mézières souffre un nouvel échec contre Angers (62-66). La victoire sourit alors à Lizanne Murphy avec 21 points et non pas à Amel Bouderra (19 points, 6 passes décisives).

L'ex coach de COB Calais n'a rien à se reprocher après sa réussite pour Tarbes Gesperre (89-57). Ce sont Alex Bentley (20 points) et Joyce Cousseins-Smith (17 points) qui dominent cette rencontre.
Tango Bourges Basket bat Lyon BF (90-68) avec Danielle Adams en bonne forme avec 18 points.
Hainaut Basket s'incline sur le parquet de Basket Landes (65-80). Pourtant Pauline Akonga (21 points) et Astou Traoré (19 points, 10 rebonds) se battent, ce sont Marion Laborde (17 points) et Danielle Page (15 points, 10 rebonds) qui remportent ce match.

Les Déferlantes s'inclinent à la dernière possession à USO Mondeville (79-81). C'est K. B. Sharp (en image) qui s'actionne et donne la victoire à l'USOM avec un tir à longue distance. Courtney Hurt (19 points, 9 rebonds), Sandra Dijon-Gérardin (17 points, 9 rebonds) et Pauline Krawczyk (15 points) s'illustrent pour l'équipe gagnante pendant que les efforts de Margret Skuballa (22 points), Sarah Michel (18 points), Emilja Podrug (17 points) et Aurélie Bonnan (7 points, 8 rebonds, 11 passes décisives) sont finalement en vain.
---
Like this page / Aimez cette page