LFB round 14 - Not a weekend in France for sport but
the games were played

It was a difficult week for the players in the LFB and all the other divisions with the terror events in Paris that led to the death of cartoonists from the publication Charlie Hebdo, law enforcement agents and hostages.
The French Basketball Federation released a statement which you can read below in the French section. They asked that each match began with a minute silence in remembrance for the victims.

Veuillez trouver des informations en français sur la 14ème journée de la LFB en bas de la page.
Bourges Basket also had an interesting week. They arrived in France without their luggage after their mid-week EuroLeague Women match. They had to travel immediately to Arras for the live game of the week on LFB TV.
It was not a pretty match but Bourges' experience was in display. They led from start to finish with all eight players getting on the score sheet.  Céline Dumerc filled the stat sheet with 17 points, 7 assists and 7 rebounds while Hélène Ciak picked up 17 rebounds while scoring 11 points in the (65-43) victory.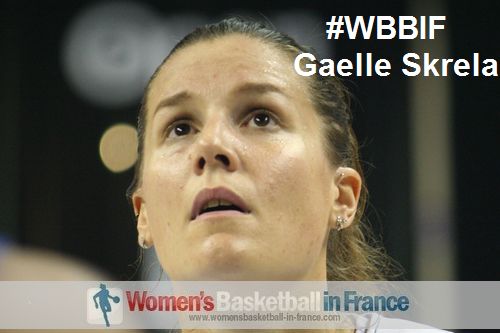 LFB star: Gaëlle Skrela stepped up big time for Montpellier
Villeneuve d'Ascq played badly. But they took 12 shots more than Charleville-Mézières over the 40 minutes and just managed to squeeze past their guests (58-51) during a final-quarter spurt.
Gaëlle Skrela was on fire with 27 points and 5 steals as Lattes Montpellier cruised past Calais (84-54).
Basket Landes do not lose many games at home. So their defeat against Angers (72-77) was a surprise. However what made it hard was that Amélie Pochet who had played for Basket Landes for three seasons was the catalyst with 18 points, 4 steals, a couple of blocks and a perfect 8-of-8 from the free-throw line.
Tarbes have more or less secured their survival in the elite for next season with a good win over Nantes-Rezé (88-64). The match was won in the second quarter 30-12 for the hosts. They had five players finishing with double digit scores.
At the bottom end of the table Lyon BF crushed Hainaut Basket (86-52) while USO Mondeville staged a final-quarter blitz 26-6 to overturn Toulouse (75-65).
For Calais and Hainaut Basket, the chances of climbing up the table look slim while Lyon BF and USO Mondeville are putting the pressure on Nantes-Rezé in the battle to avoid 12th place.

---
La 14e ronde en LFB:
assombrie par des évènements tragiques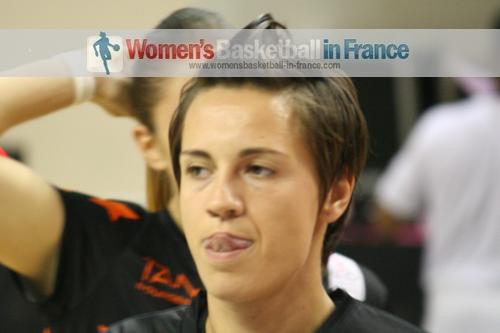 Veuillez trouver - après le résumé sur la 14e journée - une déclaration de la FFBB sur les attentats en France.
Bourges Basket continue à vaincre ses adversaires. C'est Arras qui tombe sous une Céline Dumerc qui tient les rênes dans cette rencontre.
Lattes Montpellier avec une Gaëlle Skrela en bonne forme bat facilement COB Calais pendant que Basket Landes perd à domicile contre Angers, emmené par Rebecca Tobin.
Tarbes Gesperre gagne contre Nantes-Rezé pour plus au moins s'assurer le maintien en ligue féminine et met Nantes en danger de rélégation.
Dans le bas du tableau, c'est Lyon BF qui prend le dessus contre Hainaut Basket.
Toulouse perd contre USO Mondeville qui gagne la rencontre dans les dix dernières minutes.
---
Attentat à Charlie Hebdo
Mercredi 7 janvier 2015, 12 personnes ont trouvé la mort lors d'un attentat dans les locaux de Charlie Hebdo, à Paris. Comme l'ensemble de la population, le basket français a été profondément choqué par cet acte de barbarie. C'est pourquoi la FFBB demande à l'ensemble des ses associations affiliées d'observer une minute de silence ce week-end lors des rencontres qui se dérouleront sur le territoire.
Jean-Pierre SIUTAT (Président de la FFBB) : « La Fédération Française de BasketBall présente ses plus sincères condoléances aux familles des victimes de l'attentat d'hier. Elle souhaite s'associer à l'élan de solidarité nationale et demande à l'ensemble de nos clubs de faire observer, ce week-end, avant chaque rencontre, une minute de silence. Les valeurs de notre sport et du sport en général doivent contribuer à lutter contre toutes les formes de barbarie et à préserver l'unité nationale dont nous avons tous besoin. » 
La FFBB demande aux associations de lire le texte qui suit au moment des minutes de silence qui seront observées lors des rencontres qui se dérouleront sur l'ensemble du territoire, ce week-end. 
« Mercredi 7 janvier, la France a été victime d'un attentat dans les locaux de Charlie Hebdo à Paris. 12 personnes ont trouvé la mort lors de cette attaque barbare. La FFBB et l'ensemble du basket français partagent la douleur des familles des victimes et souhaitent marquer leur soutien à l'unité nationale dans cette période si difficile. L'ensemble du mouvement sportif a décidé de rendre hommage aux personnes décédées. Nous vous demandons, Madame, Monsieur, de bien vouloir vous lever et observer une minute de silence en hommage aux victimes ».
---
Like this page / Aimez cette page