LFB scoring records while no team
remains perfect in October 2014

During the midweek LFB action, all seemed fine for Tango Bourges Basket and Lattes Montpellier with another victory in their name against COB Calais and Basket Landes respectively.
However this weekend the Tango ladies were outshone by Villeneuve d'Ascq, while Montpellier were badly beaten by Tarbes. After this weekend's matches no team is undefeated.
Veuillez trouver des informations en français sur la 5ème et 4ème journée de la LFB en bas de la page.
The games of day 5 were highlighted by incredible performances with over ten players reaching the 20-point mark:
Although Céline Dumerc stepped up for Tango Bourges Basket with 25 points and 3 assists, it was Villeneuve d'Ascq beating them (76-72). Virginie Bremont was in an impressive form with 18 points, 7 assists, 4 rebounds and 4 interceptions.

In Tarbes' win against Lattes Montpellier (74-59), Kalis Loyd starred with 20 points, 5 rebounds, 5 interceptions and 3 assists. Mistie Bass' efforts with 24 points and 7 rebounds was not enough to counter Tarbes.
20 points or more in
a week of glorious LFB basketball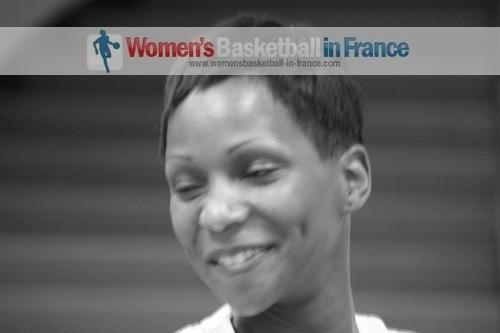 Bintou Marizy enjoys playing in the LFB
For Lyon BF, it was Bintou Marizy who scored 22 points in their (76-70) victory against Nantes-Rezé while Sarah Michel's 20 points were in vain.

In the game facing Charleville-Mézières and Hainaut Basket, Amel Bouderra (2 assists) and Olayinka Sanni both reached the 20-point mark to lead the Flammes Carolo to a (76-55) home victory.

Basket Landes won (87-79) against USO Mondeville despite no player reaching the 20-point mark with Danielle Page's double with 18 points and 10 rebounds. Courtney Hurt's contribution of 24 points and 16 rebounds though were not enough to avoid defeat for her side.
Finally in the North derby, Arras' win over COB Calais (93-55) does not come as a surprise. Arras had Maggie Lucas and Djéné Diawara scoring half of their team's points with 25 and 23 points respectively.
Toulouse defeated Angers (70-59) with the good work by Miranda Ayim and Antonjia Misura (21 points) while Olivia Epoupa had her hands in most of the actions.

---
The LFB midweek matches, day 4, showed that some teams were already in fine form:
Tango Bourges Basket went briefly to the top of the LFB with a comfortable victory against COB Calais (88-51) with Tolo Mariama and Johannah Leedham scoring 19 and 18 points. 
In the first North derby of the season Hainaut Basket lost at home to Villeneuve d'Ascq (57-64). For the victors Ann Wauters and Fatimatou Sacko both scored 16 points.
Rebecca Tobin filled the stat sheet with 28 points, 8 rebounds and 4 blocks to lead Angers to victory over Tarbes (71-63). Lizanne Murphy chipped in with 18 points.
Isis Arrondo
Arras blew away Lyon (93-70) with 36 points coming from Maggie Lucas while team mate Michelle Plouffe helped out at both ends of the court with 19 points and 9 rebounds.
USO Mondeville flew past Charleville-Mézières (67-56) with a Courtney Hurt double-double of 19 points and 13 rebounds.
Nantes-Rezé had a battle with Toulouse and won (80-72) with Isis Arrondo helping herself to 20 and Aurélie Bonnan scoring 19 points.

Gaëlle Skrela led Montpellier with 17 points to a comfortable victory against Basket Landes (76-55).
---
Basket Landes, Lattes Montpellier et
Tango Bourges Basket
succombent pendant cette semaine

Pour la première fois en 10 ans, il n'y a aucune équipe invaincue après la 5ème journée du championnat. Alors que Tango Bourges Basket et Lattes Montpellier étaient sur une bonne lancée, les deux équipes ont perdu leur position de leader en succombant contre Villeneuve d'Ascq et Tarbes respectivement.
Virginie Brémont
Les matchs de cette 5ème journée sont marqués par de performances remarquables de plus de dix joueuses tournant autour des vingt points:
Malgré les 25 points de Céline Dumerc pour Tango Bourges Basket, Villeneuve d'Ascq emporte la partie (76-72), emmenée par Virginie Bremont (18 points, 7 passes décisives, 4 rebonds et 4 interceptions).
Grace à une bonne performance par Kalis Loyd (20 points, 5 rebonds et 5 interceptions), Tarbes Gesperre s'impose contre Lattes Montpellier (74-59) malgré les 24 points de Mistie Bass.
Lyon BF gagne de peu contre Nantes-Rezé (76-70) avec une Bintou Marizy au top (22 points). Les 20 points de Sarah Michel pour Nantes Rezé sont en vain.
Du côté des Flammes Carolo, c'est une victoire facile contre Hainaut Basket (76-55) avec Amel Bouderra et Olayinka Sanni à 20 points chacune.                                                                                                        
Basket Landes avec un gros travail de Danielle Page (18 points, 10 rebonds) bat l'USO Mondeville (87-79) malgré le double-double de Courtney Hurt (24 points et 16 rebonds).
Toulouse, sur les dos de Miranda Ayim et Antonjia Misura (21 points chacune), s'impose à domicile contre Angers (70-59).

Et finalement dans le derby nordique, Arras domine le COB Calais dans tous les aspects du jeu (93-55) avec Maggie Lucas et Djéné Diawara marquant la moitié des points avec 25 et 23 points respectivement.
---
La 4ème journée était aussi une réussite pour Arras qui bat Lyon BF (93-70) avec une Maggie Lucas brillante (36 points), épaulée par Michelle Plouffe (19 points).
COB Calais perd contre les Tangos (88-51) pendant que Lattes-Montpellier gagne contre Basket Landes (76-55) avec une Gaëlle Skrela en bonne forme (17 points).
Angers s'impose à domicile contre Tarbes (71-63) grace aux 28 points de Tobin Rebecca pendant que Nantes Rezé gagne contre les Toulousaines avec un duo épattant de Isis Arrondo (20 points) et Sarah Michel (17 points).
Ann Wauters et Fatimatou Sacko (16 points chacune) aident Villeneuve d'Ascq à remporter la première rencontre des équipes du Nord contre Hainaut Basket (64-57).
USO Mondeville bat Charleville-Mézières (67-56) avec une jolie performance par Courtney Hurt (19 points et 13 rebonds).
---
Like this page / Aimez cette page