2013 FIBA U19
World Championship for Women
Eighth Final Round ends in tears

The last day of group action at the 2013 FIBA U19 World Championship in Lithuania ended in tears for six teams. Canada, China and Japan on the other hand were relieved and joyful. 

For the Netherlands, Russia and the hosts Lithuania it was only tears of disappointment as their bid to become FIBA World Champions ended.
In the other action the USA and France were involved in a youth basketball thriller with the USA coming out on top. Spain maintained their unbeaten record against Brazil while Australia had no problems against the already eliminated Serbian team.
Senegal unfortunately leaves the tournament without a single victory - they arrived late due to visa complication and now return home empty handed.
The quarter-final pairings are as follows:
Spain v Canada            
Brazil v France
Australia v China
Japan v USA
Classification Round (9-12 places)
Serbia v Netherlands
Russia v Lithuania
Group E - Japan beat Russia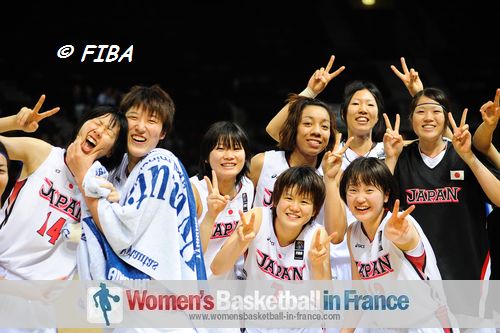 Japan ran their hearts out while Russia shot from distance. The result was an interesting technical match that went in favour of Japan (88-78). Miyuki Kawamura continued her festival of scoring for Japan with 26 points while Kanako Masouka provided 9 assists and 19 points.
For Russia Albina Razheva scored 22 points. But it was not enough to save her team from elimination.
Australia made light work of Serbia (89-53) with everybody playing at least 12 minutes. Carley Mijovic and Darcee Garbin led the scoring with 15 and 14 points each.
With this victory Australia moved into second place in the group.
Spain did not play their best basketball but with Irene Gari stepping up offensively with 19 points they were still too strong for Brazil (71-62).  Isabela Ramona was the best offensive player for Brazil with 24 points while also picking up 13 rebounds.
Spain secured Group E title while Brazil finished third.
Group F - The USA, a little stronger than France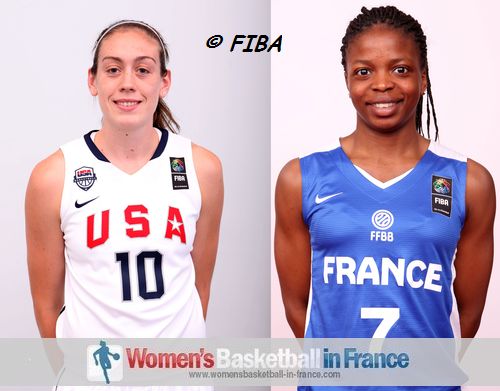 Breanna Stewart (22 points) and Olivia Epoupa (12 points and 10 rebounds), the leaders of their respective teams, are no strangers to each other. They already played against each other during the 2010 U17 World Championship for Women.
The match between the USA and France was perfect in terms of youth basketball because it contained the good, the bad and sometimes the ugly side of competitive basketball with neither team holding back.
In the end the USA won the match on the back of a 24-second buzzer beater three-pointer by Alexis Jones with 28 seconds left to play. Jones then charged down after a three-point attempt by France that gave the USA the all important last possession.
The USA won the match (69-63) and finished on top of the group while France had to settle for second place.

China proved to be one step ahead of the game against the Netherlands and beat them (73-61) with Hengyu Yang doing the work inside with 19 points and 11 rebounds.
Canada then went on to take the last quarter-final place by beating Lithuania (68-47). The hosts Lithuania were handicapped slightly with three players falling ill prior to the match.
China in third and Canada finishing 4th means that the competition for the Netherlands and Lithuania continues in the 9th - 12th place classification games.
Group G - 13th - 16th Classification games

Korea completed a clean sweep of the lower classification ranking by beating Mali (76-57) to claim 13th place. Argentina rolled over Senegal (62-40) to claim 14th place. Mali finish 15th while Senegal end up bottom of the pile in last position.

---
Like this page / Aimez cette page