2013 U18 European Championship
Division B - Belgium mean business


Belgium and Poland opened their 2013 U18 European Championship for Women Division B campaign in Miskolc on day 2 with large margin victories.
Poland and Belgium are playing in Group A and Group D as their groups of five teams had been exempt from day one action.

In Group D Germany finally had something to smile about after coming away with all the points in beating Denmark (64-50).
Germany took command of the match from the 14th minute by keeping their opponents scoreless while scoring 11 unanswered points to close the first half (31-20). Germany completed the 17-0 run three minutes into the third quarter and then paced themselves to victory.
While Noémie Rouault helped herself to her second double-double of the week with 16 points and 11 rebounds. Her team-mate Anneke Schlüter led the team in scoring with 18 points.
Kia Fisker was the leading scorer for Denmark with 11 points and 11 rebounds. With two defeats already, Denmark cannot afford another setback in the quest for a place in the Quarter-Final Round.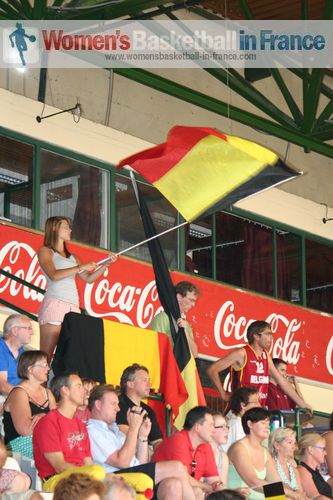 In the second game from Group D Belgium scored the first points in their game against Austria and stayed in front the rest of the way as they crushed their opponents (99-40). Manon Grzesinski led Belgium with 14 points, 8 rebounds and  4 steals

Poland opened their European championship tournament with a comfortable victory against Israel (65-39). Poland never trailed and had the match won by the end of the third quarter with a 23-point advantage.

Agata Stepien knocked down 4 three-pointers in her 18 points total for Poland, while Julia Drop dished out 5 assists and Magdalena Szajtaue picked up 11 rebounds.
Lithuania have seven players on their roster who played during the 2013 U19 FIBA World Championship for Women and are at present playing like a well oiled machine. They blew away Estonia (87-64) with five players in double digits. Dalia Belickaite was the team's leading scorer with 18 points, while Trine Kasemägi was the top scorer for Estonia with a game high 21 points.
Lithuania and Poland are the only teams from Group A not to have suffered a defeat after just two rounds of games.
---
Like this page / Aimez cette page