2013 U18 European Championship
Tension and drama marked day 7

The semi-finalists for the U18 European Championship Women Division B have been confirmed after plenty of excitement on day 7 in Miskolc.  
Lithuania lost their unbeaten record to Ukraine (71-75), while Poland crushed Bulgaria (92-60). As a result Lithuania, Poland and Ukraine were tied for first place. Ukraine needed to beat Lithuania by 17 points to qualify for the semi-finals so their victory was in vain.
Lithuania and Poland from Group E have advanced to the semi-finals. Bulgaria had been eliminated from the promotion race in their defeat against Lithuania on day 6.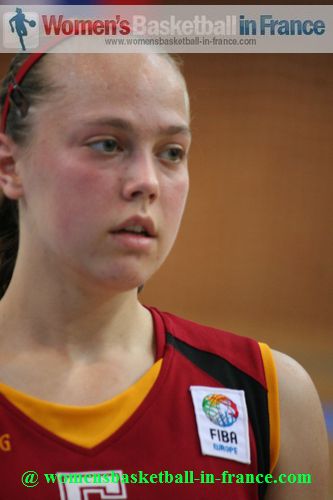 Julie Allemand (in picture) appears to like quarter-final matches. Last year at the U16 European Championship, also in Miskolc, she had exploded with 21 points to help Belgium eliminate France at the quarter-final stage.

This time she scored 21 points, dished out 10 assists and came away with 6 steals as Belgium eliminated the hosts Hungary (81-59). Yara Linskens and Anneleen De Baet were also active on the offensive end with 12 points each.
Latvia took the other Group F semi-final place by beating Bosnia and Herzegovina (64-46). Latvia went on a 15-1 run from the end of the third quarter to midway through the 4th quarter to break open the game.
For Latvia Kate Kreslina led the way with 19 points.
The semi-final pairings are as follows:
Lithuania vs. Belgium
Latvia vs. Poland
The winners of the semi-finals and the team that finish third gain promotion to Division A for 2014.

In the games for the lower classification Noémie Rouault fired in 24 points and picked up 12 rebounds to help Germany beat Romania (78-61).
Denmark were able to restrict Scotland to just 8 points in the last 10 minutes as they hung on to win (60-52).
Germany are guaranteed first place in Group H and will play on the last day in the game for 9th place.

In Group G, Switzerland were able to overcome Norway (44-37) while Estonia despatched Finland (65-51).

The trio of Trine Kasemagi (17 points), Kadri Lass (18 points) and Tatjana Razguliajeva (15 points) contributed 50 points and 24 rebounds in the victory.
Estonia cannot be caught in this group and will meet Germany in the 9th place game.

---
Like this page / Aimez cette page