2013 EuroBasket Women
classification games, places 5 to 8

Four more teams have ended their 2013 EuroBasket Women competition with the first day of classification play.
Belarus beat the Czech Republic in the match for fifth place while Sweden came 7th after downing Italy.

The match for 7th place turned out to be very entertaining with both teams playing offensive basketball.
Sweden rediscovered their shooting touch which had gone missing in their previous match against Belarus.
Sweden took hold of the game during the first quarter (24-13) and stayed in front for the remaining match.
The final scoreline (77-60) was of no importance because both coaches gave opportunities for players that had not played much during the tournament.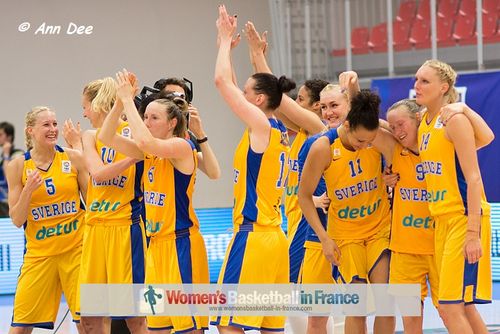 Elisabeth Egnell from Sweden top scored with 15 points. She also picked up 10 rebounds. Her Swedish team-mates Elin Eldebrink and Frida Eldebrink finished with 12 and 11 points each.
For Italy Ilaria Zanoni and Francesca Dotto were the top scorers with 11 and 10 points.
Italy 60-77 Sweden

Italy: Zanoni 11, Dotto 10, Ress 8, Gatti 8, Masciadri 7 (10 rebounds), Bagnara 6
Sweden: Egnell 15 (10 rebounds), E. Eldebrink 12, F. Eldebrink 11, Kadidja Andersson 9, Aili 8, Halvarsson 8

In the match for 5th place Belarus cruised to victory against the Czech Republic (64-50). The 7th place game lacked energy and turned very quickly into an exhibition match.
Belarus took the first 20 minutes seriously and by half time led by 16 points (35-19).
Apart from the performance of Yelena Leuchanka from Belarus, the second half of the match was forgettable.
Leuchanka finished with 18 points, 7 rebounds and 5 assists. Other notable performances were Aleksandra Tarasava who scored1 4 points while Anastasia Verameyenka filled the stat sheet with 11 points, 9 rebounds and 4 assists.
Michaela Zrustova was the only player from the Czech Republic in double digits with 13 points.
Czech Republic 50–64 Belarus
Czech Republic: Zrustova 13, Burgrova 9, Kulichova 6, Hindrakova 6, Peckova 5
Belarus: Leuchanka 18, Tarasava 14, Verameyenka 11, Snytsina 6
You may watch the EuroBasket Women daily recap of the classification games below:

---
picture credits:
womensbasketball-in-france.com
Ann-Dee Lamour


Date created: 29 June 2013
Like this page / Aimez cette page