2013 U20 European Championship
Division B - day 7 basketball news

During the first rest day, Latvia had 10 pairs of basketball shoes taken from their hotel. Instead of cursing their bad luck, they took the anger out on their opponents with four straight victories.

By beating Portugal (46-44), their latest victims, the U20 European Championship for Women Division B promotion picture changed.
Guna Lagzdina scored the winning basket with 10 seconds left to play.
Yet Asnate Fomina won the hero-of-the-match award with her blocking Nádia Fernandes' buzzer beater attempt at the end of the game.

Latvia join Belgium and Portugal in a three-way chase for two promotion spots.
The Czech Republic who beat Macedonia (65-49) have clinched their place in Division A.

Monika Satoranska was once again the leading player for the Czech Republic with 18 points and 12 rebounds.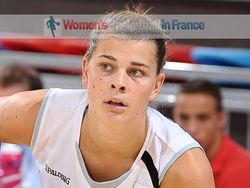 Belgium remain unbeaten after seeing off Romania (68-58). Yet they struggled for the first time in this tournament, only starting to take control of the game with a 8-0 run at the end of the third quarter.
Julie Vanloo led the scoring with 25 points while Sien Devliegher (in picture) chipped in 18 points and 7 assists.
A victory for Belgium against Portugal in their next match is all that is needed for promotion. They can also win promotion if Macedonia defeat Latvia in the opening game on day 8.
In the only game that had no bearing on the promotion race was when Israel beat Great Britain (49-43). Great Britain had the better of the fist half and went into the locker room leading (29-20). But they managed just 14 points the rest of the way.
Great Britain and Romania are yet to win a match in Albena and can finish no better than 8th by the end of the competition.
The current league standings are as follows:
| | | | | | | |
| --- | --- | --- | --- | --- | --- | --- |
| | Team | W | L | PF | PA | Pts |
| 1 | Czech Republic | 6 | 1 | 496 | 378 | 13 |
| 2 | Belgium | 6 | 0 | 421 | 333 | 12 |
| 3 | Latvia | 4 | 2 | 413 | 339 | 10 |
| 4 | Portugal | 4 | 2 | 351 | 315 | 10 |
| 5 | Bulgaria | 3 | 3 | 412 | 380 | 9 |
| 6 | Macedonia | 3 | 3 | 346 | 357 | 9 |
| 7 | Israel | 2 | 5 | 335 | 444 | 9 |
| 8 | Romania | 0 | 6 | 347 | 448 | 6 |
| 9 | Great Britain | 0 | 6 | 310 | 437 | 6 |
---
Like this page / Aimez cette page