Exhibition basketball and awards
on the final day of U20
European Championship Division B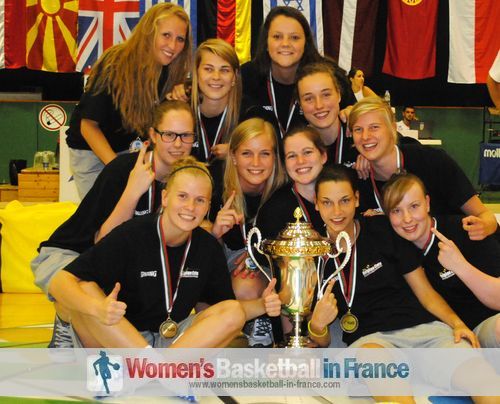 The final day of basketball at the FIBA Europe 2013 U20 European Championship for Women Division B in Albena transformed into an international exhibition day.

Belgium with the gold medal in their pocket still went out and completed the tournament grand slam in remaining undefeated. They beat Macedonia (79-52), led by tournament MVP Julie Vanloo who knocked down 21 points.
Silver medallists, the Czech Republic did not have a game to play while bronze medallists Latvia were beaten by hosts Bulgaria (71-74) in an exciting game.
In the match against the hosts the lead changed seven times while their were 11 ties. Tarbes' player Hristina Tyutyundzhieva secured the victory for the hosts with the all important steal with four seconds to play. She was then fouled with less than a second to play given Latvia no chance to play again.

However the match of the day was between Great Britain and Portugal.  Great Britain blew a 26-point lead and then had to battle during the last five minutes to win the game (65-61).
Israel made sure that Romania went home with nothing from this championship with a (67-59) victory in the opening game.
Julie Vanloo from Belgium was elected MVP and joined in the all tournament team by her team-mate Hanne Mestdagh, Sonia Ursu (Romania), Monika Satoranská (Czech Republic) and Guna Lagzdina (Latvia).
Wbbif present you with the final league standings:
| | | | | | | |
| --- | --- | --- | --- | --- | --- | --- |
| | Team | W | L | PF | PA | Pts |
| 1 | Belgium | 8 | 0 | 563 | 438 | 16 |
| 2 | Czech Republic | 7 | 1 | 565 | 437 | 15 |
| 3 | Latvia | 5 | 3 | 555 | 461 | 13 |
| 4 | Portugal | 4 | 4 | 465 | 443 | 12 |
| 5 | Bulgaria | 4 | 4 | 545 | 520 | 12 |
| 6 | Israel | 3 | 5 | 402 | 503 | 11 |
| 7 | Macedonia | 3 | 5 | 446 | 507 | 11 |
| 8 | Great Britain | 2 | 6 | 444 | 565 | 10 |
| 9 | Romania | 0 | 8 | 473 | 584 | 8 |
---
Like this page / Aimez cette page