2013 U20 European Championship
Division B - day 5 basketball news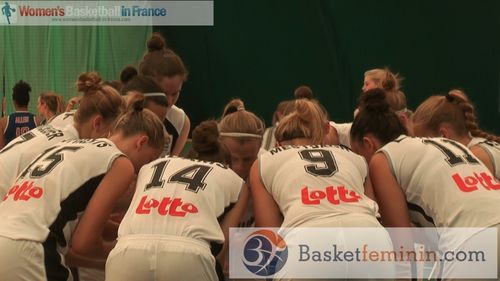 After four days of interesting basketball at the 2013 U20 European Championship Division B for Women, day 5 was rather dull with the exception of the match between the hosts Bulgaria and Portugal.

Belgium maintained their focus against Great Britain to remain perfect in this competition. Great Britain scored the first point of the game from the free-throw line. Afterwards it was one-way traffic in the direction Belgium. The contest was over by the interval with Belgium leading (43-20).
Both coaches rotated frequently during the second half of the match. Belgium won (79-42). Great Britain are now officially out of the promotion race and are playing U20 Division B basketball in 2014.
The Czech Republic did not play as well as they could but were still too strong for Romania (74-62). The Czech Republic took 93 shots while Romania managed just 49. Anezka Skokanová and Monika Satoranská scored 13 points each for the winners while Sonia Ursu (in picture) fired in 29 for Romania.
Romania's chance of gaining promotion have more or less disappeared with this defeat.
Portugal won the game of the day against Bulgaria (68-56). The lead changed hands 11 times and the game was tied on 9 occasions.
Portugal made the break in the last five minutes with a 14-3 run to snatch the victory. Jessica Almeida came up big offensively with 22 points while Nadia Fernandes picked up 15 rebounds for the winners.
Latvia are making up for lost time with a an easy victory over Israel  (83-52). Guna Lagzdina helped herself to a double-double of 17 points and 16 rebounds.
The current league standings are as follows:
| | | | | | | |
| --- | --- | --- | --- | --- | --- | --- |
| | Team | W | L | PF | PA | Pts |
| 1 | Czech Republic | 4 | 1 | 373 | 278 | 9 |
| 2 | Belgium | 4 | 0 | 292 | 236 | 8 |
| 3 | Portugal | 4 | 0 | 256 | 211 | 8 |
| 4 | Bulgaria | 3 | 2 | 352 | 316 | 8 |
| 5 | Latvia | 2 | 2 | 274 | 240 | 6 |
| 6 | Macedonia | 2 | 2 | 233 | 232 | 6 |
| 7 | Israel | 1 | 4 | 247 | 340 | 6 |
| 8 | Great Britain | 0 | 5 | 267 | 388 | 5 |
| 9 | Romania | 0 | 4 | 234 | 287 | 4 |
---
Like this page / Aimez cette page