For three days 48 players
play exhibition basketball in Samsun

Playing basketball in the Relegation Round of a Division A European Championship is not a simple affair. FIBA Europe have modified the rules once again. The bottom four teams from the preliminary round are placed in classification Group G.

The four teams play each other just once. At the end each of them are drawn against one of the four teams that have failed to qualify for the quarter-final. This new knock-out competition is the Classification Round for 9th to 16th place.

It means that it is possible to escape relegation by winning just one game in the whole tournament, in the 9th to 16th place quarter-final matches.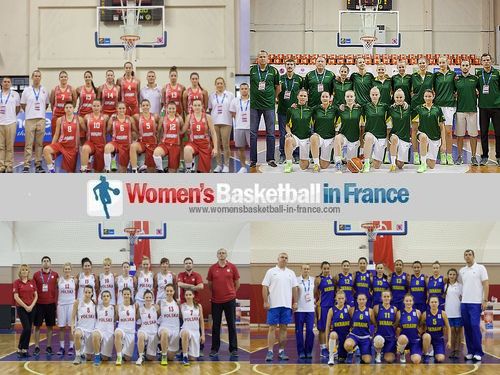 As interesting as this format is, it really means that Group G is meaningless as the games are glorified exhibition games.
Despite the richness of Hungarian basketball, their youth teams continue to struggle and regularly yo-yo between Division A and Division B. Last year Hungary gained promotion by finishing third in Division B. However a tough draw left them in the same group as France, Italy and Russia.
Lithuania came to this competition with many players eligible for the FIBA U19 World Championship for Women which they host later this month.  So this situation gives the coaching staff more practice at a higher level because at U18 level Lithuania are in Division B.
Poland have a good tradition at U20 level but failed to recover from their first day loss to Spain. So this new format should favour them.
For the last few years Alina Iagupova carried Ukraine in all youth competitions. Once she is no longer eligible for the respective age group, the team struggles. Yet a few exhibition games could help them before the real relegation battle starts.
The teams rosters for Group G are:
Hungary: Bernadett Határ, Dóra Koch, Vivien Böröndy, Zsófia Licskai, Noémi Czirják, Szidónia Katona, Viktória Fuisz, Szonja Vukov, Bernadett Horvath, Judit Barnai, Petra Vágvölgyi, Amadea Szamosi

Lithuania: Agne Cerneckyte, Gerda Kruckauskaite, Simona Dobrovolskyte, Gintare Jasiunskaite, Laura Zelnyte, Greta Tamasauskaite, Akvile Baronenaite, Ieva Kazlauskaite, Milda Sukyte, Vita Zilinskaite, Justina Matuzonyte, Ieva Preskienyte
Poland: Monika Skrzecz, Nikola Kacperska, Dominika Owczarzak, Kinga Wozniak, Karina Szybala, Katarzyna Jaworska, Beata Jaworska, Magdalena Koperwas, Julia Adamowicz, Karolina Puss, Dominika Miloszewska, Aneta Burandt

Ukraine: Nataliya Pokrovenko, Xeniya Afanasyeva, Olga Krayevska, Nataliia Sergeieva, Liliia Kopylets, Vita Gorobets, Kateryna Demchenko, Nataliya Skorbatyuk, Darya Zavidna, Miriam Uro-Nile, Oleksandra Chek, Lyudmyla Naumenko

---
Like this page / Aimez cette page