Youth international basketball
Spain at home in Poinçonnet
Spain are at home at the youth international basketball tournament in Poinçonnent. They gave another master display in youth basketball in overcoming an interesting selection from the Czech Republic. In the second game, the spectators were given a display of typical U16 basketball with France edging out Turkey in overtime.

The Spanish team is neither new to wbbif neither to France as a number of players had been in France last season with the U15 team.
Evaristo Pérez, the coach of Spain, confirms that this year's team is the most balanced squad he has had so far; with physical and technical ability in all positions and with a style of defense and transition that should allow them to play the basketball that characterises them.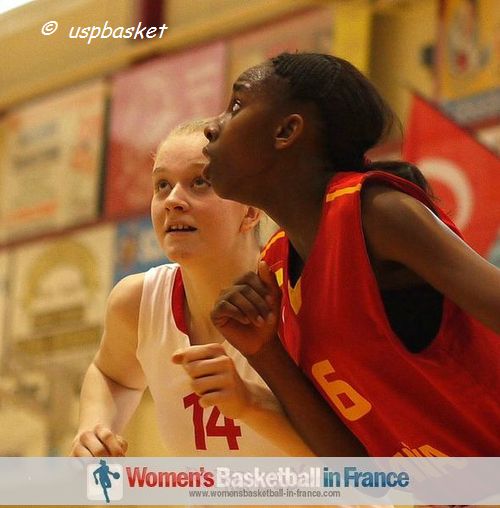 The Czech Republic came with a new team of players for this event. The coaching duo of Richard Fousek and Petr Kapitulčin were trying hard to keep their players focused for the duration of their match against Spain.
Spain are a well oiled machine but struggled to impose themselves during the first quarter by committing too many turnovers. However they edged the first quarter (20-19).
From the second quarter onwards Spain defended well, scored on fast breaks and by the end of the third quarter the game had been won (68-47).
Spain went on to win comfortably (84-66) with 23 points coming from María Martiañez. Ángela Salvadores followed up with 18 points while Laia Reventos, Cecilia Muhate and the youngest player in the tournament Iris Mbulito all scored 12 points.
For the Czech Republic Michaela Matúškova was the leading scorer with 15 points with all the players getting on the score sheet.
Overtime separates France and Turkey

This is a new Turkish team for wbbif. Turkey brought a number of players from the 1998 generation. They are tall, fast and strong. Although it is too early to make comparisons with last year's U16 team as only nine players got onto the court, this selection looks more balanced.

Betül Kutlu was Turkey's leading scorer with 12 points. Yet Seda Deniz and Irem Naz Topuz made important contributions with 11 and 10 points each.

France huffed and puffed throughout the game and had to thank Manon Boehrer (9 points) for her coolness from the free-throw line to force overtime.
France had a deeper bench during the last five minutes. With Alix Duchet leading the way her side knocked Turkey out 12-2 for a (64-54) victory.
Duchet with 14 points was the top scorer of the match while Alexia Mantelin chipped in 10 points.
---
Like this page / Aimez cette page