Olympic Qualifying Tournament Preparation
4-nation tournament with 13 players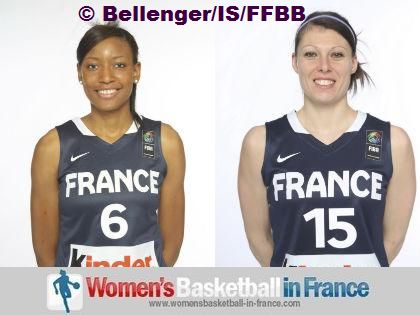 France face in their next three test games three teams who have also qualified for the 2012 Olympic Qualifying Tournament.
France play against Canada, Croatia and the Czech Republic in a 4-nation round robin tournament from 14th June until the 16th June.
At the end of the tournament Pierre Vincent will decide between Elodie Godin and Marielle Amant as the final member of his official 12-player roster.
Diandra Tchatchouang and Anaël Lardy (both in picture) are the latest players to be released but will rejoin the squad in July if France qualify for the Olympic Games.
France will then take on Puerto Rico in their final match on 21 June before heading off to Turkey.
Preparation series of France against Poland
France played three games against Poland and ran out winners on each occasion.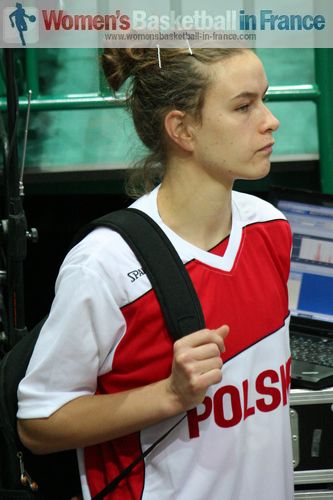 France made hard work of winning the first game (74-66) despite leading (24-9) with eight minutes played. Sandrine Gruda led the way with 20 points for France while Céline Dumerc (5 assists) and Emilie Gomis both scored 13 points. For Poland Agnieszka Skobel (right in picture) was the top scorer with 13 points.
In the second game France had to battle for the first 20 minutes (33-31) before pulling away to win comfortably (74-56). This time it was Isabelle Yacoubou-Dehoui with 13 points that led the French attack. Dumerc and Emméline Ndongue added 10 points each while once again Skobel led Poland with 13 points again.
For the final match of the series France turned on the turbo and easily won the game (88-55). Gruda and Yacoubou-Dehoui continued their domination in scoring with 18 and 12 points each. Edwige Lawson-Wade reached her first double-digit score of the series with 12 while Dumerc contributed 10 points and 7 assists.
Aleksandra Chomac led Poland's attack with 12 points.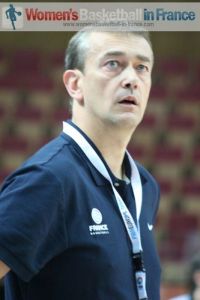 Pierre Vincent (in picture), the French coach, was satisfied with the performance of the final match. He explained that normally during a three-match series of this kind, the margins of victory decreased and not increased unlike in this case, which proved that the players applied what he wanted for each each game.
Points scored by the French players during the series:
One game: Anaël Lardy 4

Two games: Sandrine Gruda 38, Edwige Lawson-Wade 21, Emméline Ndongue 15, Diandra Tchatchouang 5, Jennifer Digbeu 5, Elodie Godin 2

Three games: Céline Dumerc 32, Isabelle Yacoubou-Dehoui 30, Emilie Gomis 22, Clémence Beikes 20, Nwal-Endéné Miyem 18, Marielle Amant 9, Marion Laborde 8, Florence Lepron 7,
The 13 players to continue the preparation are:
Isabelle Yacoubou-Dehoui, Nwal-Endéné Miyem, Clémence Beikes, Sandrine Gruda, Edwige Lawson-Wade, Céline Dumerc, Jennifer Digbeu, Emilie Gomis, Florence Lepron, Marion Laborde, Emméline Ndongue, Marielle Amant and Elodie Godin
---
Visit our French senior international news page
Visit our 2012 FIBA Olympic Qualifying Tournament page
Return to the top of page
---
Olympic Qualifying Tournament picture credit:


Bellenger/IS/FFBB
womensbasketball-in-frane.com

Date created: 14 June 2012