Ligue Féminine 2
Reims BF 2011-2012 roster
Reims BF defeated Lyon BF in the 2011 Ligue Féminine 2 final four semi-final that enabled the club to finish the season on a high after the
death of their president Bernard Lavergne
earlier in the year.
Philippe Sauret, the coach of last season, had explained during the final four that club would invest in their youth players for 2011-2012.
Informations sur Reims Basket Féminine en français en bas du page
With Zuzana Gujaraïdze retiring and Floriane Herrscher moving to COB Calais the backbone of the team is gone. In addition Lorraine Lokoka's request to leave was granted, which meant that the club lost three core players.
Philippe Sauret decided to step away from the hot seat as coach and take up the function of General Manager while his assistant Guillaume Rassineux also left the club.
The final players to leave the club were youth players:
Caroline Misset who has moved to LF2 rival US Laveyron while Oulématou Sy has moved to Charleville-Mézières.
The new coach is Arnaud Ricoux (left) who comes from the world of men's basketball.
Reims BF have also signed three players:
Croatian player Iva Grbas who played in Austria last season,
former French youth international Carole Leclair (Lyon BF - LF2)
and Fatim Traore from Union Hainaut Espoir, NF2 to complete the club's recruitment.
The new players join the following ones in the Ligue Féminine 2 roster for the season:
Astan Dabo, Jenny Fouasseau, Anaïs Jomby, Mélissa Micaletto, Awa Niangane and Marième Niasse.
Jomby who is also a school teacher and is the only player over the age of 23 in the first team roster besides the Croatian newcomer.
L'effectif de Reims Basket Féminine pour la saison 2011-2012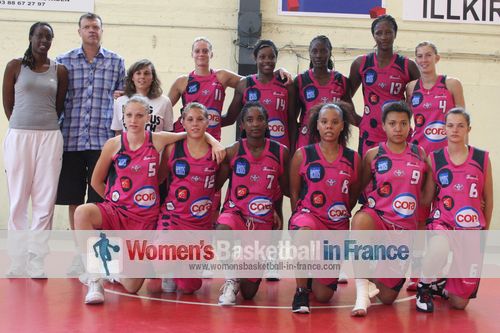 Le coach des années dernières, Philippe Sauret, qui avait célébré avec son équipe la deuxième place en final four en Mai 2011, a décidé de devenir le manager général du club, laissant sa place à Arnaud Ricoux (St Quentin - NM1).
La nouvelle équipe est formée des jeunes joueuses moins de 23 ans apart de Anaïs Jomby et une des nouvelles recrues, l'internationale croate Iva Grbas.
Les joueuses qui restent, sont:
Astan Dabo, Jenny Fouasseau, Anaïs Jomby, Mélissa Micaletto, Awa Niangane et Marième Niasse.
Les nouvelles joueuses sont:
Iva Grbas qui a joué en Autriche la saison dernière,
l'ancienne internationale Espoir française Carole Leclair (Lyon BF - LF2) et
Fatim Traore (Union Hainaut Espoir - NF2)
Les joueuses suivantes sont parties:
Floriane Herrscher (COB Calais - LF2), Zuzana Gujaraïdze (arrêt), Lorraine Lokoka (Toulouse - LF2), Caroline Misset (US Laveyron - LF2), Ulématou Sy (Charleville-Mézières - Espoir)
---
Return to Ligue Féminine 2011-2012 index page
Leave Ligue Féminine 2 news and return to home page
Return to the top of page
Picture credits:


womensbasketball-in-france
LFB

Date created: 13 September 2011
---