Ligue Féminine 2
Perpignan Basket
Basket Catalan Perpignan Méditerranée's rise to the Ligue Féminine 2 started in 1988 when Patrick Esteban (General Manager) took on a project called "Basket Féminine".
In 18 years the club grew and in 2006 they won their first national honour "Trophée de France", the French amateur cup.
In 2010 they won promotion to LF2 and the next project of Esteban started with an objective of building a team to win promotion to the LFB.
Veuillez trouver en bas du page en français des informations sur Perpignan et un sommaire sur le match contre Dunkerque Malo
The rules of LF2 restrict clubs to play only five transfers per match. So it has taken two seasons to build the 2011-2012 team roster which has a strong LFB flavour with most of the players having had experience in the top league.
After having their last home match cancelled due to the non arrival of their opponents, the question for this weekend was if Dunkerque Malo arrived.
Perpignan's first two home games of the season were won by more than 40 points and the home fans were hoping for harder tests.
Dunkerque Malo gave a good impression of themselves during the first quarter with 5 ties and 3 lead changes. Perpignan led by just 2 points (19-17).
François Gomez, the coach from Perpignan, although smiling was not happy and let his players know. His players were a different team after the two-minute pause and slowly took control of the game.
They neutralised the threat of Dace Pierre-Joseph under the basket. With just Sabrina Scott shooting well, Dunkerque started to disappear. By half time they trailed (33-45).
The rest of the game was one-way traffic with the hosts once again just missing the 40-point margin (91-53).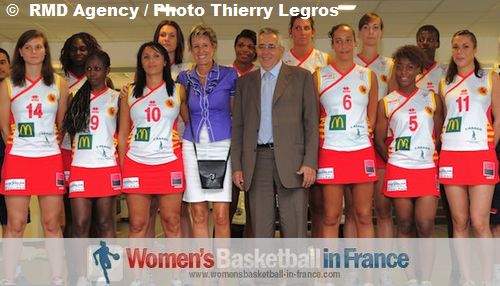 For Perpignan all the players scored at least 2 points. However they need to improve the free-throw percentage (11-from-21). Yet they dominated the rebounds and hit the shots when they needed to.
Perpignan are not as well oiled as some of the teams in this division. But with Fatou Dieng settled and Pauline Lo used to her role of leader, the team is looking ready for the challenge of a place in the final four. They just need to take their home form onto the road.
Perpignan: Princesse Goubo DNP, Clémentine Samson 10, Laina Badiane 11, Fatou Dieng 14, Camille Ruiz 2, Pauline Lo 16 (3 assists), Pauline Thizy 2, Isabelle Strunc 7, Agathe Nnindjem-Yolemp 14 (12 rebounds and 3 assists), Héléna Ciak 15 (14 rebounds)
Dunkerque: Amélie Fresnais 8, Taisiia Bovykina 5, Lucie Carlier 6, Sabrina Scot 12, Elodie Dubasque 9, Dace Pierre-Joseph 12, Pauline Fournier 1, Aurélie Durand 0, Marion Carlier DNP, Marie Lecoustre DNP
Les ambitions de Patrick Esteban
En 1988 le manage général Patrick Esteban de Basket Catalan Perpignan Méditerranée crée un plan appelé "Basket Féminine".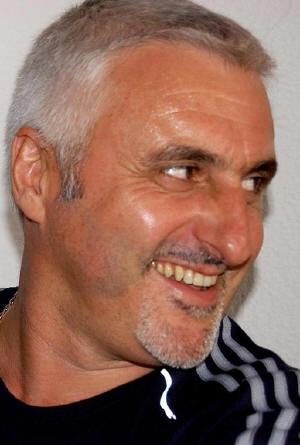 Depuis le club se développe et en 2006 gagne leur premier honneur national, la Trophée de France. La formation se voit propulser en LF2 en 2010 et continue à se diriger vers la montée en LFB.
Pourtant le chemin du succès n'est pas facile car l'équipe - selon les règles en LF2 - n'a pas le droit de faire jouer plus que 5 joueuses mutées.
Après deux ans de construction, le club a enfin un coach renommé, François Gomez (qui a gagné le championnat LFB avec Tarbes il y a deux saisons) et une équipe prête à combler le rêve de Esteban: promotion en ligue féminine de basket.
L'équipe est constituée de beaucoup de joueuses avec plein d'expérience, aussi en LFB. Le retour de Fatou Dieng en sein du club et Pauline Lo accoutumée en tant que leader renforce la structure.
Dunkerque Malo: l'équipe à battre
Après le match annulé à domicile contre Illkirch-Graffenstaden, Perpignan reste sur ses gardes avec des adversaires qui - pendant le premier quart - leur tiennent la tête et Perpignan a que 2 petits points d'avance (19-17).
Mais depuis le deuxième quart temps et après que le coach François Gomez les mets sur des bons rails, Perpignan creuse l'écart en neutralisant Dace Pierre-Joseph dans la raquette et gagne à nouveau à domicile (91-53).
Toutes les joueuses de Perpignan marquent en moins 2 points. Héléna Ciak a la meilleure évaluation avec 15 points et 14 rebonds.
---
Visit LF2 2011-2012 basketball news page
Visit the Ligue Féminine de Basketball news for 2011-2012
Leave Ligue Féminine 2 news and return to home page
Return to the top of Ligue Féminine 2 new page
Ligue féminine 2 picture credits:
Tarbes Basket
RMD Agency

Date created: 06 November 2011
---