LFB news: Arras and Union Hainaut Basket win derby matches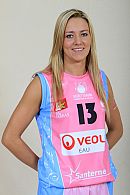 Aija Putnina (left) has waited a long time in the LFB for a finish like the one that saw Arras make up a final-quarter deficit of 8 points to win by 9 points against Calais.
In the last 10 minutes, Putnina scored 13 points, had 3 blocks, picked up 3 defensive rebounds and was credited with 1 assist.
She finished the match with 15 points.
In the final quarter her team-mate Leilani Mitchell fired in a couple of big three-pointers. In total she went 6-from-9 from beyond the arc to finish the game with 22 points and 6 assists.
COB Calais led for 35 minutes are still without a win this season.
---
Lattes-Montpellier were not brilliant but still came out on top at home against Charleville-Mézières (57-51). Gaëlle Skrela led the way with 12 points and 7 steals for the hosts.
For Charleville-Mézières Djéné Diawara was one of three players with 8 points. But she also collected 16 rebounds.
Aix-en-Provence fell at home (55-59) to USO Mondeville.
Hollie Grima (right) was left wondering what she needs to do for Aix-en-Provence to get into the habit of winning. She scored the first 5 points of the LFB match.
She also ended up scoring the first 12 points for her team and finished with 15 from her team's 19 first-quarter points.
However Mondeville survived the Grima show and went into the final quarter leading (53-49). Both teams just managed to score just 6 points in the last quarter. Grima scored 4 and was credited with an assist.
Grima scored 24 points, took 8 rebounds and had 4 assists.
For Mondeville Lenae Williams led the way with 16 points while K. B. Sharp scored 11 points and dished out 6 assists.
Union Hainaut Basket
put together a 21-2 run during the second quarter in their game against Villeneuve d'Ascq to then go on to win (66-51).
Clémence Beikes dished out 9 assists during the game while Emilie Duvivier led the team in scoring with 15 points. Alison Bales compiled a double double of 14 points and 13 rebounds.
For Villeneuve d'Ascq Julie Page and Bridgette Mitchell were the only players in double digits with 18 and 11 points respectively.
This is the fourth consecutive defeat for Villeneuve d'Ascq.
Toulouse still without Shanavia Dowdell were unable to stop Challes-les-Eaux (55-77).
Once again the trio of Mistie Williams-Bass, Romy Bär (right) and Magali Lacroix did most of the scoring for Challes.
Williams-Bass scored 21 points and was credited with 14 rebounds while Bär and Lacroix scored 12 points each.
By clicking here you can read our LFB game report about Nantes-Rezé's victory (66-60) against Basket Landes.
You can also read our game report about Bourges Basket maintaining a 100% domestic record by beating Tarbes (59-55).
Look back at the LFB basketball news from round 6.
---
LFB round 7 results and points scored:
Nantes-Rezé 66-60 Basket Landes
---
Arras 70-61 COB Calais
Arras: Leilani Mitchell 22 (6 assists), Laury Aulnette DNP, Krissy Badé 3 (3 steals), Sarah Michell 1, Johanne Gomis 8, Olesia Malashenko 9, Adja Konteh 2, Aija Putnina 15 (9 rebounds), Pauline Akonga N'Simbo 10, Olga Maznichenko 0
COB Calais: N'Deye N'Diaye 11, Sylvie Gruszczynski 20, Mélanie Devaux 8, Aurélie Cibert 5, Mélanie Arnaud 4, Manon Sinico 0, Pelagia Papamichail 5, Brigitte Ardossi 8
---
Lattes-Montpellier 57-51 Charleville-Mézières
Lattes-Montpellier: Virginie Bremont 3, Alicia Poto 9 (6 assists), Iva Perovanovic 10, Cyrielle Hugues DNP, Brittainey Raven 0, Ana Lelas 9, Gaëlle Skrela 12 (7 steals), Sandra Dijon-Gérardin 4, Fatimatou Sacko 10
Charleville-Mézières: Amel Bouderra 6, Belinda Mboma 6, Sarra Ouerghi 8, Alexia Kusion 3, Ekaterina Dimitrova 9, Kristen Mann 8, Djéné Diawara 8 (16 rebounds), Eléonore Grossemy DNP, Bojana Vulic 3
---
Aix-en-Provence 55-59 USO Mondeville
Aix-en-Provence: Emmanuelle Gorjeu 0, Claire Tomaszewski 0, Zoi Dimitrakou 2, Lauren Neaves 6 (11 rebounds), Isabelle Strunc 2, Margaux Okou-Zouzouo 5, Natalie Hurst 14, Sabrina Réghaïssia 2, Hollie Grima 24
USO Mondeville: Touty Gandega DNP, Anne-Sophie Pagnier 7, Esther Niamké-Moisan 3, Aija Brumermane 7, K. B. Sharp 11 (6 assists), Lenae Williams 16, Yacine Séné 5, Pauline Thizy 2, Valeriya Berezhynska 4 (10 rebounds)
---
Toulouse 55-77 Challes-les-Eaux
Toulouse: Jessie de Colo 5, Camille Aubert 9, Chandrea Jones 17, Emilie Maurice 4, Leslie Matanga 3, Lola de Angelis 0, Shanavia Dowdell DNP, Suzanna Milovanovic 17
Challes-les-Eaux: Romy Bär 12, Bianca Thomas 14, Alexia Plagnard 5 (5 assists), Sabrina Palie 7, Mistie Williams-Bass 21 (14 rebounds), Magali Lacroix 12 (4 steals), Clarisse Costaz 2 (5 assists), Jennifer Fleischer 4
---
UHB Saint Amand 66-51 Villeneuve d'Ascq
Union Hainaut: Steffi Sorensen 2, Emilie Duvivier 15, Clémence Beikes 8 (9 assists), Emilie Silbande-Petiteau 3, Noémie Lemaire DNP, Céline Girard DNP, Laëtitia Kamba 11, Jasmon Covington 13 (5 steals), Elsa Martins DNP, Alison Bales 14 (13 rebounds)
Villeneuve d'Ascq: Julie Page 18, Carine Paul 3, Ingrid Tanqueray 2, Marjorie Carpréaux 2, Laurie Datchy 2, Fanny Ploegaerts DNP, Carla Thomas 7, Olayinka Sanni 5 (14 rebounds), Bridgette Mitchell 11
---
Return from LFB Basketball News to Ligue Féminine de BasketBall index
Go to Women Playing Basketball In France Home Page
Return to the top of page
---
LFB picture credits:

womensbasketball-in-france.com
LFB

Date created: 20 November 2010
Date updated: 21 November 2010

---