Bourges hold on to the LFB lead
After Basket Landes scared the LFB
champions last week, Bourges Basket
knew that they were going to be in a battle this weekend on their visit to Landes.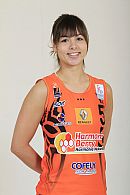 Maja Miljkovic (left) led Bourges Basket to victory against Basket Landes (58-52). She led the scoring with 12 points. She also had 6 assists and drew 6 fouls.
Emméline Ndongue who had a tough battle with Jennifer Humphrey scored 10 points and made 5 interceptions. Styliani Kaltsidou also scored 10 points.
Basket Landes dominated Bourges on the offensive as well as the defensive boards with a total of 41 rebounds against 26 for Bourges.
Basket Landes led with five minutes to play (50-47) but were frustrated by some solid defending and just managed 2 more points.
For Basket Landes Humphrey finished with a double double of 19 points and 13 rebounds while her team-mate Bineta Diouf had a perfect shooting day with 9 points. Tamera Young picked up 10 rebounds but just scored 2 points from the free-throw line.
---
COB Calais are still looking for victory number 1 of the LFB season after falling at home to Aix-en-Provence (59-67).
Calais, playing at home, led by a single point (35-34) at the interval. They went scoreless for five minutes during the third quarter.
Aix-en-Provence took full advantage to open up an 8-point lead which they maintained until the end of the game.
Greek international Zoi Dimitrakou (right) and Australian Nathalie Hurst led the scoring with 21 and 16 points each.
You can read our match report of the victory of Tarbes against Villeneuve (67-53).
In the last game of Saturday evening Challes-les-Eaux beat Nantes-Rezé (73-58).
Look back at the LFB basketball news from round 5.
The LFB news from Sunday
Charleville-Mézières notched up their second LFB victory of the season by beating Arras (69-58).
Montpellier did not waste time in taking control of their match against Union Hainaut Basket with a (10-0) opening.
Clémence Beikes saved the hosts from a first-quarter white wash by scoring all her team's points (8-18).
Montpellier put the game out of reach of their hosts with a 16-0 run during the second quarter enabling them to go into the interval leading (44-17).
Montpellier went to win the game (78-54) with Ana Lelas (left in picture) scoring 19 points while Iva Perovanovic compiled a double-double of 16 points and 14 rebounds.
For the hosts Beikes and Laëtitia Kamba scored 15 and 14 points each.
---
USO Mondeville appeared to be suffering from EuroLeague Women blues as they struggled at home to beat Toulouse (72-64).
The teams were tied (30-30) at the interval, and Mondeville only started to take control late in the third quarter.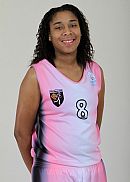 K. B. Sharp scored 8 points in a 10-4 run that put the hosts in the lead for good going into the final quarter (52-48).
Sharp finished the match with 22 points and 5 assists while Valeriya Berezhynska stepped up in the absence of Aurélie Bonnan to score 19 points and collect 9 rebounds.
Chandrea Jones (right) fired in 25 points for Toulouse and Suzanna Milovanovic had her best match so far this season with 16 points and 8 rebounds.
---
LFB round 6 results and points scored:
Villeneuve d'Ascq 53-67 Tarbes
---
COB Calais 59-67 Aix-en-Provence
COB Calais: N'Deye N'Diaye 13, Sylvie Gruszczynski 18, Mélanie Devaux 4, Aurélie Cibert 0, Mélanie Arnaud 0, Manon Sinico 6, Pelagia Papamichail 4, Brigitte Ardossi 14, Marine Foiret DNP
Aix-en-Provence: Emmanuelle Gorjeu 0, Claire Tomaszewski 0, Zoi Dimitrakou 21 (5 steals), Lauren Neaves 8 (15 rebounds), Isabelle Strunc 7, Margaux Okou-Zouzouo 2, Natalie Hurst 16 (5 assists), Sabrina Réghaïssia 6, Hollie Grima 7
---
Basket Landes 52-58 Bourges Basket
Basket Landes: Aminata Konate 4, Katarina Manic 4, Bineta Diouf 9, Anaïs Le Gluher 2, Julie Barennes 4, Tamera Young 2 (10 rebounds), Julia Borde DNP, Marion Laborde 8, Laurie Lapeyre DNP, Jennifer Humphrey 19 (13 rebounds)
Bourges Basket: Anaël Lardy 6, Maja Miljkovic 12 (6 assists), Nwal-Endéné Miyem 2, Styliani Kaltsidou 10, Jennifer Digbeu 6, Catherine Joens 9, Paoline Salagnac 3, Emméline Ndongue 10 (5 steals), Ilona Burgrova
---
Challes-les-Eaux 73-58 Nantes-Rezé
Challes-les-Eaux: Romy Bär 14 (5 assists, 5 steals), Bianca Thomas 15 6, Alexia Plagnard, Sabrina Palie 1, Mistie Williams-Bass 16 (10 rebounds), Magali Lacroix 15, Clarisse Costaz 6, Jennifer Fleischer 0
Nantes-Rezé: Florine Basque 2, Caroline Aubert 9 (6 assists), Joyce Cousseins-Smith 2, Emilija Podrug 14, Mélanie Plust 0, Allison Hightower 8, Yuliya Andreyeva 0, Mame-Marie Sy-Diop 4, Jenna Smith 4, Sabine Niedola 15
---
Charleville-Mézières (69-58) Arras
---
UHB Saint Amand 54-78 Lattes-Montpellier
Union Hainaut: Steffi Sorensen 0, Emilie Duvivier 8 (6 assists), Clémence Beikes 15, Emilie Silbande-Petiteau 11, Noémie Lemaire 0, Céline Girard DNP, Laëtitia Kamba 14 (9 rebounds), Jasmon Covington 2, Elsa Martins DNP, Alison Bales 8 (7 rebounds)
Lattes-Montpellier: Virginie Bremont 4 (4 assists), Alicia Poto 6, Iva Perovanovic 16 (14 rebounds), Cyrielle Hugues 0, Brittainey Raven 4, Ana Lelas 19, Gaëlle Skrela 14, Sandra Dijon-Gérardin 9, Fatimatou Sacko 6
---
USO Mondeville 72-64 Toulouse
USO Mondeville: Touty Gandega 0, Anne-Sophie Pagnier 0, Esther Niamké-Moisan 2, Aija Brumermane 8 (11 rebounds), K. B. Sharp 22 (5 Assists), Lenae Williams 10, Yacine Séné 11, Pauline Thizy 0, Aurélie Bonnan DNP, Valeriya Berezhynska 19 (9 rebounds)
Toulouse: Jessie de Colo 0, Camille Aubert 9 (5 assists), Chandrea Jones 25, Emilie Maurice 12, Leslie Matanga 0, Lola de Angelis 2, Shanavia Dowdell dnp, Suzanna Milovanovic 16 (8 rebounds)
---
Return from LFB Basketball News to Ligue Féminine de BasketBall index
Go to Women Playing Basketball In France Home Page
Return to the top of page
---
LFB picture credits:


womensbasketball-in-france.com
LFB

Date created: 13 November 2010
Date Updated: 14 November 2010

---