LFB match: Villeneuve struggled against
Tarbes' zone defense
Villeneuve d'Ascq failed again in winning a LFB match: they suffered a heavy home defeat (53-67) against Tarbes.
Villeneuve had the better of the first quarter. But once Tarbes switched to zone their game fell apart.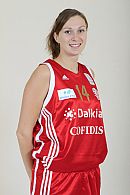 Without Elodie Bertal (left) and Emilie Gomis, who are both injured, Abdou N'Diaye needed to avoid key players getting into foul problems in this type of game.
Yet Ingrid Tanqueray fouled out, Olayinka Sanni was handicapped with foul problems and Julie Page was banished to the bench.
All this worked in favour of Tarbes who took control of the game late in the second quarter.
Jelena Dubljevic was one of the key players along with Ivanka Matic and Ana Cata-Chitiga while Florence Lepron was conducting the play.
LFB match report: Tarbes switched to zone while Villeneuve d'Ascq fouled out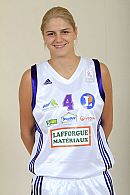 Jelena Dubljevic (left) got Tarbes off to a flying start with 4 quick points. But they were unable to take full advantage of their opponents' slow start.
Olayinka Sanni, Carla Thomas and Bridgette Mitchell all scored for Villeneuve as they drew level (6-6) with just under four minutes played.
After Laurie Datchy put the hosts in front for the first time Ingrid Tanqueray picked up her second foul and returned to the bench.
Then Ivanka Matic and Dubljevic brought Tarbes back on level terms (10-10). Yet the champions of France were struggling.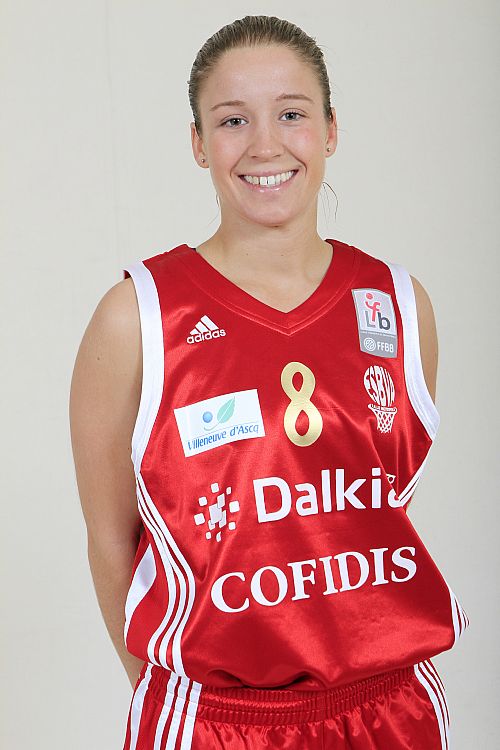 Marjorie Carpréaux (right) and Sanni got Villeneuve going once more for their side to win the first quarter (19-13). However they could have had a larger advantage with little more patience.
Tarbes switched to zone in the second quarter which stopped Villeneuve from scoring while they quickly made up their deficit (21-21) with 12 minutes on the game clock.
Tanqueray was called back into action and hit the first trey of the game for Villeneuve to regain the lead.
The match went through a scrappy phase with both teams turning over the ball time after time.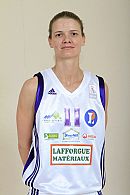 Tarbes continued with the zone defense and chipped away at the score to regain the lead through Florence Lepron (left).
Villeneuve started to make basic errors and were punished immediately with Tarbes going into the locker room leading (34-25).
Villeneuve went on the attack quickly at the start of the third quarter with 2 points from Tangueray and a trey by Bridgette Mitchell.
However Tarbes did not panic. With Ana Cata Chitiga finally finding her mark in the paint and the duo Dubljevic-Matic, Tarbes' lead grew to 12 points (42-30).
Carpréaux did her best at both ends of the court to keep Villeneuve in the game. Yet her side was hampered with Sanni and Tangueray on 4 fouls each.
Fanny Ploegaerts (right) made her entry into the game for Villeneuve while Julie Page appeared to have been banished to the bench for good.
Lepron made sure that Tarbes stayed focused as they went into the final quarter (51-38) despite the whistling against her from the crowd.
Tangueray's night came to an end early in the final quarter with her 5th foul.
Abdou N'Diaye had resigned from this LFB match and gave his younger players a run.
Lepron who played at Villeneuve two seasons ago continued to push her team to victory.
Villeneuve d'Ascq: Julie Page 0, Carine Paul 2, Onayssa Sbahi DNP, Ingrid Tanqueray 3, Marjorie Carpreaux 9, Laurie Datchy 4, Fanny Ploegaerts 3, Carla Thomas 6, Olayinka Sanni 14, Bridgette Mitchell 12
Tarbes: Jelena Dubljevic 17(6 assists), Erin Thorn 5, Ivanka Matic 12, Pauline Jannault-Lo 0, Marija Eric 2, Naura El Gargati 6, Florence Lepron 9, Darline Nsoki 2, Ana Maria Cata Chitiga 12, Vaida Sipaviciute 2
---
Return to the index: LFB match for the current season
Return to Ligue Féminine de BasketBall index
Go to Women Playing Basketball In France Home Page
Return to the top of page
---
LFB match picture credits:
LFB


Date created: 13 November 2010

---