De Colo finally experiences a LFB victory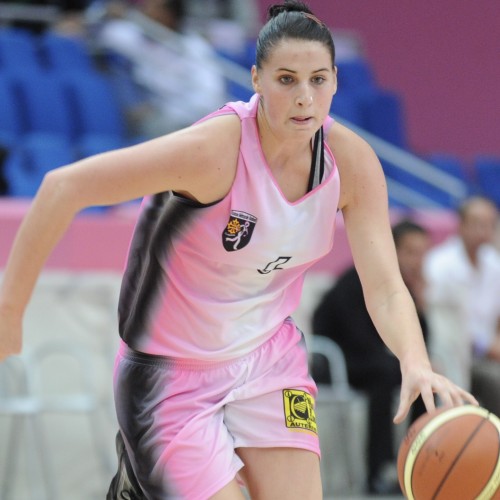 Jessie de Colo
(left) played in 23 LFB matches with Limoges last season without winning once. Toulouse lost their first four games of this season taking de Colo's total to 27 defeats.
With Toulouse beating LFB newcomers Charleville-Mézières (71-64) for their first win of the season, de Colo's negative series has finally ended.
De Colo scored 8 points, while her team-mate Chandre Jones fired in 22 points.
In the four other matches played on Saturday night:
Bourges waited until the second half of their game before pushing aside COB Calais (74-45). It was the turn of Paoline Salagnac to shine with 17 points and 6 assists.
Aix-en-Provence fell at home (56-63) to UHB, while Lattes-Montpellier sneaked past Challes-les-Eaux with a free throw by Iva Perovanovic (67-66) in the last second.
Tarbes made hard work of their victory against Basket Landes (68-65). You can read our LFB match report from this game below.
In the first game on SundayNantes-Rezé lost at home (74-76) to USO Mondeville .
In the final game from round 5 Arras recovered from a (2-10) start to beat local rivals Villeneuve (68-60). Once again Pauline Akonga-N'Simbo led Arras, this time with 23 points and 13 rebounds.
Look back at the LFB basketball news from round 4.
Tarbes made life difficult for themselves
Tarbes almost lost a 23-point lead in the final quarter as they hung on to beat Basket Landes (68-65).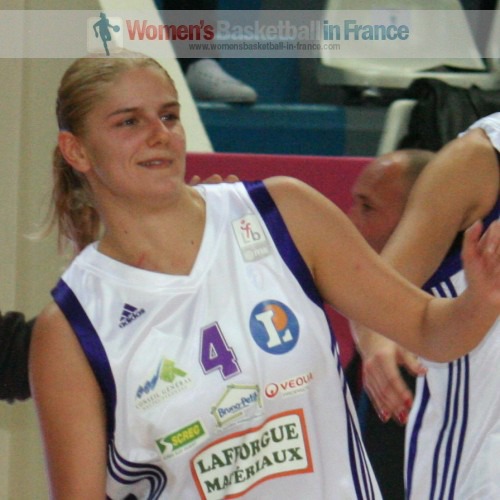 For Tarbes Jelena Dublejevic (left) led the scoring with 19 points and 5 assists. Florence Lepron also had 10 assists. Jennifer Humphrey led Basket Landes with 20 points and 12 rebounds while Katarina Manic scored 10 points and also dished out 10 assists.
The game started well for Tarbes as they did not allow Basket Landes a chance to settle during the first quarter in their LFB tie and led (23-8).
Tarbes were unable to maintain the same pace during the second quarter but still went into the locker room ahead (36-18).
Basket Landes started the second half by playing more adventurous and caused the French champions some problems as they reduced their deficit to 12 points (34-46) after 26 minutes of play.
Alain Jardel, the coach from Tarbes, had a few words with his players and changed both the offensive and defensive system.
Basket Landes were then put on the back foot as Tarbes went on a (15-4) run to close the third quarter in front (61-38).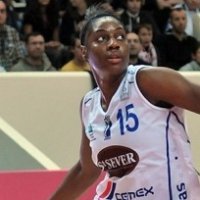 Basket Landes are known for last-quarter fight backs. With the telepathy between Manic and Humphrey (right), Basket Landes went on a 20-2 run to bring the deficit down to 5 points (58-63) with two minutes to play.
Ana Cata Chitiga came to the rescue for Tarbes. Yet Basket Landes still had the last chance to take the game into overtime with the last shot of the game.
Manic's attempt fell short and Tarbes held on to win (65-63) and remain unbeaten in the LFB.
---
LFB round 5 results and points scored:
Lattes-Montpellier 67-66 Challes-les-Eaux
Lattes-Montpellier: Virginie Bremont 3, Alicia Poto 15, Iva Perovanovic 9, Cyrielle Hugues DNP, Brittainey Raven 9, Ana Lelas 12, Gaëlle Skrela 4, Sandra Dijon-Gérardin 4, Fatimatou Sacko 15
Challes-les-Eaux: Romy Bär 4, Bianca Thomas 2, Alexia Plagnard 5, Sabrina Palie 2, Mistie Williams-Bass 12, Magali Lacroix 1, Clarisse Costaz 19, Jennifer Fleischer 11
---
Tarbes 68-65 Basket Landes
Tarbes: Jelena Dubljevic 16 (5 assists), Erin Thorn 12, Ivanka Matic 9, Pauline Jannault-Lo 9, Naura El Gargati 5, Florence Lepron 5 (10 assists), Darline Nsoki 2, Ana Maria Cata Chitiga 10, Vaida Sipaviciute 0
Basket Landes: Aminata Konate 3, Katarina Manic 10 (10 assists), Bineta Diouf 10, Anaïs Le Gluher 0, Julie Barennes 8, Tamera Young 7, Julia Borde DNP, Marion Laborde 7, Laurie Lapeyre DNP,Jennifer Humphrey 20 (12 rebounds)
---
Toulouse 71-64 Charleville-Mézières
Toulouse: Jessie de Colo 8, Camille Aubert 10 (7 assists), Chandrea Jones 22, Emilie Maurice 10, Leslie Matanga 2, Lola de Angelis 3, Shanavia Dowdell 11, Suzanna Milovanovic 5
Charleville-Mézières: Amel Bouderra 2, Belinda Mboma 7, Sarra Ouerghi 6, Alexia Kusion 3, Ekaterina Dimitrova 12, Kristen Mann 22, Djéné Diawara 12 (13 rebounds), Eléonore Grossemy 0, Bojana Vulic DNP
---
Bourges Basket 74-45 COB Calais
Bourges Basket: Anaël Lardy 6, Maja Miljkovic 5, Nwal-Endéné Miyem 10, Margaux Galliou 0, Styliani Kaltsidou 7, Jennifer Digbeu 3, Catherine Joens 10, Paoline Salagnac 17 (6 assists), Emméline Ndongue 10, Ilona Burgrova 6
COB Calais: N'Deye N'Diaye 2 (11 rebounds), Sylvie Gruszczynski 12, Mélanie Devaux 0, Aurélie Cibert 8, Mélanie Arnaud 2, Manon Sinico 9, Pelagia Papamichail 10, Brigitte Ardossi 2, Marine Foiret 0
---
Aix-en-Provence 56-63 UHB Saint Amand
Aix-en-Provence: Emmanuelle Gorjeu 2, Claire Tomaszewski 0, Zoi Dimitrakou 6 (11 rebounds), Lauren Neaves 14 (10 rebounds), Isabelle Strunc 3, Margaux Okou-Zouzouo 0, Natalie Hurst 12, Sabrina Réghaïssia 5, Hollie Grima 14
Union Hainaut: Steffi Sorensen 7, Emilie Duvivier 9, Clémence Beikes 9, Emilie Silbande-Petiteau 10, Noémie Lemaire DNP, Céline Girard DNP, Laetitia Kamba 4 (10 rebounds), Jasmon Covington 13, Elsa Martins DNP, Alison Bales 11 (10 rebounds)
---
Arras 68-60 Villeneuve d'Ascq
Arras: Leilani Mitchell 6, Laury Aulnette 0, Krissy Badé 6, Sarah Michell 8, Johanne Gomis 8, Olesia Malashenko 6, Adja Konteh 2, Aija Putnina 9, Pauline Akonga N'Simbo 23 (13 rebounds)
Villeneuve d'Ascq: Julie Page 12, Carine Paul 2, Onayssa Sbahi DNP, Ingrid Tanqueray 2, Marjorie Carpreaux 4, Laurie Datchy 9, Fanny Ploegaerts DNP, Carla Thomas 10, Olayinka Sanni 17 (10 rebounds), Bridgette Mitchell 4
---
Nantes-Rezé 74-76 USO Mondeville
---
Return from LFB Basketball News to Ligue Féminine de BasketBall index
Go to Women Playing Basketball In France Home Page
Return to the top of page
---
LFB picture credits:


womensbasketball-in-france.com
Romain Chaib @lady hoops
Date created: 06 November 2010
Date Updated: 07 November 2010

---